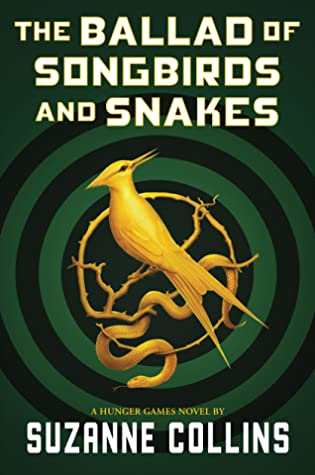 {Book Review}
The Ballad of Songbirds and Snakes
By Suzanne Collins
It's the 10th anniversary of The Hunger Games – the annual games held in the Capitol in which children (tributes) from the 12 districts of Panem (formerly known as North America) fight to the death, until only one remains. This year, things will go a little differently. In an attempt to spice things up, students from the prestigious Academy will mentor the tributes.
Coriolanus Snow is the mentor that is the focus of the book – him and is District 12 tribute Lucy Gray. If you've read The Hunger Games, you probably recognize the name. The Ballad of Songbirds and Snakes follows Snow and Lucy Gray in the days leading up to and throughout the Games. It then follows Snow in the couple months after the Games ends – months of experiences that would help shape him into the man he'd become.
Review: If you enjoyed The Hunger Games, I think you might like this book. The Ballad of Songbirds and Snakes is a fascinating glimpse into a powerful character in The Hunger Games trilogy and the history of the games.
Unlike the trilogy, the emphasis of this book is very much on the mentor, Snow, rather than on a tribute or on the games themselves. It was fascinating to see the people and circumstances that helped create the man that we would later meet in The Hunger Games. I definitely had conflicting feelings for Snow as I read the book – feelings of empathy for poor boy who struggles to make something of himself, alternating feels of hope and disappointment that he would find a way forward that would make him happy, feelings of dislike at some of the decisions he made….
Equally fascinating was learning more about the history of the Hunger Games and seeing the Games start to evolve into what we saw in The Hunger Games. Here, we read about some of the first changes – the addition of mentors for the tributes, the ability to bet on tributes, and the ability to sponsor tributes by sending gifts. But the Games are not yet the big event that Hunger Games readers remember. While The Ballad of Songbirds and Snakes could easily be a standalone precursor to the trilogy, it wouldn't surprise me if the prequels also became a trilogy as we continue to see the evolution of Snow and the Games.
I did enjoy this novel. It was a good, quick read. I liked the way it filled in some of the blanks in the world Collins created years ago with The Hunger Games.
Have you read this one? What did you think?