Another non-dessert post! Don't get me wrong, I do plenty of cooking – almost every night. However, usually I don't think the dish is unique enough to blog about, or just don't think about snapping a photo before we eat. Also, I cook like my mom – I throw a whole bunch of spices or veggies together without measuring much, and that doesn't make for a great recipe.
This Thai Chicken Stir-Fry was a new recipe for us, from my favorite cooking magazine, Fine Cooking. As usual, it was another hit – easy and quick but full of flavor compliments of the fresh basil. I enjoyed the slight spiciness of the herb, which I don't normally notice in pastas or salad caprese. This stir-fry did make me happy that I planted basil again this year.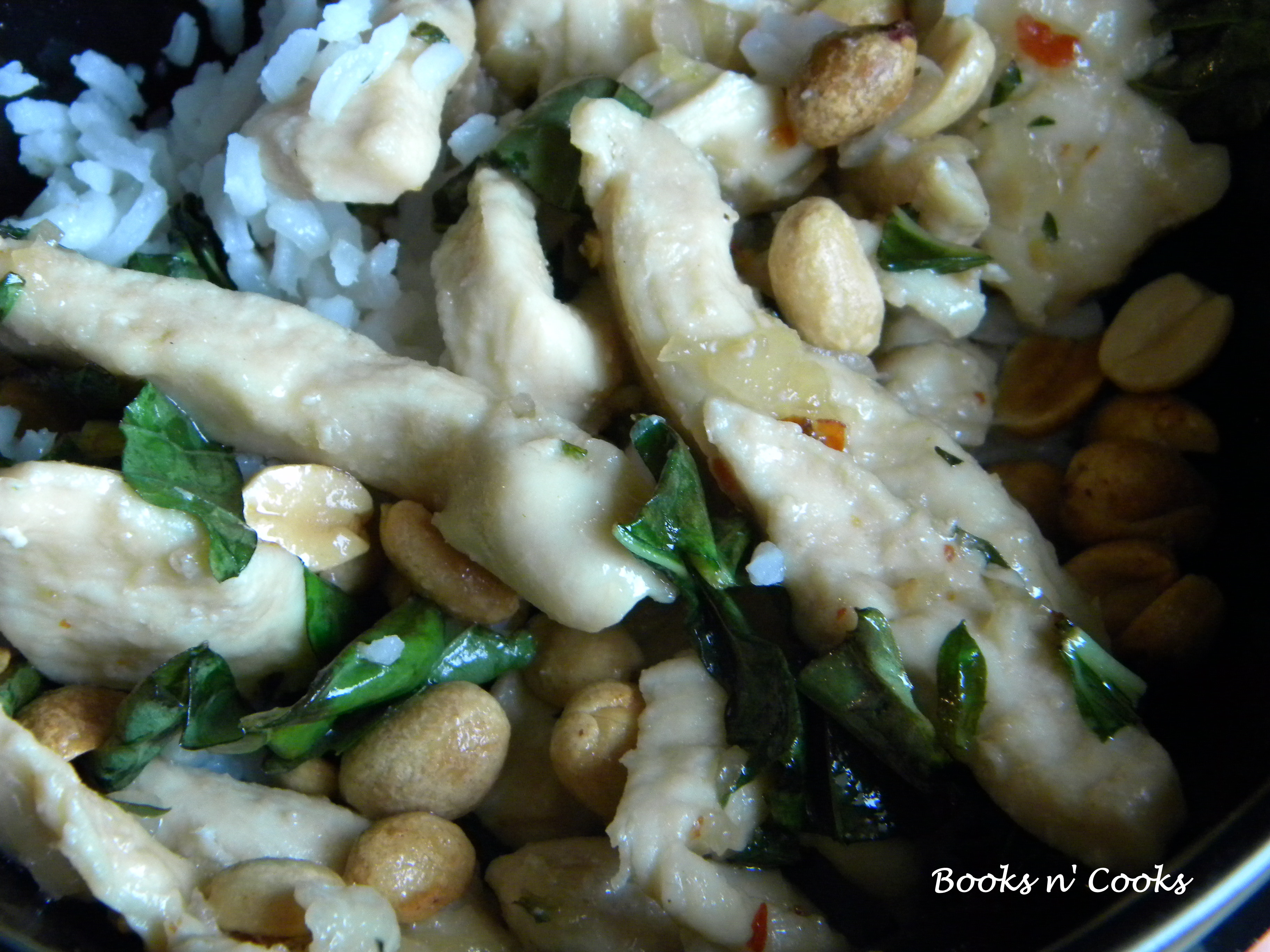 Thai Chicken Stir-Fry
Adapted from Fine Cooking No. 98
Serves 2-3
Ingredients:
2 Tbs. vegetable oil
4 medium shallots, peeled and thinly sliced
2 medium cloves garlic, thinly sliced
1/4 tsp. crushed red pepper flakes
1 lb. chicken breast cutlets (about 1/4 inch thick), cut crosswise into 1-inch-wide strips
1 Tbs. fresh lime juice
2 Tbs. packed light brown sugar
1 c. lightly packed fresh basil leaves, cut roughly into 1/2 inch strips
Peanuts
Heat the oil in a well-seasoned wok or a heavy-duty 12-inch skillet over medium-high heat until shimmering hot. Add the shallots, garlic, and red pepper flakes; cook, stirring frequently, until the shallots start to soften but not brown, 1 to 2 minutes. Add the chicken and cook, stirring, until it's no longer pink and the shallots are beginning to brown, 2 to 3 minutes.
Add the lime juice, sugar, and 1/4 cup water. Cook, stirring frequently, until the chicken is just cooked through and the liquid reduces to a saucy consistency, 2 to 3 minutes. (If the sauce reduces before the chicken is cooked through, add water, 1 Tbs. at a time.) Remove from the heat, add the basil, and stir to wilt it.