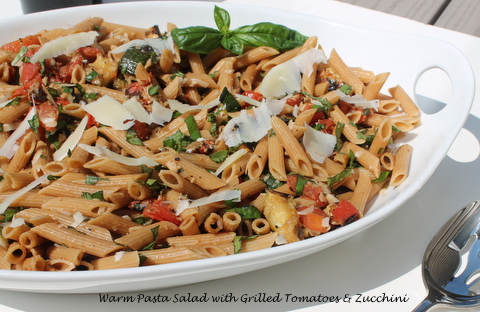 When my family comes to visit, sometimes I feel like meal planning is a real struggle. I always try to accommodate everyone's food preferences – there is no Mexican food and limited Asian-inspired options; the meal has to be substantial enough for two big guys (salad, sandwiches, quesadillas, etc. aren't the best options for dinner); and there are few seafood options that the majority will eat. But the hardest person to cater to is my little brother. He's is the only vegetarian in our immediate family, and having a husband that prefers meat at almost every dinner (this Pasta with Walnuts and Parmesan is the only vegetarian dish I've made to date that really leaves him happy and satisfied), I don't have much of a repertoire of vegetarian meals in my arsenal.
While my brother would happily fend for himself, he visits enough (and is so good to my daughter!) that I've been trying to make an extra effort to prepare new dishes (eggplant parmesan gets tiring after a while!) that he would enjoy. Last time he was in town, we tried out this warm pasta salad with grilled tomatoes and zucchini – definitely substantial enough on it's own but paired with grilled chicken for the carnivores. I could have eaten the whole thing myself. The pasta and grilled vegetables are lightly dressed in olive oil and balsamic vinegar, which lets the sweetness of the warm tomatoes and the saltiness of the freshly grated Pecorino Romano shine through. (Don't skimp and buy buy the pre-shredded/shaved/grated stuff – the freshly shaved cheese really makes this dish).
Recipe Note: The original recipe calls for chopped thyme and chives, which is reflected below. I've also omitted these and made the salad with a sprinkle of Herbes de Province sea salt and chopped fresh basil (pictured here). The basil was a stronger flavor, but the pasta salad was equally amazing.
Serving Note: While the pasta salad is meant to be served warm, the cold leftovers were also good.
Warm Pasta Salad with Grilled Tomatoes & Zucchini
Adapted from Fine Cooking, Issue #86
Serves 4-5 as a meal; 8+ as a side
Ingredients:
1-1/2 lb. ripe plum tomatoes (about 8), cored and halved lengthwise
1-1/4 lb. small zucchini, trimmed and halved lengthwise
5 Tbs. extra-virgin olive oil
4 tsp. chopped fresh thyme (see recipe note above)
Kosher salt
Freshly ground black pepper
6 oz. Pecorino Romano, shaved with a vegetable peeler (about 2 cups)
1 lb. dried penne
1/4 c. thinly sliced fresh chives (see recipe note above)
2 tsp. balsamic vinegar, more to taste
Prep & Grill the Veggies: Preheat grill to medium heat. Meanwhile, toss veggies in a bowl with 2 Tbs. oil, 2 tsp. thyme, and a sprinkling of salt and pepper. Set bowl aside – do not empty or clean bowl.
Grill veggies, cut side down for about 5 minutes before flipping and cooking for another 5-8 minutes, until desired doneness (I like my zucchini still slightly crunchy). Remove from grill and return them to the same bowl.
Allow to cool slightly.
Meanwhile, cook the pasta according to the package. Drain and set pasta aside.
Assemble the Salad: Coarsely chop the warm veggies and toss with half of the cheese, 3 Tbs. chives, remaining olive oil, and balsamic vinegar. Season with salt and pepper. Sprinkle with remaining chives, thyme, and cheese.
Serve warm or at room temperature.