Jazz up snack time or a charcuterie board with these Sweet Bourbon Roasted Pecans. Easy to make but delicious and impressive!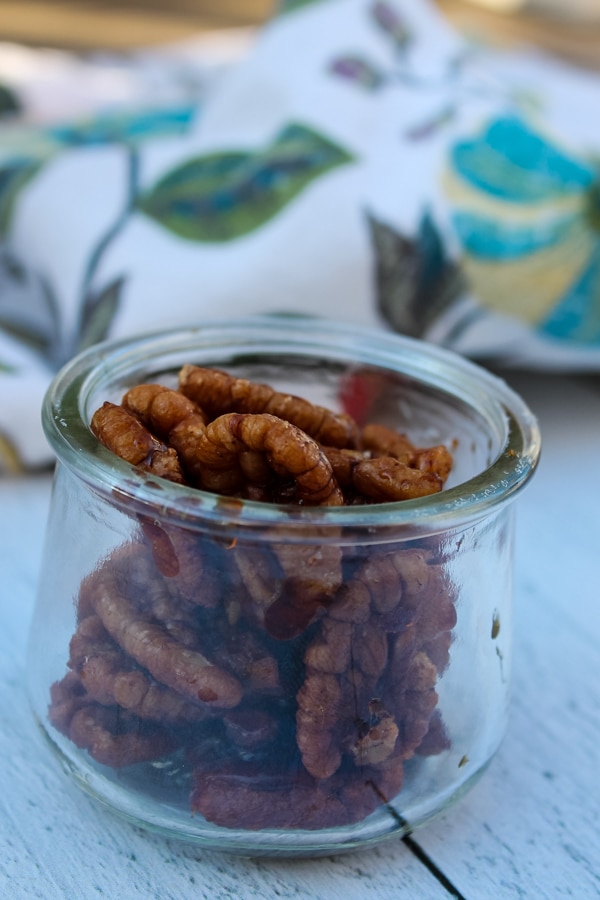 Ok, so I started off 2022 strong, but it's been a few weeks since I've posted. After a relatively quiet start of the year, the end of winter and start of spring is a bit bonkers. Over 6 weeks, I'll go to 9 different states – sometimes with the family, sometimes without. It wasn't supposed to be this way. A couple of trips were supposed to happen earlier this year but had to be rescheduled due to COVID. I have zero idea how I'll do any housework, find time to run errands, or steal any quiet time for myself. Wish me luck – there's still several weeks of this crazy to go.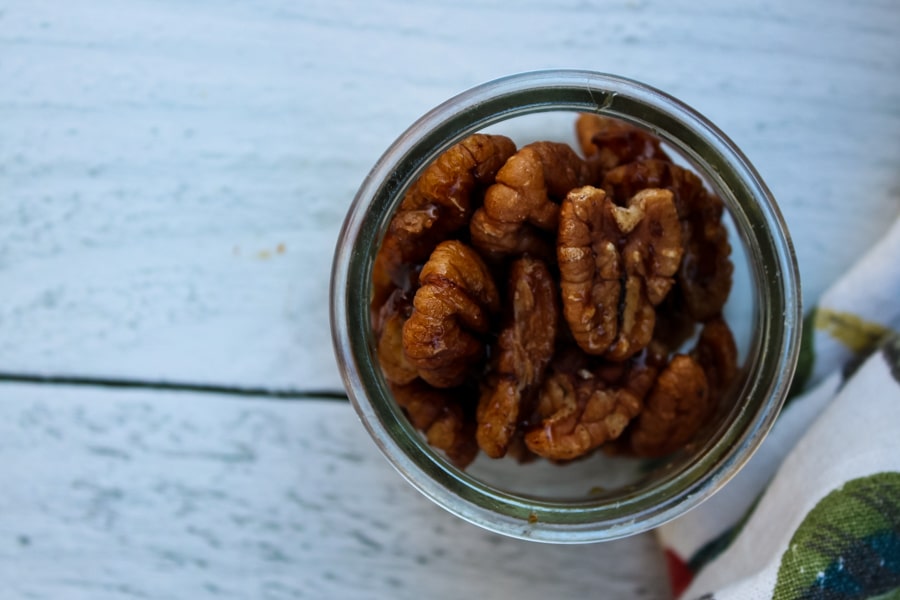 The good news is that with all of that travel, I'm getting to knit and read more than usual. I recently blew through The Warsaw Orphan over a long weekend visit to my in-laws (fantastic WWII-era historical fiction – but does hit a bit close to home due to the Russian invasion of Ukraine and the ridiculous Russian rhetoric). I flew through a mystery-suspense novel in less than a week. And I finished off a second historical fiction novel, which I hope to review in the next few weeks. Meanwhile, I finished knitting my first sock and am halfway through it's mate – I'm super excited about that!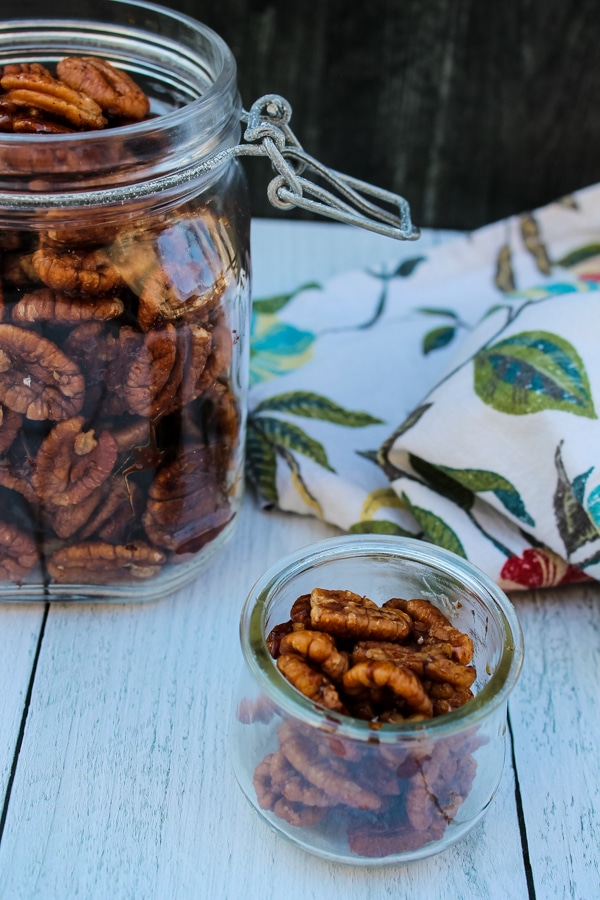 But all the craziness has meant not a ton of time in the kitchen or on the computer to blog what little I've managed to make and photograph. These pecans had been on my list for a while. Originally, I was going to make the Sweet and Spicy version from Simple and Savory, but decided at the last minute to try her Sweet Bourbon version. So glad I did! They were a hit with the fam – my little guy wouldn't stop sneaking the nuts. I finally had to put them out of his reach and warn everyone away so that I could photograph them. Even Miss. Hazelnut, who is super picky and not a huge fan of nuts, kept going back for just one more.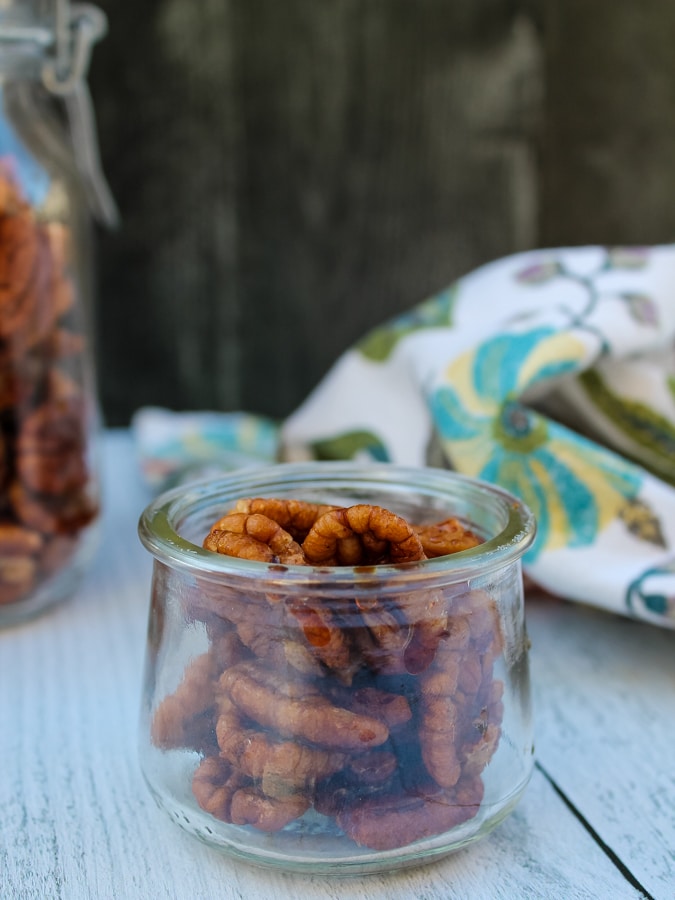 Serving Suggestions:
We ate these nuts as is, as a snack, pretty much everyone grabbing a few every time they passed the jar on the counter.
Add to a cheeseboard or charcuterie tray, or simply serve as a brie topping.
Sweet Bourbon Roasted Pecans would also make a wonderful topping for pancakes, waffles, or cheesecake.
Print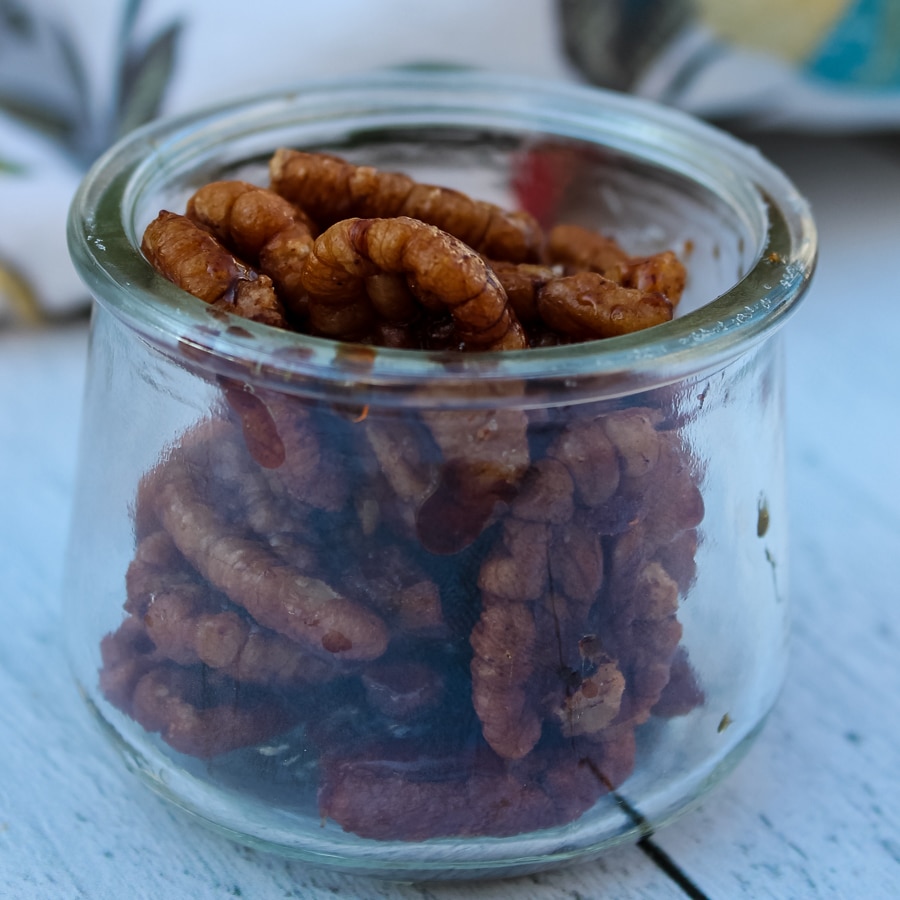 Sweet Bourbon Roasted Pecans
Jazz up snack time or a charcuterie board with these Sweet Bourbon Roasted Pecans. Easy to make but delicious and impressive!
Ingredients
1

Tbs.

coconut oil

1 1/2

Tbs.

bourbon

1/2

tsp.

sea salt

1/4

tsp.

ground cinnamon

3

Tbs.

maple syrup

8

oz.

pecan halves
Instructions
Preheat oven to 400F. Line a baking sheet with parchment paper and set aside.

While oven is preheating, set a small pot over medium-low heat. Melt coconut oil in pot. Once oil has been melted, add bourbon, sea salt, cinnamon and maple syrup. Stir for 2-3 minutes to combine. Remove from heat and add pecans, tossing to ensure that all pecans are coated evenly.

Turn pecans out onto prepared baking sheet, spreading into a single layer. Bake in preheated oven for 6-`10 minutes. All of the extra sauce should have been absorbed.

Remove from oven and allow to cool on baking sheet for at least 20 minutes.

Store in an airtight glass container for up to 2 weeks.
This recipe was adapted from Simple and Savory.