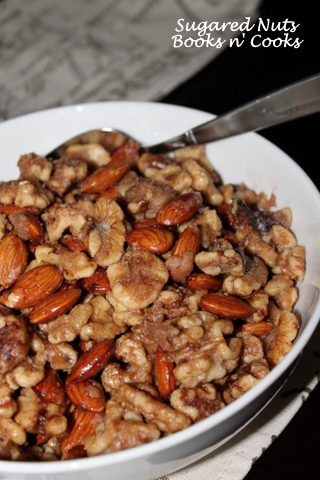 I love appetizers – stuffed mushrooms, grilled shrimp, spanokopitas… I could easily make a meal out of just that. But when entertaining, sometimes I prefer something that's quicker to prepare and a little less formal. I have two go-to options to meet this requirement. The first is a cheese and cracker tray. The second is nuts.
I like jazzing up some store-bought nuts with a little something special – rosemary cashews, spiced mixed nuts, and most recently, for Easter, this recipe for sugared nuts. It only took 5 minutes to put together and impressed everyone. They were sweet and additive – it's hard to stop at just one handful!
Sugared Nuts
Adapted from The Gingerbread Blog
Ingredients:
16 oz. nuts (I used a mix of walnuts and almonds)

1 stick unsalted butter, melted
1/2 c. confectioners' sugar
1/2 tsp. cinnamon
1/4 tsp. ground ginger
Turn the crock pot to high. Cover and allow to heat up for 15 minutes.
Reset crock pot to low heat and add nuts and melted butter. Stir so that nuts are completed coated. Add confectioners' sugar and stir again. Leave lid off and cook for 3 hours, stirring every 30 minutes. Nuts should be coated in a glaze.
In a small bowl, combine cinnamon and ginger. Sprinkle over buttered nuts, stirring well. Transfer nuts to a serving bowl. Allow to cool completely before serving.
Storage: These nuts taste best the day they're made, but will keep at room temperature in an airtight container for a few days.
The Gingerbread Blog was no longer active in January 2019. The now-broken link to the original blog post was removed at that time.