Being a working mom, I always wish that I had more time with my kids – time to go out and do things. You know, trips to the parks, local museums, children's events… that sort of thing. With our current routines, I feel like there's just not enough time to do all of that, with working 5 days a week, finding time to do laundry, clean the house, grocery shop, and still manage to find some time to see friends and decompress a bit. But the one thing I think my hubby and I have been pretty good at is taking our kids out to the local farms to pick fruit during the summer and apples and the obligatory Halloween pumpkins during the fall.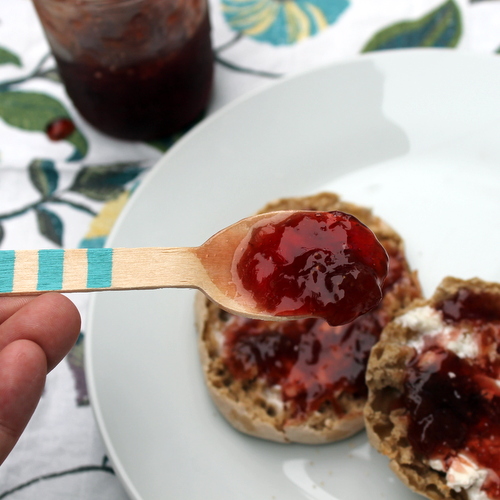 The past couple of years, I've been lucky enough that my parents were in town for strawberry picking. The first year we went, we set off with the intention of picking some berries and maybe making a batch of the jam that my mom used to make when I was growing up. We accidentally ended up with close to 20 pounds of strawberries. Needless to say that day was filled with 3 times as much jam-making as anticipated (in addition to setting aside berries for freezing and eating) and a number of trips to the store to pick up extra supplies.
Since then, we've prepared a bit better. We still pick roughly 20 pounds of strawberries, but with the intention of canning more (my brothers and uncles have been over the moon with gifts of homemade jam). My son and daughter have a blast picking and eating the fresh berries, and my daughter can't wait to get into the kitchen with Mommy and Manna (aka Grandma) to make some jam. It's a family tradition that makes everyone happy.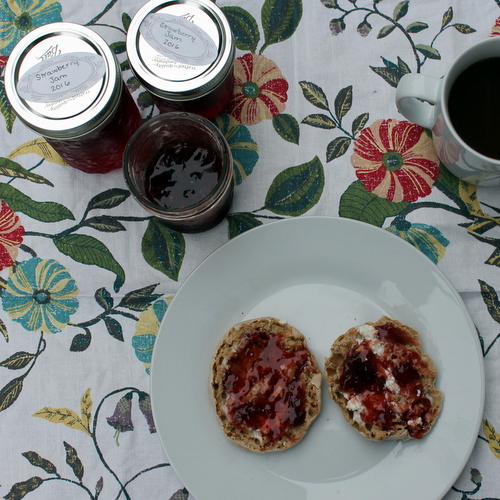 This jam can be made as chunky or smooth as you'd like, depending on how much you crush the strawberries. And I'll give you my little secret – It's on the sweeter side, and makes a wonderful topping for vanilla ice cream as well.
Cooking Note: I've made jam this two years in a row now, both times with my parents. I highly recommend taking advantage of the prep steps noted below, as the jam cooks up pretty quickly. If you have a second set of hands around to help with setting the timers and getting the jars ready for you, use them!
Strawberry Jam
Adapted from Certo
Makes 8-10 Cups
Materials:
Canning jars, with lids and bands
Very hot water (i.e. heat on a stove until very hot or boiling)
Wax, for sealing the jam
A small inexpensive pot with a lip, for melting the wax (I recommend one designated solely for this purpose)
Tongs, to move hot jars
A large (8+ quart) stainless steel stockpot, for making the jam (Don't got smaller – the mixture will bubble up a good bit)
A stainless steel ladle, for portioning out the hot jam
A wide-mouthed funnel, for portioning out the hot jam
A baking sheet, lined with aluminum foil
Kitchen timer
Ingredients:
5 c. barely crushed strawberries (from ~8 c. whole strawberries, hulled)*
7 c. granulated sugar (I used Dixie Crystals sugar)
1/2 tsp. unsalted butter
1 packet Certo pectin
* Strawberries were barely crushed – smashed once or twice with a potato masher so that most were not whole. Don't worry if it looks too chunky – the strawberries will break down more as they cook.
Prep: Wash jars and clean out sink. Place clean jars in the sink.
Fill a medium stockpot (~10+ cups) with water and start heating on stove. This water will be used to heat up canning jars.
Start melting wax in a small pot on another burner. When wax is completed melted, keep warm on lowest setting.
Place foil-lined baking sheet on the counter next to the stove (or wherever you're going to be filling the jars). Set kitchen timer nearby.
Make the Jam: In a large (8+ quart) stainless steel stockpot over high heat, combine crushed strawberries, sugar, and unsalted butter, stirring constantly until sugar is melted. Bring to a rolling boil, 8-10 minutes.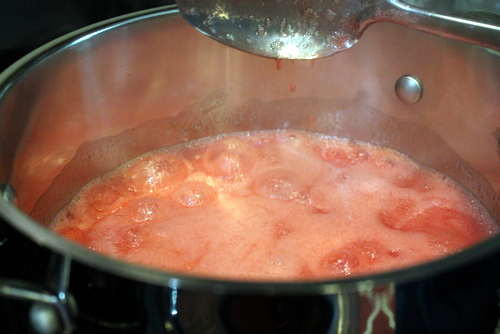 When mixture is very close to a boil, take hot water and fill waiting canning jars. The goal is to keep the jars very hot, so refill as needed, if the water cools before the jam is ready.
Stir to make sure the mixture is fully at a boil. Boil for 1 minute (time it!). Stir in Certo. Return to a rolling boil (happens very quickly, within a minute) and continue boiling for another minute. Turn off stove.
Can: Working quickly, empty water from canning jars and move jars onto waiting baking sheet. Using the funnel and ladle, quickly fill jars with jam, leaving about an inch of room at the top of the jars. Top off with about a 1/2 inch of melted wax. Let jars rest, allowing the jam to thicken and cool, and the wax to harden and seal in the jam.
If jars don't completely seal (wax moves around or jam starts to come up above the wax), remove wax and store in the fridge for immediate use.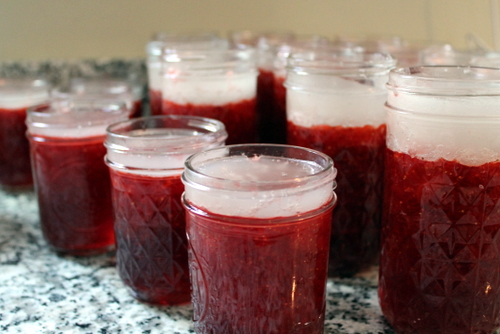 Store sealed jars in a cool place.
Serving: When read to open a jar, use a fork or knife to puncture the wax and remove from jar. The wax may be cleaned and set aside to be remelted for future canning.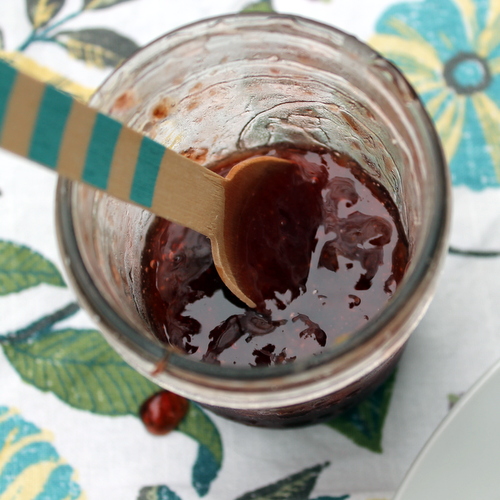 Save
Save
Save
Save