This Strawberry Cheesecake Ice Cream is smooth and creamy, and deliciously sweet – a refreshing way to cool off on a hot summer evening.
In an attempt to use of some stuff sitting in my fridge (heavy cream, half-and-half, and strawberries that were turning quickly), I started searching for an ice cream recipe. Why ice cream? I wanted something that wouldn't go bad quickly, since I'm trying to start off the new year eating well. I figured that I could pop an ice cream in the freezer, indulge a bit when I wanted to, and not feel pressured to finish based on a timeline.
This ice cream was really fantastic – tasted just like cheesecake. It was just the right texture, nice and creamy. My husband – the cheesecake lover in the house – enjoyed it even more. I can only imagine how good this would be with freshly picked strawberries, and maybe some crumbled graham cracker crumbs mixed in (a personal favorite, which started with my order at Coldstone Creamery – Cake Batter Ice Cream + Graham Cracker).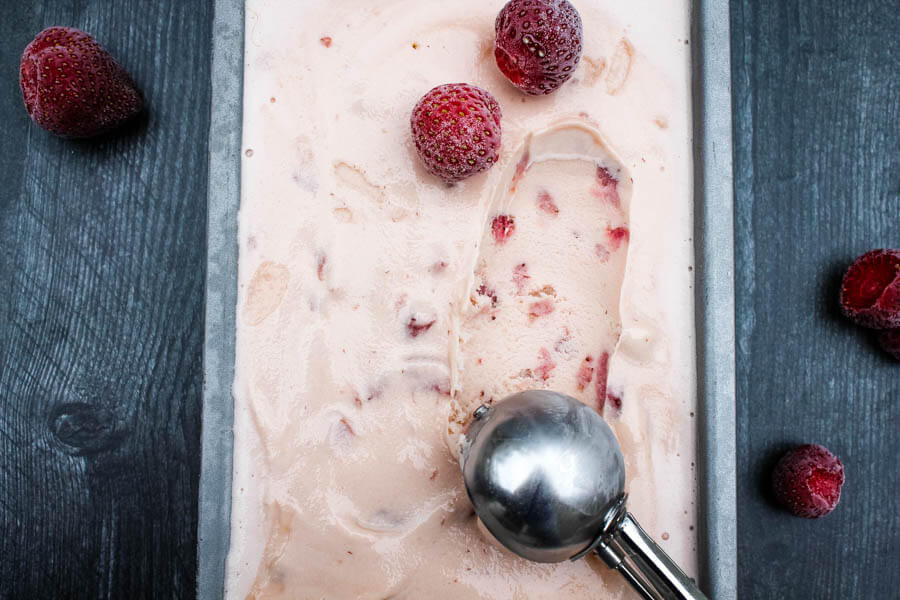 Recipe Notes:
Ice Cream Maker: This recipe makes 2 quarts, so you need a larger ice cream maker. I've linked to my preferred brand below. If you only have a 1-quart ice cream maker, either halve the recipe or freeze it in two batches, keeping the extra mixture in the fridge until you're ready to go.
Variations: You can swap out the berries (the original recipe was actually for blueberry cheesecake ice cream) or if you want to go crazy, add some crushed graham crackers just before freezing or sprinkle on top to up the cheesecake game.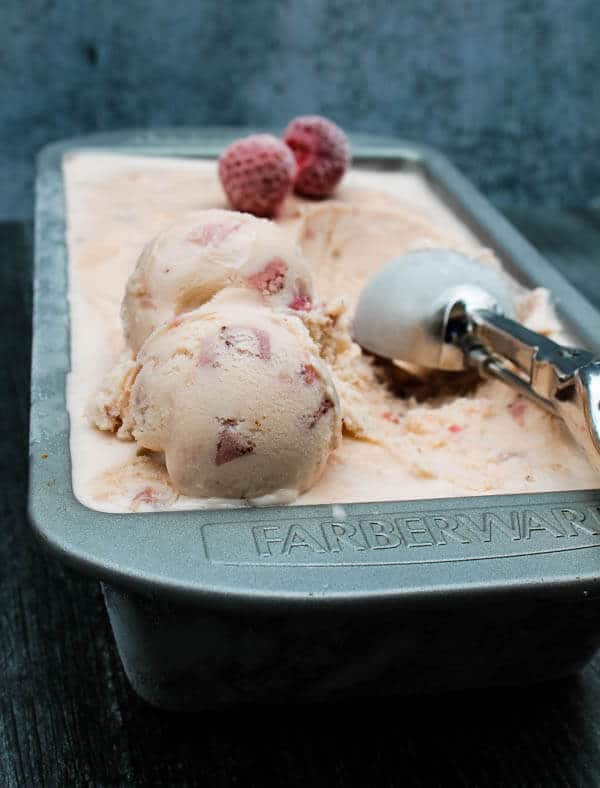 National Ice Cream Month
Did you know that July is National Ice Cream month? If I haven't tempted you enough by my Strawberry Cheesecake recipe, grab a spoon and dig into some of the other awesome ice cream recipes my food blogging friends are sharing today!
Have you made this recipe? Be sure to leave a comment and/or rate the recipe and let me know what you thought. Or, you can tag me on Instagram with @booksncooks and #booksncooks.
Print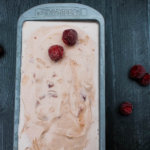 Strawberry Cheesecake Ice Cream
This Strawberry Cheesecake Ice Cream is smooth and creamy, and deliciously sweet - a refreshing way to cool off on a hot summer evening.
Ingredients
2

c

granulated sugar

3/4

c.

1/3-less-fat cream cheese, softened

(6 oz.)

4

large egg yolks

3

c.

2% milk

1

c.

half-and-half

2 - 3

c.

fresh strawberries

coarsely chopped

1/4

c.

confectioner's sugar

1/4

c.

water
Instructions
Prep Work:
In a medium saucepan over medium-high heat, bring milk and half-and-half just to a boil. Remove from heat.

Meanwhile, in a stand mixer fitted with the paddle attachment, combine sugar, egg yolks, and cream cheese on high-speed until smooth. Remove bowl from mixer and gradually whisk in the hot milk mixture - go very slowly so you don't cook the egg, whisking constantly.

Transfer mixture back to the saucepan and cook over medium-low until it reaches 160°F, about 5 minutes. Stir constantly. Remove from heat and place pan in an ice-filled bowl. Cool completely, stirring occasionally.

As the milk mixture cools, combine strawberries, confectioner's sugar and water in a small saucepan. Bring to a boil. Reduce heat and simmer for 10 minutes, stirring frequently. The strawberry mixture should thickened slightly. Remove from heat and cool completely.

When both strawberry and milk mixtures have cooled, stir the strawberry mixture into the milk mixture until thoroughly combined.

Refrigerate 2-4 hours until very cold.
Make the Ice Cream:
When mixture is very cold, pour into the freezer can of ice cream maker and freeze according to manufacturer's instructions.

For those with the ice cream bowl for the Kitchen Aid Stand Mixer, set the mixer on speed 1 (stir) and gradually pour mixture into mixer. Continue mixing for 15-20 minutes (I left mine on for 20 minutes), or until mixture has reached desired consistency.
Freeze:
Pour into an air tight and place in freezer. Ice cream will take at least 4 hours to freeze completely.
Recipe Notes
This recipe makes 2 quarts of ice cream. If you only have a 1-quart ice cream maker, you may need to halve the recipe or freeze the ice cream in batches. 
Note: In the past, I've made this with 2 c. skim milk and 2 c. half-and-half instead of the 3:1 ration described above, to make up for lower fat content in the skim milk. I'm a big fan of using what milk you have on hand. The higher the fat content in ice cream, the creamier it will be.
This recipe was adapted from Blueberry Cheesecake Ice Cream, Cooking Light July 2006.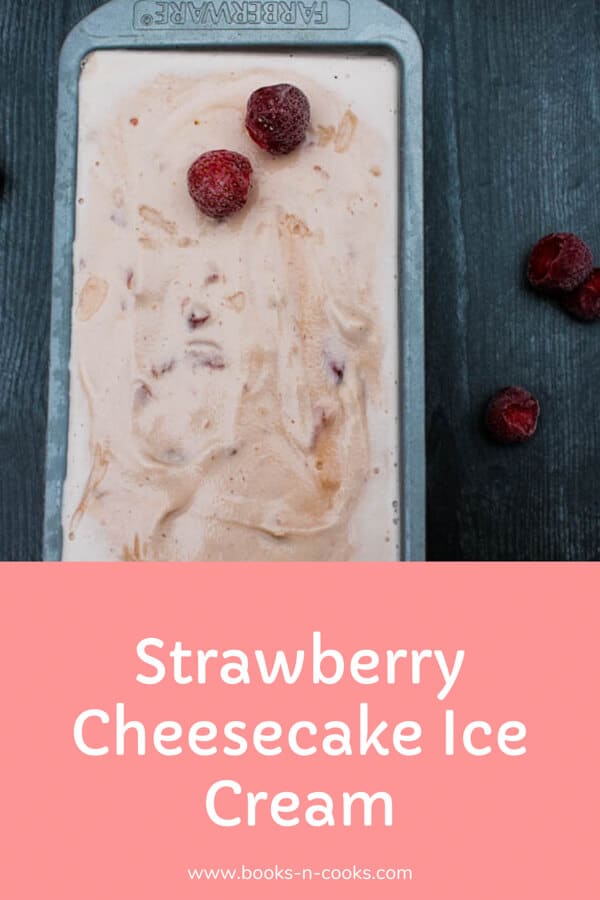 This post was updated in July 2020. The recipe remains the same. The post includes new photos, a recipe cards and a few additional recipe notes for reader experience.