Lean shrimp is tossed with zucchini, Asian egg noodles, and a spicy Sriracha sauce to create a quick weeknight dinner.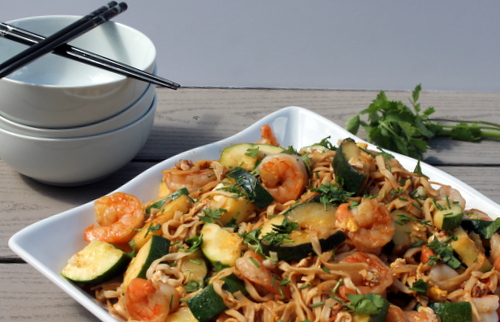 When I left for vacation late last month, I knew my garden wouldn't last much longer. The tomato plants were still bearing fruit but the fruit seemed to be getting eaten more quickly than it did earlier in the summer, and the plants looked wilty and sad. Even the zucchini plant looked like it was slowly dying, even as it continued to get larger and continued to flower.
My predictions weren't far off. When I returned from vacation, I started to pull my tomato plants. The herbs were still thriving, so those got pruned back (hello, pesto and sage leaves for my freezer!) with hopes that I'll continue to get fresh herbs for another month or two. The zucchini plant isn't looking great, but I'm still harvesting at least one zucchini each week so it's going to stay a little bit longer. But while I love grilled zucchini and baking with it, I badly needed a change.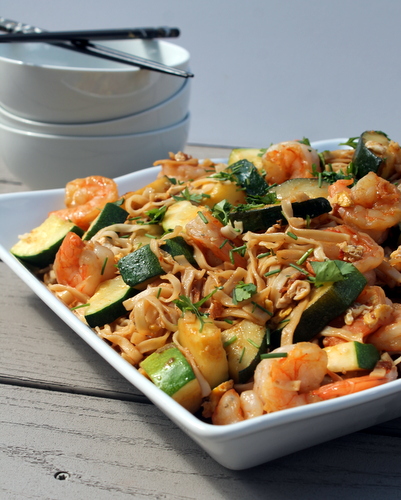 Enter this lo mein dish. While spicy enough that I had to tweak the recipe a bit, it was a hit in the house. I will warn you that even after tweaking the recipe, it's still has a bit of kick from the sriracha, so if you can't handle the heat, don't bother trying it. That being said that even the spicier of the two versions, my husband and I enjoyed enough to know that we'd be making the recipe again and again. Bursting with flavor, it's a quick weeknight meal.
Print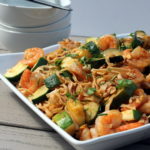 Spicy Shrimp & Zucchini Lo Mein
Lean shrimp is tossed with zucchini, Asian egg noodles, and a spicy Sriracha sauce to create a quick weeknight dinner.
Ingredients
1 8-10

oz.

package of lo mein or other Asian egg noodle

1

Tbs.

unsalted butter

1/4-1/2

tsp.

red pepper flakes

2

eggs

2

Tbs.

extra virgin olive oil

divided

1

lb.

large or jumbo shrimp

peeled and deveined

2

small to medium zucchini

cut into pieces about 1 inch wide and 1/2 an inch thick (will half moon shaped or triangular wedges depending on the size of your zucchini)

3

cloves

garlic

minced

1 1/2

Tbs.

brown sugar

light or dark

4

Tbs.

low-sodium soy sauce

1 1/2

Tbs.

Sriracha hot sauce

1/2

tsp.

ground ginger

1/4

c.

chopped fresh cilantro

divided

1/4

c.

chopped fresh chives or scallions

divided
Instructions
Cook egg noodles according to package, while preparing the stir fry.

Heat butter in a large skillet over medium-low heat. When melted, add red pepper flakes and eggs. Whisk eggs until cooked throughout and thoroughly scrambled. With a slotted spoon, remove eggs from skillet and put in a bowl on the side.

Add 1 Tbs. of the olive oil to the skillet. When hot, add shrimp, cooking for 2 minutes on each side until browned on the outside and cooked throughout. Use a slotted spoon to move shrimp to the bowl with egg.

Add remaining olive oil to skillet. When hot, add zucchini and garlic, sauteing for about 5 minutes, stirring occasionally, until zucchini is beginning to brown on the outside but isn't soft.

While zucchini is cooking, make the sauce. In a small bowl, whisk together brown sugar, soy sauce, Sriracha, and ginger.

When zucchini is browned, increase heat to medium. Add shrimp, egg, and cooked (drained) noodles to the skillet with the zucchini. Toss with prepared sauce. Saute mixture for 3-5 minutes, tossing every minute or two to ensure that everything is coated in sauce. In the last minute, stir in half of cilantro and half of chives or scallions. Saute for one more minute.

Transfer to a serving bowl. Sprinkle with remaining cilantro and chives.

Serve immediately.
Recipe Notes:
This recipe has been tweaked to add more shrimp and a bit more zucchini as well as to reduce the heat. I also swapped out the scallions for chives, which I had in my garden. I prefer the subtle flavor of chives to the scallion's stronger flavors anyway, but use whichever you prefer.
I've made this recipe with both lo mein noodles as well as a thinner egg noodle (seen in these photographs) and both came out well, although I preferred the thinner noodle to the lo mein noodle. The key here, however, is that both varieties are egg noodles – not rice noodles. Look for that on the package.
This recipe was adapted from Baker by Nature
Save
Save