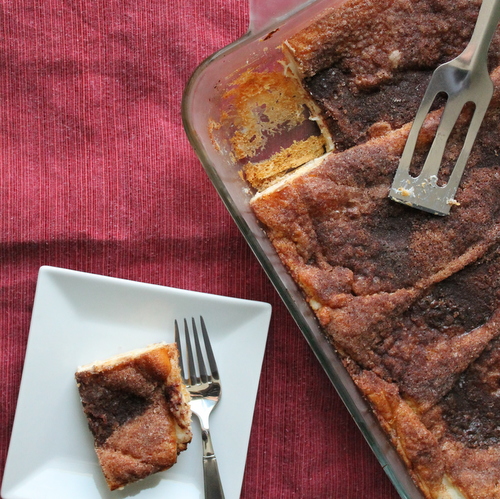 My husband absolutely loves cheesecake, but I rarely make it – or really any other cakes lately. Mostly, I don't have time for desserts that are completed in multiple steps, whether it's baking the crust and then the cake, or baking the cake and then frosting it. I've been too busy lately and frankly, I tend to run out of steam by the time I hit that second step, sometime hours later. I drag myself through it, but the baking process is no longer enjoyable at that point.
Enter these Sopapilla Cheesecake Bars. All of the great flavor of cheesecake, plus the wonderful cinnamon-sugar of the Mexican pastry, much less fuss. While I love the graham cracker crust on regular cheesecakes, the crispy cinnamon sugar on top of these bars more than makes up for it being missing. They were delicious.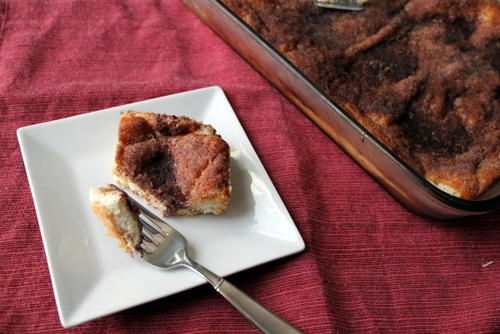 Sopapilla-Inspired Cheesecake Bars
Adapted from Pillsbury
Makes at least 16 servings
Ingredients:
2-8 oz. cans Pillsbury crescent rolls
2-8oz. packages cream cheese, softened
1 1/2 c. granulated sugar, divided
1 tsp. vanilla extract
1 stick unsalted butter, melted
1 Tbs. ground cinnamon
Preheat oven to 350°F.
In an ungreased 9×13 inch glass baking dish, unroll 1 can of crescent rolls, carefully stretching to cover the bottom of baking dish. Pinch together perforations to seal.
In a large bowl – or the bowl of a stand mixer – beat cream cheese and 1 cup of sugar until thoroughly combined. Add vanilla. Spread evenly over crescent rolls in the baking dish.
Unroll other can of crescent rolls, stretching to cover cream cheese layer while simultaneously pinching together perforations to seal.
Pour melted butter evenly over top of crescent rolls.
In a small dish, mix remaining 1/2 cup of sugar and the cinnamon. Sprinkle evenly over top. It will be a nice, thick layer of cinnamon sugar.
Bake for 30 minutes, until center is set. Allow to cool on stove or a wire rack for 30-60 minutes. Transfer to the fridge to chill before cutting.
Store covered in the refrigerator.
Save