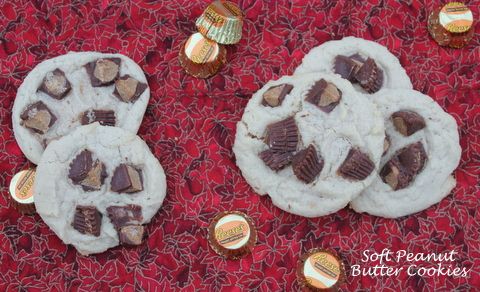 This is the last week of the 12 Weeks of Christmas Treats, hosted by Meal Planning Magic, and  I hope you found some great inspiration for your own holiday baking. If you missed any
of my contributions this year or are interested in what I made last year, check out the 12wksxmastreats tag at the bottom of this post (or click here). As usual, you can see what my fellow bloggers made by checking out the linky at the bottom of this post. I hope you enjoyed another year of the 12 Weeks of Christmas Treats!
While I love peanut butter cookies right out of the oven, I could never find a cookie that stayed soft after they cooled. Until this one. I had these cookies for the first time while I was overseas and immediately demanded the recipe (the original source is unknown). The cookie had the same great peanut butter flavor of most peanut butter cookies (you know, the ones with the criss-cross on the top) but stayed soft even after cooling.
Soft Peanut Butter Cookies
Makes 18 cookies
Ingredients: 
1/2 c. (1 stick) unsalted butter, at room temperature
3/4 c. sugar
1/3 c. creamy peanut butter
1 egg
1/2 tsp. vanilla extract
1 1/4 c. all-purpose flour
1/2 tsp. baking soda
1/4 tsp. salt
mini peanut butter cups, quartered (at least 16)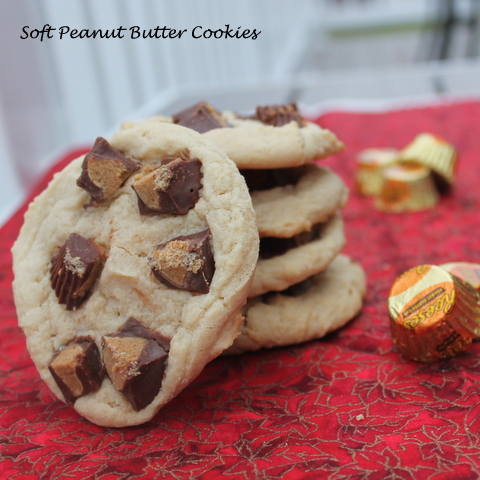 Preheat oven to 350F and line 2 baking sheets with parchment paper.
In a stand mixer fitted with the paddle attachment, beat butter, sugar, and peanut butter on medium speed until smooth. Add eggs and vanilla, beating until combined. Scrape down sides of the bow. Reduce speed to low and add flour, baking soda and salt and beat until thoroughly combined.
Use a cookie scoop to portion out cookie dough onto prepared baking sheets. Cookies should be at least 3 inches apart, as the do spread a good bit. Press peanut butter pieces (4-6 pieces per cookie) into dough, pressing down a little to flatten cookie.
Bake 10-12 minutes, until just turning brown around the edges. Center will still be pale and soft. Allow to cool for 1 minute on baking sheets before moving to a wire rack to cool completely.