I've never made Snickerdoodles before, but I've always considered them a Christmas cookie. That was the only time I'd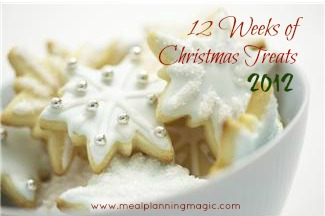 ever really come across them, whether it's at a cookie swap or someone bringing in a plate to work around the holidays. For me who never really had Snickerdoodles before, these cookies pair well with a cup of tea because of their slightly crunchy texture (I've never met a Snickerdoodle that was soft, unless it was microwaved) and their subtle cinnamon flavor.
So for you, and for my friend's this past weekend, I made what I consider to be a Christmas classic. If you're a blogger and would like to join in the fun, or a reader looking for more Christmas recipes to try, head over to Meal Planning Magic to sign up or peruse the rest of this week's baking. Happy 12 Weeks of Christmas Treats!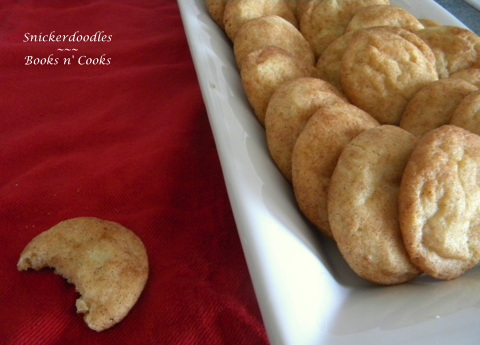 Snickerdoodles
Adapted from Fine Cooking 68  (p. 86)
Makes 3-4 dozen cookies
Ingredients:
1 c. unsalted butter, at room temperature
2 2/3 oz. all-purpose flour
1 tsp. baking soda
1/4 tsp. table salt
2 tsp. cream of tartar
1 1/2 + 1/4 c. granulated sugar
2 large eggs
1 Tbs. ground cinnamon
Instructions:
Preheat oven to 350F. Line two baking sheets with parchment paper.
In a small bowl, combine the 1/4 c. granulated sugar and the cinnamon. Set aside.
In a stand mixer fitted with the paddle attachment, beat butter and 1 1/2 c. sugar on medium-high speed until light and fluffy, 1-2 minutes. Lower speed and add eggs, one at a time, scraping down sides of bowl as necessary. When thoroughly combined, sprinkle in baking soda, salt, cream of tartar, and half of the flour. Beat on low speed until combined. Scrape down sides and bottom of the bowl and sprinkle in remaining flour. Beat until combined.
Scoop out a tablespoon of dough, roll into a ball, roll in cinnamon-sugar, and set on prepared baking sheet. Continue, setting dough 2-3 inches apart on the baking sheet.
Bake 15-18 minutes, until lightly golden. Allow to rest a few minutes on baking sheet before moving to a wire rack to cool completely.
Store in an airtight container at room temperature for up to 3 days, or in an airtight container in the freezer for up to a month.