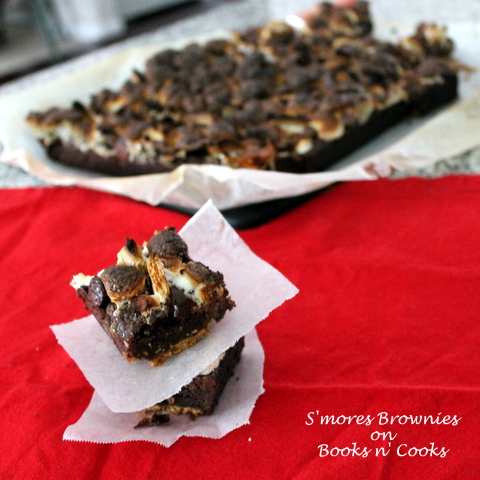 My marshmallows got a little burnt (lesson learned: don't multitask while something is under the broiler!) but these brownies were killer. Five of us ate our way through more of a pan than I'd like to admit. If you have kids, it's a great alternative to actually assembling and roasting s'mores. If you don't, well, it's just awesome. I can't wait to make this again during the holiday season!
S'mores Brownies
Adapted from Good Thymes and Good Food
Makes a 9×13 in. pan
Ingredients:
10 graham crackers, broken in half (20 squares total)
3/4 c. unsalted butter
4 oz. unsweetened chocolate
2 c. granulated sugar
3 eggs
1 tsp. vanilla extract
1 c. all-purpose flour
2½ c. mini marshmallows
1 c. semi-sweet or dark chocolate chips
Preheat oven to 350F.
Line a 9×13 in. baking sheet with parchment paper and spray with cooking spray. Lay 15 graham crackers along the bottom, breaking them and overlapping sides as necessary to cover bottom of pan. Set aside.
Break remaining 5 graham crackers squares into pieces and set aside, with the chocolate chips and marshmallows.
Put butter and unsweetened chocolate in a microwave-safe bowl. Microwave on 30 second intervals, stirring every 30 seconds, until melted, About 2 minutes total. Whisk in sugar, eggs and vanilla. Stir in flour until just incorporated.
Pour into prepared pan. Bake for 30 minutes, until a toothpick inserted into the center comes out with moist crumbles attached. Do not overbake!
Remove from oven and sprinkle marshmallows and chocolate chips over the top. Bake for another 3-5 minutes, until marshmallows begin to puff up. Remove from oven and turn on broiler. Press graham cracker pieces into the marshmallows. Bake for another minute or so, until marshmallows are golden brown.
Remove from oven and cool completely on a wire rack.
Use the parchment paper to life brownies out of pan and onto a cutting board. Use a sharp knife, warmed briefly under hot water, to cut the brownies. Wipe the knife and rewarm under hot water as necessary.
Store in an airtight container.