Sweet slow cooker Honey Sesame Chicken can be prepped in just 10 minutes. Serve with rice and a veggie for a complete, quick meal.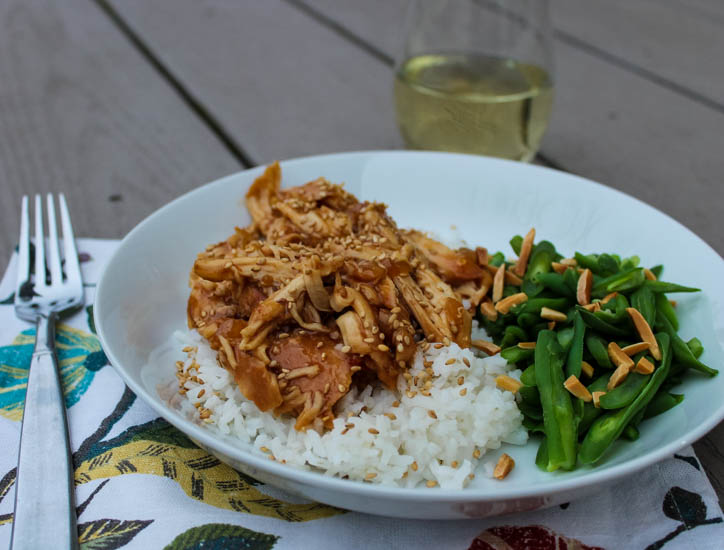 There are some weeks were I'm feeling super organized. Really on my game. Ahead of schedule. I feel good those weeks.
And then there are times like the past few weeks where I feel like I'm floundering. Like every time I try to do something, it's three times as difficult and time consuming as I imagine. I run errands only to find stores are closed or out of what I need. An easy online task turns into 15 minutes of online frustration, followed by a phone call to customer service to get something resolved.
It doesn't help that we've started birthday season – so lots of planning and entertaining – that we've had multiple weeks of lousy winter weather, and a week with two sick kiddos.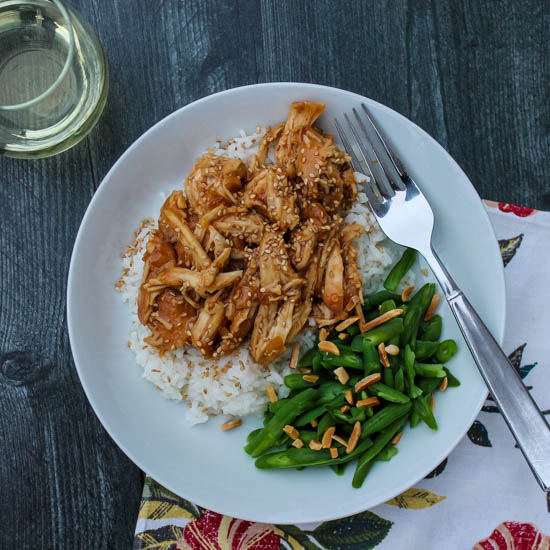 Yeah, you can say my plate has been full for the past few weeks. And it's only going to get worse, as birthday season continues, we have a bit of work done in the house, and my husband and I alternate travel pretty much every other week for the next few months.
My mom is coming to the rescue for my next month, but for now, I'm trying to buckle down, tackle my To Do and spend some much needed time blogging. I know that a few days of FOCUS will help me be more efficient and make me feel better. So that's what I'm attempting to do… despite everything being much more time consuming and difficult than it should be.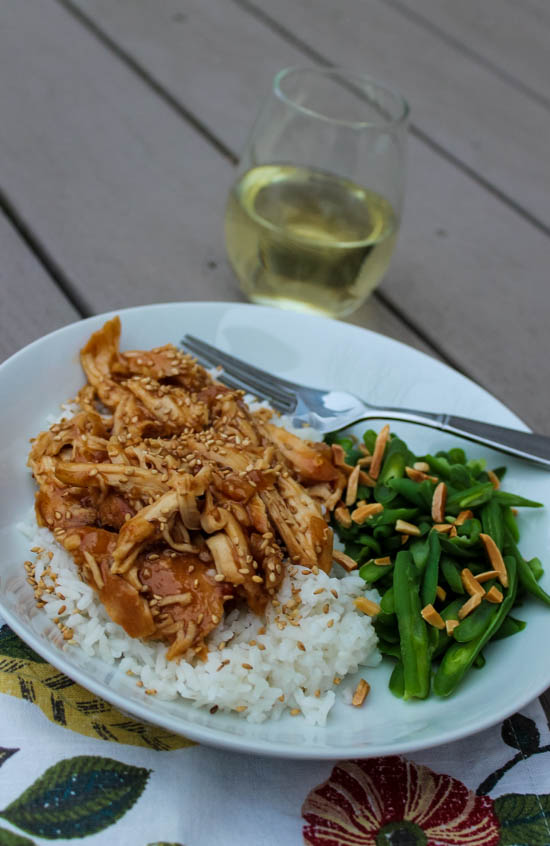 This Honey Sesame Chicken is one of the recipes we've made during all of the Crazy recently. It's a recipe we've been making for several years now – from Prevention RD, who hasn't steered us wrong yet. It's bright and flavorful, sweet – which my husband particularly loves. And the best part? It only takes about 10 minutes of hands on time – 5 minutes of prep, and 5 minutes of finish, making it ideal for those busy periods in your life.
I served this with quick minute rice and microwaved green beans and almonds for a complete (and easy) dinner. Enjoy!
Print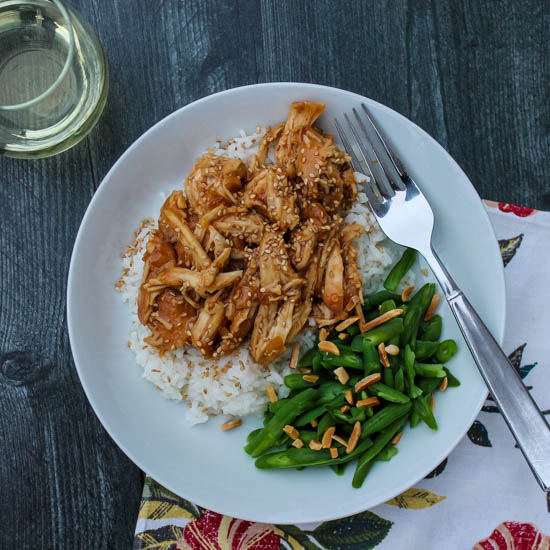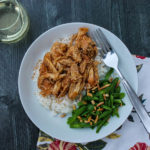 Honey Sesame Chicken
Sweet slow cooker Honey Sesame Chicken can be prepped in just 10 minutes. Serve with rice and a veggie for a complete, quick meal.
Total Time
6
hours
10
minutes
Ingredients
1 1/2

lbs.

boneless skinless chicken breasts

4 chicken breasts

1/2

c.

honey

2

Tbs.

low-sodium soy sauce

2 1/2

Tbs.

ketchup

1

Tbs.

extra-virgin olive oil

1/2

onion

diced

3

cloves

garlic

minced

1/2

tsp.

red pepper flakes

2

Tbs.

cornstarch

2

Tbs.

sesame seeds
Instructions
Place chicken breasts in the slow cooker.

In a small bowl, whisk together honey, soy sauce, ketchup, olive oil, onion, garlic, and red pepper flakes. Pour over chicken breasts. Cook on low for 3-4 hours, or on high for 2 1/2 - 3 1/2 hours.

When chicken is cooked through and tender, transfer chicken breasts to a plate.

Whisk cornstarch into the sauce and continue cooking for another 5-10 minutes, for sauce to thicken.

While sauce continues to cook, use to forks or a set of bear claws to shred chicken. Return chicken to slow cooker and stir to coat chicken in sauce.

Sprinkle with sesame seeds and serve over rice.
This recipe was rewritten but barely adapted from Prevention RD.