Slow Cooker Hamburger Stroganoff is total comfort food. Ground beef and mushrooms simmer away all day in a creamy sauce, and are then served over egg noodles for a hearty wintertime meal.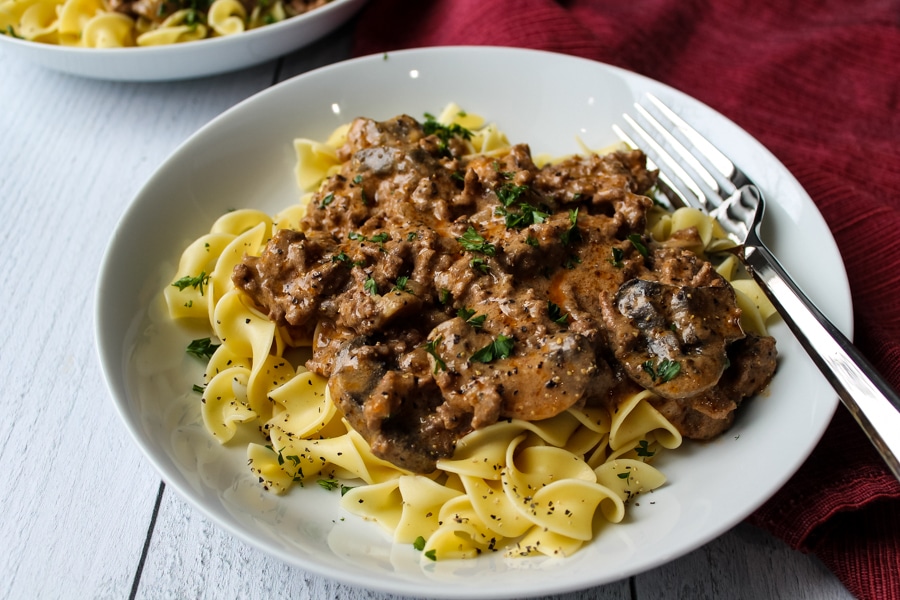 This month has been a doozy. I took a blogging break at the end of 2021 to refresh and focus on some other priorities. While I started the new year refreshed and ready to jump back into blogging, it has not been easy to carve off time.
Work didn't get the memo that we were supposed to start things off slowly – it was busy from day 1, with many people making up for a week of snow delays and cancellations. The shelves at my primary grocery store have been empty. I swear, it feels like 2020 again! I'm either having to pivot my meal plans on the fly or go to two or three grocery stores each week. Ain't got no time for that!
And then there were the COVID cooties. We did so well avoiding them! Almost two years later, despite everyone being fully vaccinated, the cooties came anyway. I really can't complain. Everything happened as well as possible. We received quick notification of the close contact so we were able to split up and isolate. I had a few at home test kits so that we can be as cautious as possible. Symptoms were mild. Work was accommodating. But it was a lot. Stressful. I felt like a single parent with an extra kid, trying to do all the things – keep house, care for 3 people plus a dog, feed everyone and actually get work accomplished.
And then me and the other kid got it! I think I probably had it worst of all of us – serious fatigue and really bad cold symptoms for a week. Thank goodness for vaccines. I can't imagine how much worse it would have been without it!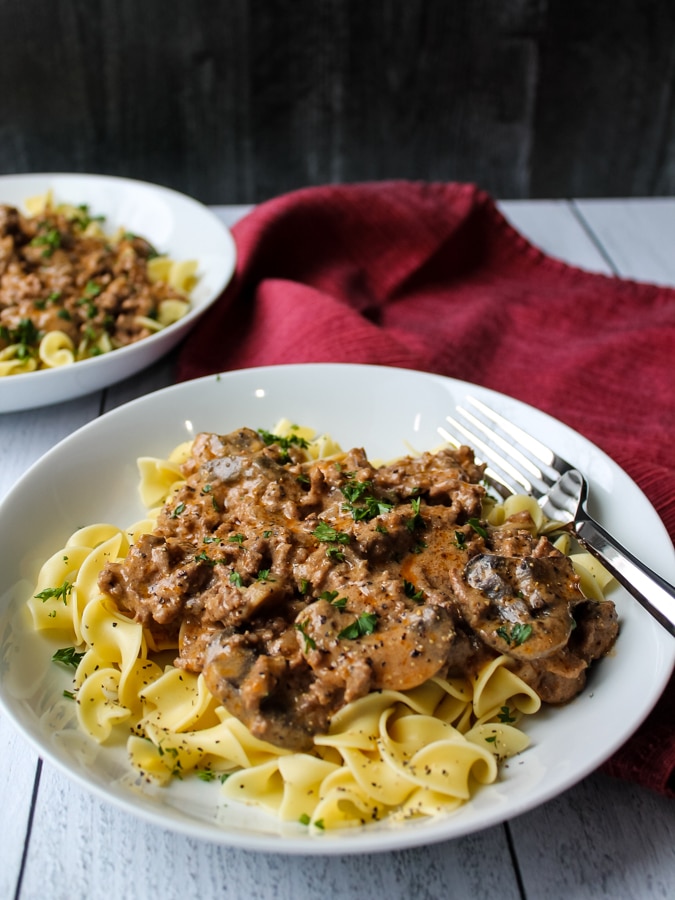 Yeah, I'd say that January has been a challenge.
One other thing about January? Did you know January is Slow Cooker Month? The slow cooker has been my best friend for easy weeknight meals. Whether you use your slow cooker year round or only during cooler months, I have a recipe for you.
Recipes Notes for Slow Cooker Hamburger Stroganoff:
This Slow Cooker Hamburger Stroganoff is something we've been making for a while but it's not exactly easy to photograph. It's from one of my go-to cookbooks, Skinny Taste Fast and Slow (affiliate link). We like it because it's homey and hearty. This mama likes it because it's got a veggie already in there, so I don't feel a need to make an extra side.
Prep Ahead: I like to prep everything the day or night before and store in the slow cooker crock, covered, and refrigerate overnight. In the morning, it's ready to go. Just pop it in the base, turn it on, and go on your way.
Ingredients: May use 1 tsp. fresh thyme leaves instead of dried. Freeze extra tomato paste in an ice cube tray for later use.
Freezing: This makes a large batch. Stroganoff may be frozen after being cooked. Simply defrost and heat on the stove or in the microwave.
Serving Suggestions: Serve over egg noodles.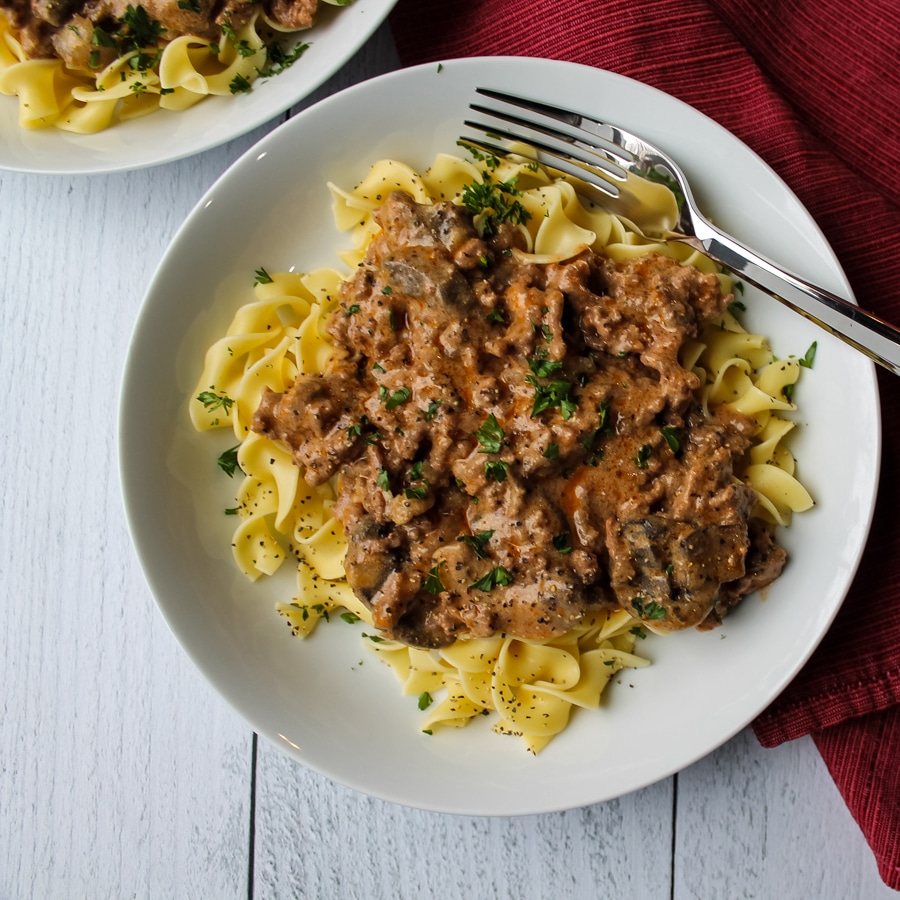 Seriously Good Slow Cooker Recipes:
From Our Dinner Table shares recipes on Facebook too Recipes From Our Dinner Table! Join our group and share your recipes, too! While you're at it, join our Pinterest board, too!
And finally, a few of my personal favorite slow cooker recipes:
What's your go to slow cooker recipe? Leave me a comment and let me know!
Print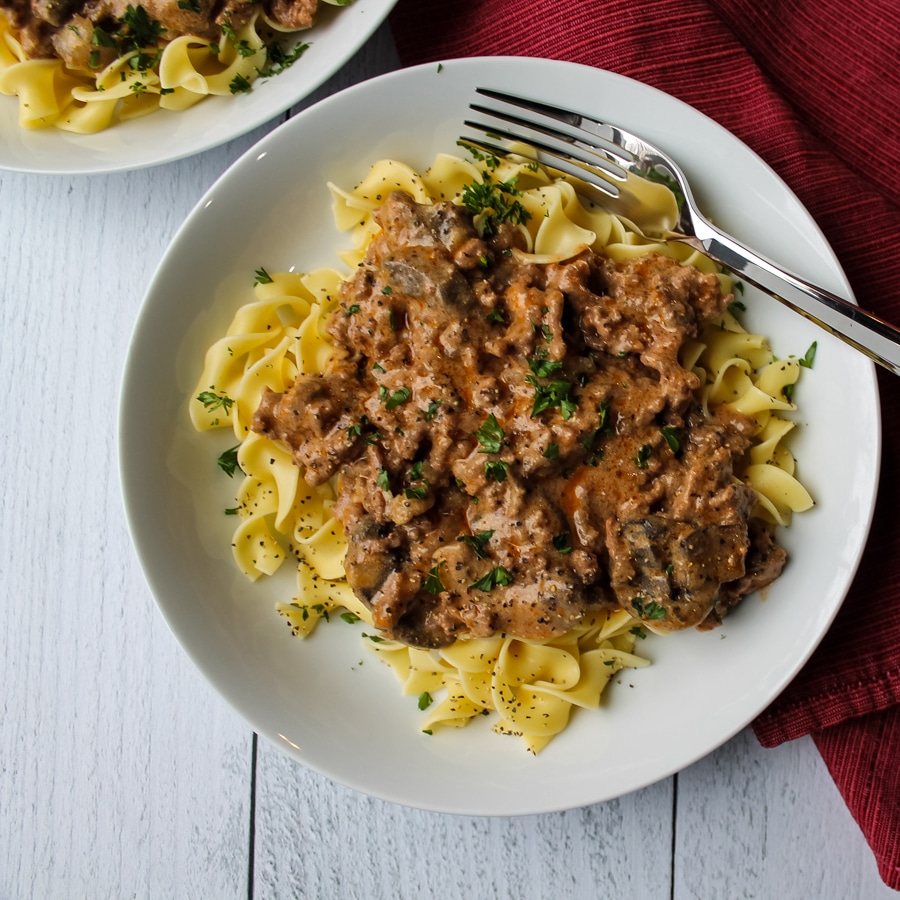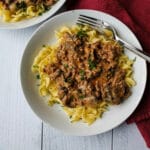 Slow Cooker Hamburger Stroganoff
Slow Cooker Hamburger Stroganoff is total comfort food. Ground beef and mushrooms simmer away all day in a creamy sauce, and are then served over egg noodles for a hearty wintertime meal. 
Total Time
6
hours
15
minutes
Ingredients
2

lbs.

lean ground beed

90% or leaner

1/2

tsp.

kosher salt

1/2

tsp.

coarsely ground black pepper

1

onion

small dice

2

Tbs.

tomato paste

16

oz.

sliced cremini mushrooms

1/2

tsp.

dried thyme leaves

1

tsp.

Worcestershire sauce

1 1/2

c.

water

1

c.

light sour cream

1/4

c.

all-purpose flour

4

tsp.

chicken bouillon

1

tsp.

sweet paprika
Instructions
Season beef with salt and pepper. Transfer to a large skillet set over medium heat, and sauté beef, breaking up as it cooks. When almost browned, add diced onion. Cook for 4-5 minutes until onions are translucent. Add tomato paste, stirring until mixed thoroughly. Transfer beef mixture to the crock of a slow cooker.

Top beef with mushrooms, thyme and Worstershire sauce.

In a 4-cup measuring cup or bowl, combine water, sour cream, flour, bouillon and paprika. Whisk together until combined. Pour over top of beef and mushrooms.

Serve hot, over egg noodles.
Adapted from Skinny Taste Fast and Slow p. 119 (affiliate link).