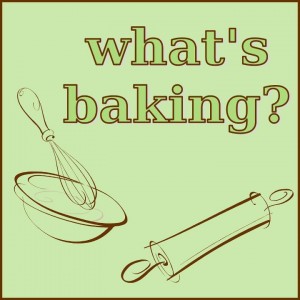 This month's theme for What's Baking? – baking bread – was chosen by Heather at Hezzi-D's Books and Cooks. I definitely debated about whether to use this as an excuse to make a warm, crusty baguette. I contemplated a dinner of fresh bread and cheese, maybe a little fresh fruit and olives… but I bet my hubby would tell me that's not an acceptable dinner. After all, he scoffed at a box of Girl Scout cookies for lunch. Apparently 6+ months pregnant isn't an excuse to indulge. Anyway, in the end, I decided that with the cold weather we've been having, I'd make a hearty dinner of our favorite chili and made-from-scratch traditional cornbread.
This recipe is super easy – it took only a few minutes to put together and surprisingly little time to bake. My oven runs a tad hot, so I ended up with a slightly crispy edge that I couldn't help but eat first. 🙂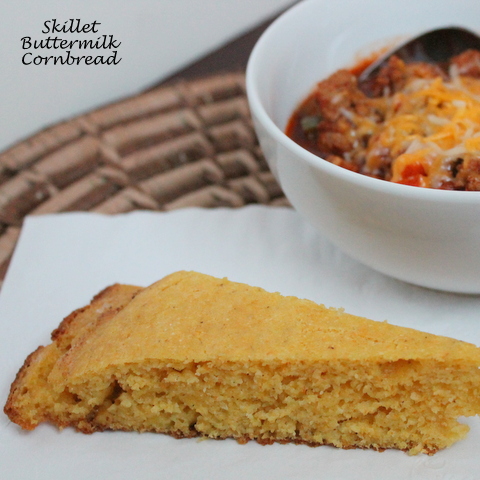 Skillet Buttermilk Cornbread
Adapted from Fine Cooking No. 107 (p. 37)
Serves 6-8
Ingredients:
1 3/4 c. stone-ground yellow cornmeal
1/2 c. all-purpose flour
2 Tbs. sugar
2 tsp. baking powder
1/4 tsp. baking soda
3/4 tsp. table salt
1 c. buttermilk
1/2 c. sour cream
2 large eggs
3 Tbs. unsalted butter, cut into a couple of pieces
Ensure that a rack is placed in the center of the oven. Place a 9-10 inch cast-iron skillet in an oven and heat to 425°F. Allow skillet to sit in the oven until the oven is completely preheated, if not longer.
In a large bowl, whisk together remaining cornmeal, flour, sugar, baking powder, baking soda, and salt. Set aside.
In a small pot, bring 1/2 c. water to a boil. Whisk in 1/2 c. of the cornmeal until a thick mush has formed. Whisk in buttermilk, sour cream, and eggs until smooth.
When oven has been properly preheated, about 20 minutes, add the wet ingredients to the dry ingredients. Stir together with a wooden spoon until smooth and no clumps remain. Switch to a whisk if a few stubborn clumps remain.
Remove hot skillet from oven and add butter pieces, swirling pan to spread the butter and coat the bottom. Immediately pour cornmeal mixture into pan. Return to oven and bake for 18-20 minutes, until top is golden and bread begins to pull away from the sides.
Remove from oven and turn out onto a wire rack. Allow to cool for 5 minutes before serving.
Serve hot.