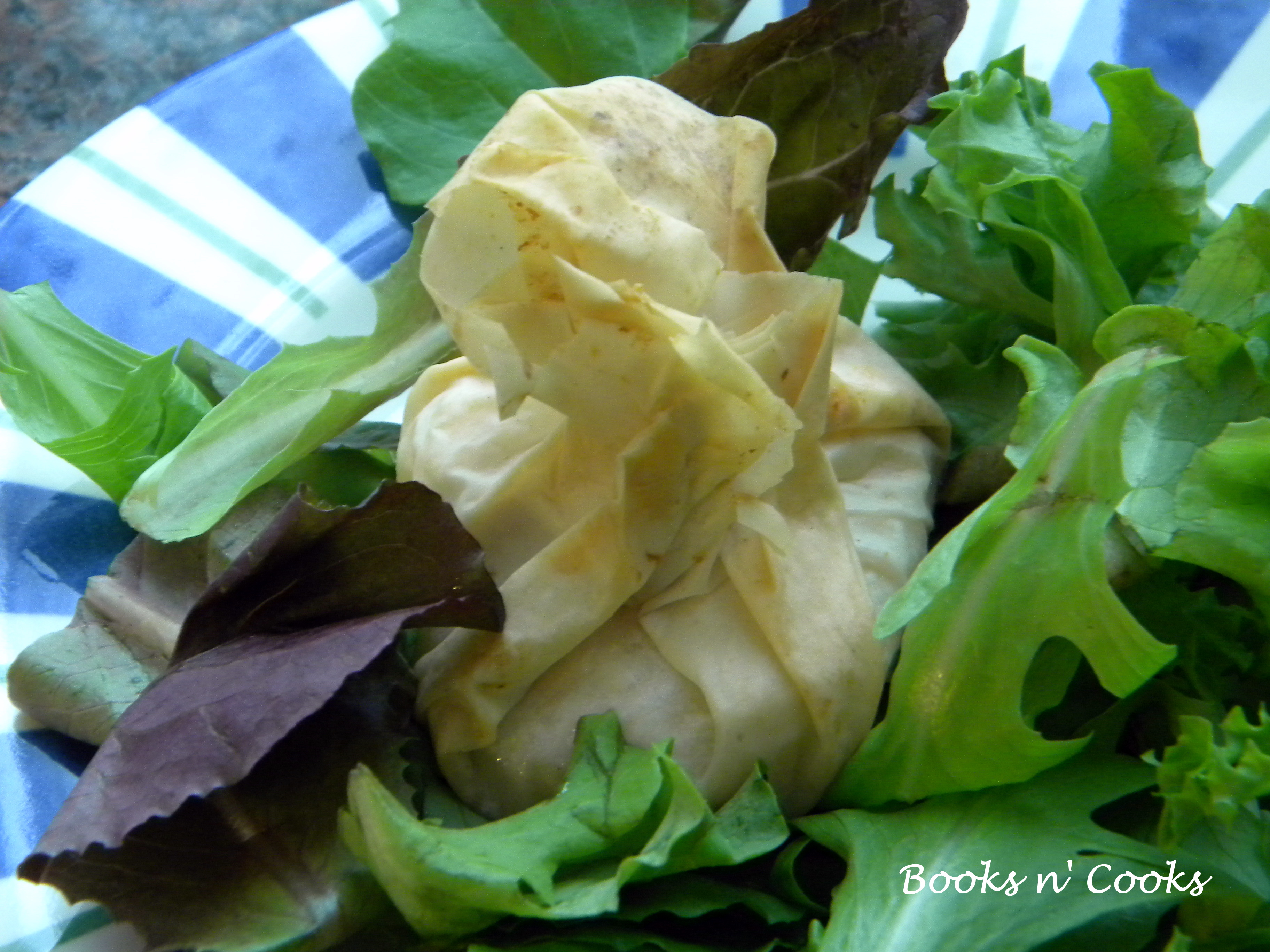 A simple salad topped with warm goat cheese wrapped in phyllo is an easy and yet elegant first course or accompaniment to a light lunch. We served this salad as the first course at Thanksgiving. The light and slightly sweet salad is the perfect complement to the strong goat cheese.
I did make a couple changes to the recipe, including reducing the amount of phyllo used, and the technique for wrapping the goat cheese. The original recipe called for 4 sheets of phyllo dough, sliced in half width-wise, in order to make two phyllo pockets. This seemed to be far too much phyllo to neatly wrap the goat cheese. Two sheets, sliced lengthwise once and then width-wise twice (to wrap 6 pieces of goat cheese) was much more manageable.
Salad with Goat Cheese Purses
Adapted from Ina Garten's Barefoot Contessa Back to Basics,
Goat Cheese Wrapped in Phyllo
Serves 6
Ingredients for the Goat Cheese Wrapped in Phyllo
4 sheets phyllo dough, defrosted
1/4-1/2 stick unsalted butter, melted
2-3 Tbs. plain dry bread crumbs
3-6 oz. fresh goat cheese cut into 1/2-1 oz. discs
Ingredients for the Salad and Vinaigrette
2 Tbs. champagne vinegar
1 tsp. Dijon mustard
1/2 tsp. minced garlic
1 tsp. kosher salt
1/2 tsp. freshly ground black pepper
1/2 c. olive oil
Ingredients for the Salad
Salad greens, such as an arugula and mesclan mix
Make the Goat Cheese Purses: Preheat the oven to 375°F. Line a baking sheet with parchment paper and set aside.
Lay a piece of wax paper or parchment paper on the counter. Unroll the phyllo dough and set on top of paper. Cover with a slightly damp towel to keep the phyllo fresh (careful – if the towel is too wet, the phyllo will be sticky).
Remove once piece of phyllo dough and set on work space, replacing the paper towel over the rest of the dough. Brush with melted butter and sprinkle with bread crumbs (I used about 1 tsp.). Repeat.
Cut sheets in half lengthwise. Then cut each piece in thirds, width-wise.
Put a disc of goat cheese in the center of each piece. Pull corners of phyllo together, then bring up the sides. Twist slightly and holding the center together slightly so that it sticks together. Place on the prepared baking sheet. Repeat until finished.
Using remaining butter, lightly brush each of the purses, particularly the top and where the phyllo comes together.
Bake for 20 minutes, until phyllo is browned.Remove from oven and allow to cool slightly.
Make the Vinaigrette: Whisk all vinaigrette ingredients except olive oil together. Add olive oil slowly while still whisking.
Assemble the Salad: In a salad bowl, toss the salad greens with vinaigrette. Place onto places and top with a goat cheese purse.