Packed with flavor, Rosemary Walnut Baked Chicken is a quick and easy (and light!) weeknight meal.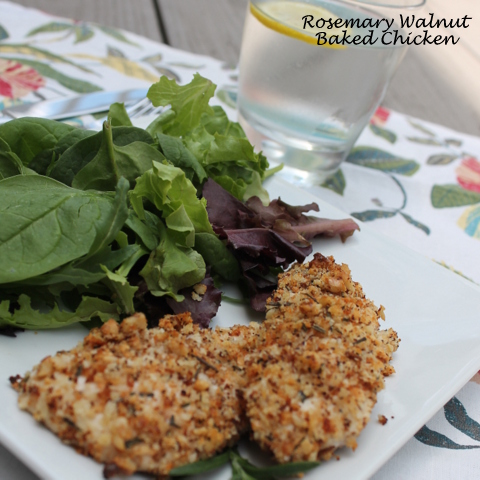 I found this recipe a few years ago and went through a phase of making it all of the time. I had forgotten about it until recently. I quickly added this old favorite back into our regular dinner rotation and vowed not to forget about it again. This baked, crispy chicken is healthy, flavorful, and an easy 30 minute meal for a weeknight dinner. Can't beat that!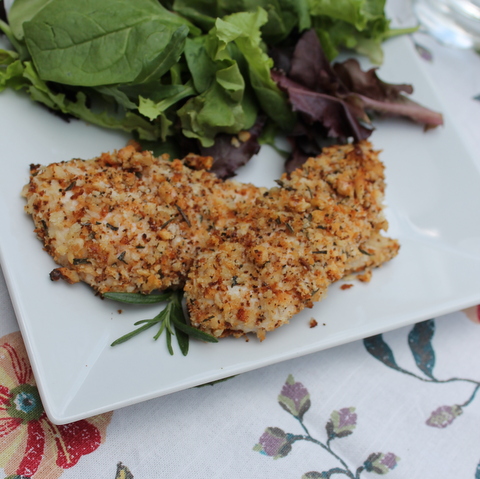 Recipe Notes & Tips:
I always slice my chicken cutlets thinly, so they tend to cook a little faster. I've also taken to prepping a bunch of chicken ahead of time, portioning it into our ideal cooking portions (enough for dinner + leftovers for lunch), and freezing. The chicken defrosts quickly and removes one step from my weeknight dinner prep.
While the original recipe calls for buttermilk, I don't typically have buttermilk on hand. I've used whole milk, half-and-half, or whatever cream I have in the fridge. I've also made my own buttermilk with milk and a little lemon juice. Take your pick on what you'd like to do.
I've made this recipe using both unseasoned breadcrumbs and panko breadcrumbs. Comes out great both ways. Again, just depends on what I have in the house.
I keep "fresh" rosemary in my freezer. At the end of every summer, rosemary plants are trimmed back. Leaves are removed from the stems, washed, given a rough chop, and frozen in an airtight container. This gives me "fresh" rosemary all year round, without having to purchase the costly containers at the grocery store.
This recipe is easily multiplied. I like to make a big batch of the panko-walnut breading and store it in the freezer to shave time off of weeknight dinner prep.
Print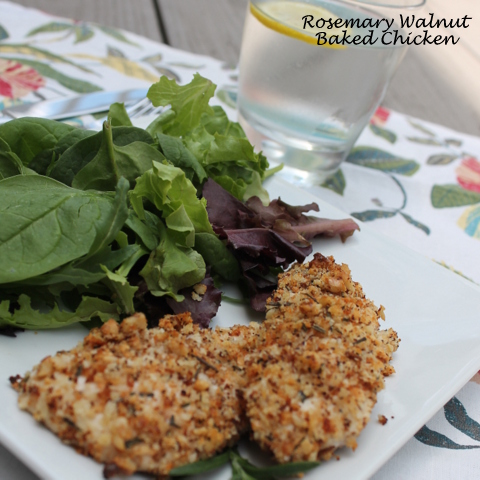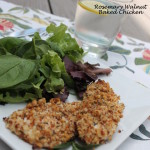 Rosemary Walnut Baked Chicken
Packed with flavor, Rosemary Walnut Baked Chicken is a quick and easy (and light!) weeknight meal.


Ingredients
Ingredients for the Crust:
1/3

c.

panko breadcrumbs

1/3

c.

chopped walnuts

2

Tbs.

finely grated Parmigiano-Reggiano

freshly grated, if you have it

1

generous tsp. minced fresh rosemary

1/4

tsp.

kosher salt

1/4

tsp.

freshly ground black pepper
Ingredients for the Chicken:
cooking spray

1/4

c.

buttermilk, milk, or half-and-half

2

Tbs.

Dijon mustard

4

chicken cutlets

trimmed of fat
Instructions
Preheat oven to 425°F. Place a wire rack on a foil-lined baking sheet and spray with cooking spray. Set aside.
Make Rosemary Walnut Crust:
In a small skillet over low heat, toast panko breadcrumbs until golden, stirring frequently. Remove from heat and allow to cool slightly.

Place panko breadcrumbs and walnuts in the bowl of a food processor. Pulse 5-10 times, until finely chopped. (You can skip this step if you can chop your walnuts small enough, but I found the finer consistency from a brief whirl in the food processor made for easier coating.)

Combine panko, walnuts, Parmigiano-Reggiano, rosemary, salt and pepper in a shallow bowl. (If making a large batch to freeze extra, portion out some for immediate use and store extra in an airtight container or ziplock bag.)
Assemble and Bake the Chicken:
In a shallow bowl, whisk together buttermilk and mustard until combined. Add chicken to mixture, turning to coat. Dredge chicken through panko-walnut mixture, ensuring that both sides are evenly coated.

Place chicken on prepared baking sheet/wire rack. Spray top of chicken with cooking spray. Bake for approximately 13 minutes (less time for thinner slices, more for thicker), or until chicken is cooked through.

Serve hot.
This recipe was adapted from Cooking Light
Save