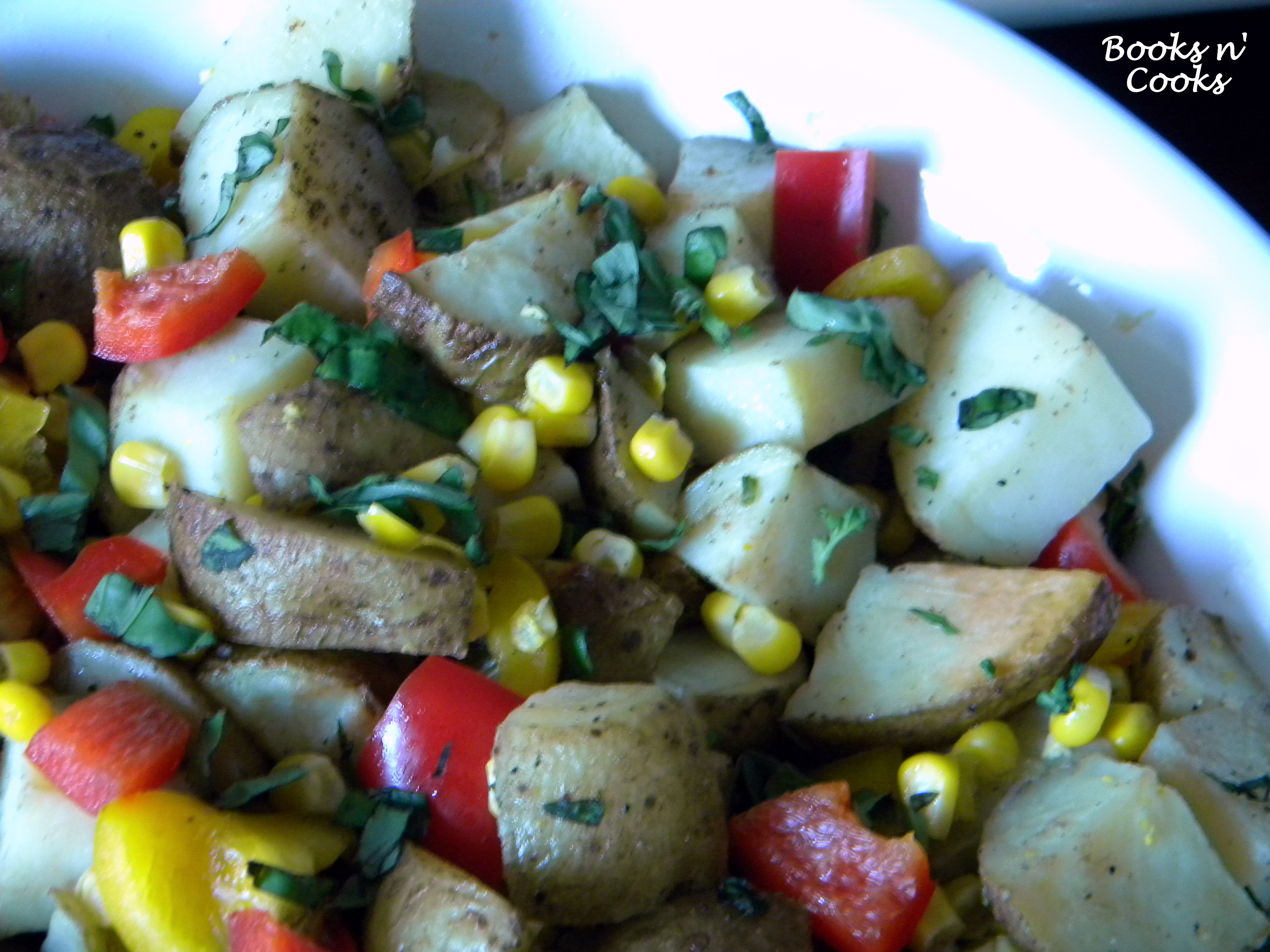 This Roasted Potato Salad is another favorite of mine for summer cookouts. Not only does it stand up well to the heat, but it showcases summer vegetables very well. I also love that it is an easy recipe to adjust to taste. As you can tell from the photo, I skipped the tomatoes this time around, but added in extra bell peppers and corn. The one thing I don't normally change about this recipe is the basil (I love basil!), but feel free to use the herb of your choice.
If you experiment and come up with new combinations that you love, please share!
Roasted Potato Salad with Bell Peppers, Corn & Tomatoes
Adapted from Fine Cooking No. 80 (p. 50)
Serves 6
Ingredients:
2 lb. small red-skinned potatoes or Yukon Gold potatoes, cut into 3/4-inch chunks
1/4 cup + 3 Tbs. extra-virgin olive oil
kosher salt & black pepper
2 c. cherry tomatoes, halved
1 ear of corn in husk, or 1 can of corn (drained)
1 1/2 bell peppers, any color or color combination, cut into 1/4-inch dice
1/2 small red onion, cut into 1/4-inch dice
1/2 c. chopped fresh basil
3 Tbs. red-wine vinegar
Roast the Potatoes: Preheat oven to 450F. Place potatoes in a single layer on a heavy-rimmed baking sheet. Toss with 3 Tbs. olive oil and sprinkle with kosher salt and pepper. Make sure potatoes are coated. Roast for 20-30 minutes, until potatoes are slightly browned and tender when pierced by a fork. Set aside to cool.
Put Together Salad: Toss roasted potatoes, peppers, onion, tomato,basil,  and corn (is using an ear of corn, remove husk, rub with 1 tsp olive oil, and roast for 20 minutes, rotating once, until kernels are lightly browned)  in a large bowl.
Just prior to serving, whisk remaining 1/4 c. olive oil and red-wine vinegar. Then you have one of two options:
Drizzle on salad. Season with salt, pepper, and if desired, more basil. Serve immediately.
Or, set olive oil mixture on the side and allow people to drizzle their serving separately. This is best for BBQs or dinners where the salad might sit out for a while.