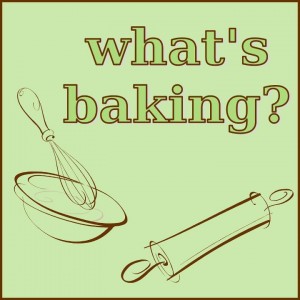 This month's What's Baking? theme was chosen by Nicole from Seven Ate Nine – Bake With Garlic. At first I was excited by the theme, the chance to do something a little more savory. But then I started worrying about what to make. With Easter entertaining on the agenda, I decided to accompany my usual Beef Wellington with fresh bread, inspired by this month's theme. The "baking" was twofold – first roasting the garlic until soft and sweet, flavoring good olive oil, and then using the two components to bake into bread.
I've made fresh focaccia bread once before and was impressed with both the ease and the wonderful flavor. This recipe produced the same results. Like most fresh breads, it's takes a little while to make, due to the rising time, but the result is worth the effort. (For your convenience, I added the time required for each step in bold, at the step, in case you need to break up the steps or plan your day around them.)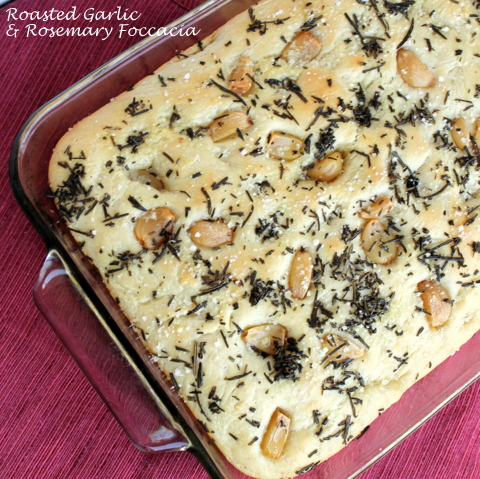 Roasted Garlic and Rosemary Focaccia
Adapted from Kitchen Konfidence
Makes a 9×13 pan
Ingredients:
1/2 c. good-quality olive oil
1 large head of garlic, top cut off
2 1/4 tsp. (1 envelope) active dry yeast
1 3/4 c. warm water
4 c. all-purpose flour
2 tsp. fine sea salt
2 Tbs. coarsely chopped fresh rosemary (from 4 springs)
flakey sea salt
Roast the Garlic and Flavor the Olive Oil: Preheat oven to 300°F.
Place olive oil in a small oven-safe bowl. Add garlic, top-side down. Cover bowl with foil and cook until garlic is soft, 45-60 minutes.
Remove from oven and allow to cool before removing garlic from oil and removing garlic cloves from the skin, setting aside the cloves to use on the bread later. If needed, pour oil through a mesh strainer or cheesecloth to remove solids. Set aside.
Time: 1 hour
Make the Dough: In the bowl of a stand mixer, gently stir warm water and yeast with a wooden spoon or plastic spatula to dissolve yeast. Allow to sit until the mixture begins to foam, about 5 minutes.
Transfer bowl to the stand mixer and fit with the dough hook. Add flour, fine sea salt, and 2 Tbs. roasted garlic olive oil. Mix on low speed, stopping periodically to scrape dough off hook, until mixture is smooth and slightly sticky, 10-15 minutes.
In a clean bowl, place 1 Tbs. reserved olive oil. Add dough ball to bowl and turn to coat completely in oil. Cover with a clean kitchen towel and set in a warm place to rise. Dough should double in size, about 2 hours. (Note: In my house, I find that dough rises best when placed in the kitchen while I'm using the stove/oven or by my gas fireplace, left on. I apparently keep my house too cool for dough to rise easily without an additional heat source.)
Time: 2 to 2 1/2 hours
Rest: Place 1 Tbs. reserved olive oil in a 9×13 baking dish (I used a Pyrex dish). Spread, ensuring bottom and sides are coated.
Uncover and punch down dough. Transfer to prepared baking dish, stretching so that it covers the entire dish. Cover again with clean towel and allow to rest for 30 minutes.
Time: 45 minutes
Bake the Bread: When dough is resting, preheat the oven to 450°F.
After dough has finished resting, use clean fingers to a dimple dough (pressing slightly with fingertips, all over). Brush with remaining roasted garlic olive oil (you may have some leftover) and add reserved garlic cloves. Sprinkle with flakey sea salt and chopped rosemary.
Place in oven and immediately lower temperature to 375°F. Bake until golden brown, 20-30 minutes.
Allow to rest on a wire rack to cool slightly before serving.
Time: 30 minutes + time to cool slightly (additional 15ish minutes)