In honor of Cinco de Mayo next week, I'm sharing a recipe that's been on my to-make list for years. I've been bookmarking recipes for Restaurant Style Salsa for what seems like ever. After all, the best part of going to a Mexican restaurant is the chips and salsa. Well, that and the margaritas, but I can't indulge in those quite yet. I've got to tell you, I'm kicking myself for waiting so long to make this myself. It was super easy and just as additive as the stuff they serve at the restaurants.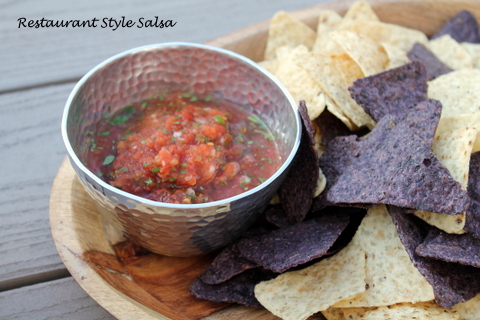 Restaurant-Style Salsa
Adapted from Mountain Mama Cooks
In a large food processor, pulse the following ingredients for 30 seconds, or until desired consistency:
1-14 oz. can diced tomatoes, with juices
1-10 oz. can diced tomatoes and chilies mix (i.e. Rotel), with juices
1/2 a small onion, roughly chopped
1 clove garlic, peeled and smashed/chopped
1 jalapeno, seeded (or not, if you prefer your salsa spicier)
1 tsp. sugar
1/2 tsp. kosher salt
1/2 tsp. ground cumin
juice of 1 lime
small handful of cilantro
Taste. Adjust seasonings if needed.
Store in an airtight container for up to a week.