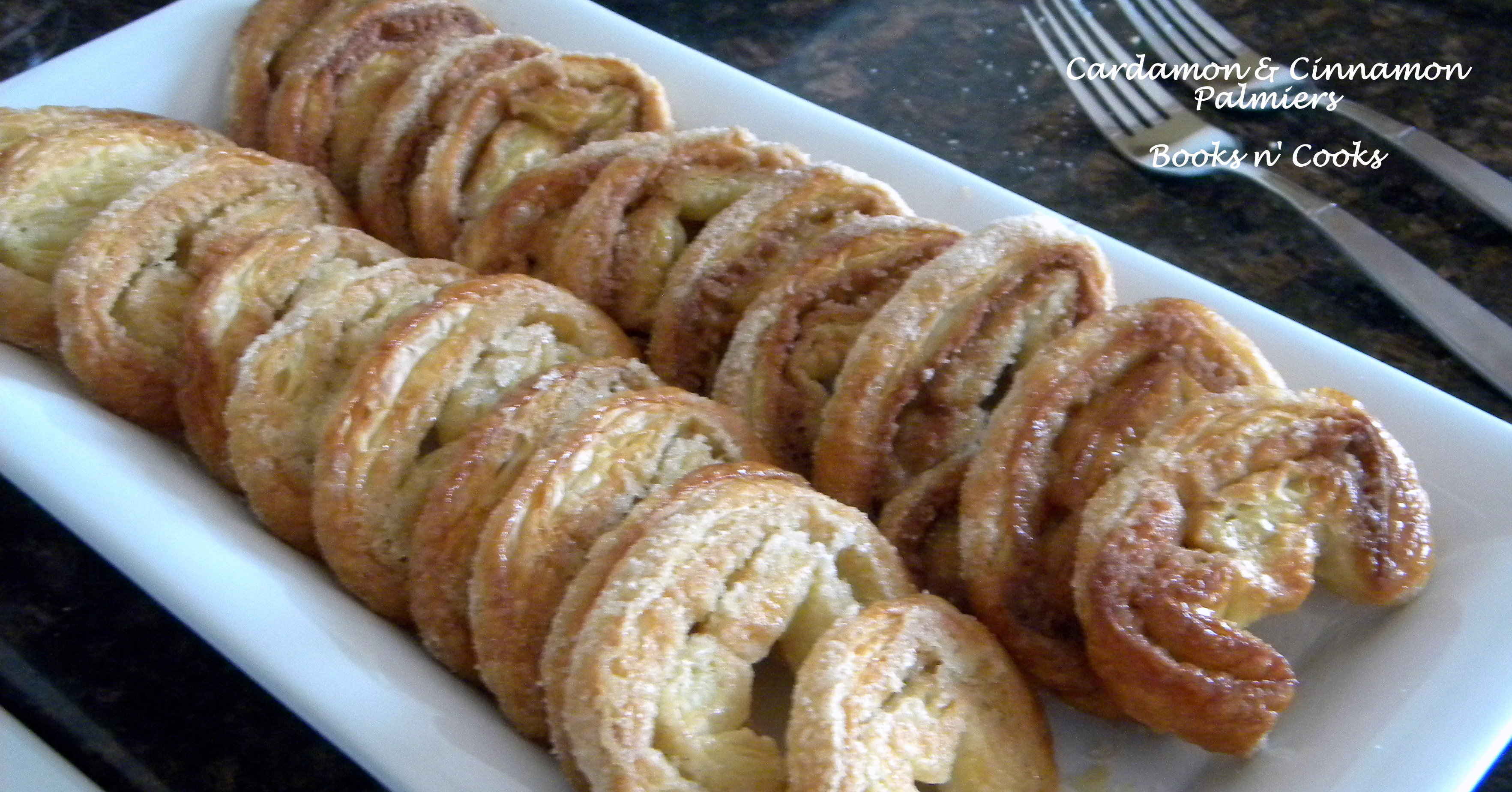 Quick & Easy Palmiers: Cinnamon & Cardamom
I have a new favorite cookie recipe – this is it. I think I made it three times in one week (once for work and twice as a dessert for a friend's house). Sweet and crunchy, they look impressive but are so incredibly easy to make. Four ingredients and requires just a mixing bowl, rolling pin, and knife. Can't get easier. These were wonderful alone, but it would also be fantastic with ice cream or along side a mousse or pudding.
The original palmier recipe came from Ina, but I made some pretty substantial modifications to it. I felt that 1 c. was just way too much sugar, as there was quite a bit of sugar that didn't get absorbed into the puff pastry dough. I also played with the flavorings in the sugar, trying out cardamom, which I liked even better than the cinnamon. The flavor was just slightly sweeter but still more subtle than the cinnamon (hence, I used 1 tsp. of cardamom instead of 1/2 tsp. called for in the cinnamon palmier recipe). This flavor was such a hit, I look forward to trying out some other flavors!
Cinnamon Palmiers, Heavily adapted from Ina Garten
1 sheet puff pastry, defrosted
2/3 c. sugar, divided
1/2 tsp. kosher salt
1/2 tsp. cinnamon
Cardamom Palmiers, A Books n' Cooks Original, inspired by Ina Garten
1 sheet puff pastry, defrosted
2/3 c. sugar, divided
1/2 tsp. kosher salt
1 tsp. ground cardamom
Preheat oven to 450F. Line two baking sheets with aluminum foil and set aside.
In a small bowl, mix 1/3 c. sugar, salt, and either 1/2 tsp. cinnamon or 1 tsp. cardamom. Set aside.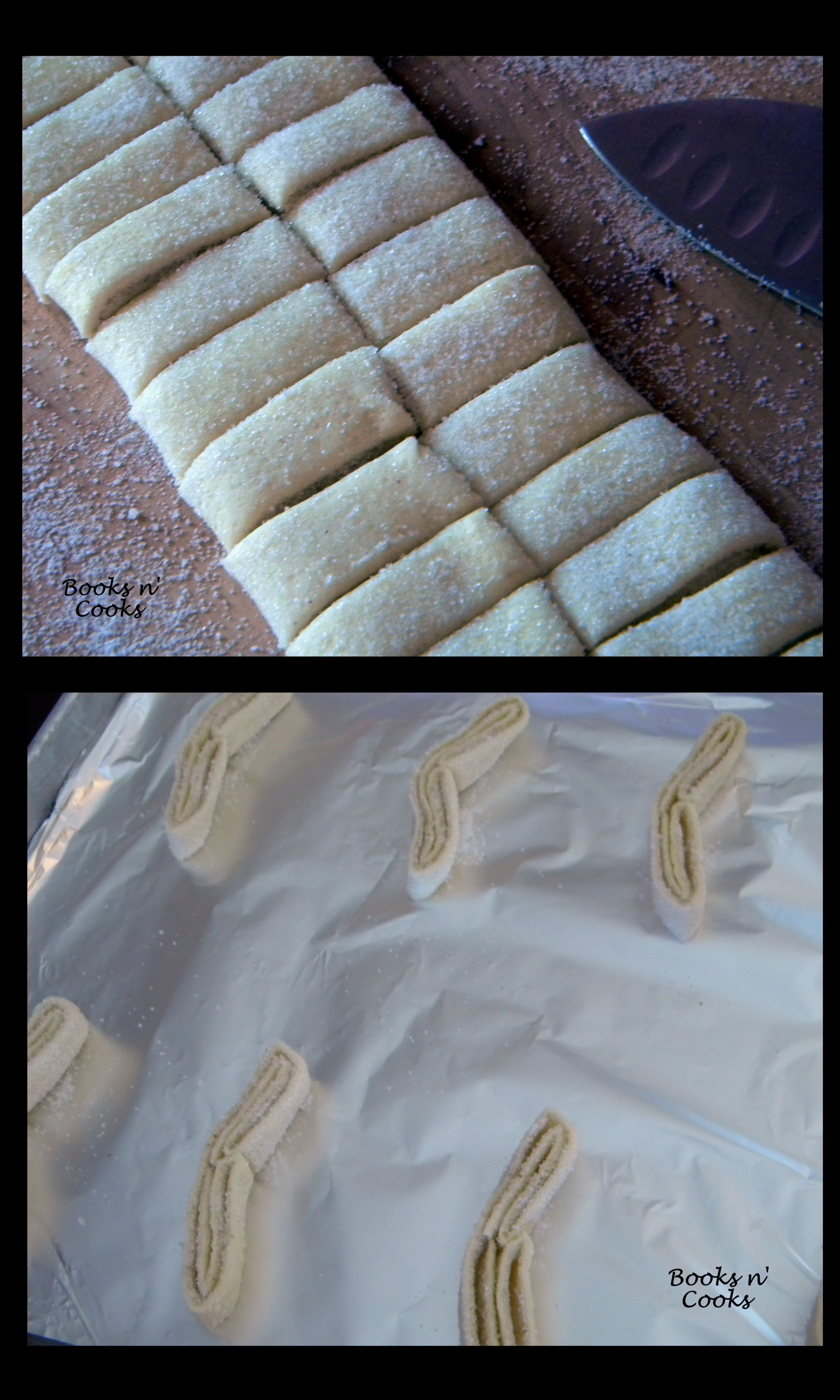 Sprinkle a large cutting board with 1/3 c. sugar. Unfold the sheet of puff pastry onto sugared board. Sprinkle sugar-cinnamon/cardamom mixture over puff pastry, so that the pastry is completely covered. It's alright if you have a little left over. Just set it aside.
Using a rolling pin, lightly roll out puff pastry until measured 13×9 inches and sugar is pressed into pastry. As you're rolling, feel free to add the extra sugar, if any lightly-sugared spots pop up.
Lay the puff pastry lengthwise. Fold one end to the center, and then the other. The puff pastry will look like a book. Again, fold each end toward the center. You should have 4 layers of pastry folded on both sides. Use a sharp knife in a sawing motion (don't press down!) to slice the puff pastry into 1/2 to 3/4-inch pieces. (I got about 16 cookies out of each puff pastry sheet.) Place on prepared cookie sheets, cut side up. If the cookies don't stand up straight, bend them slightly at the center.
Bake 6-8 minutes, until sugar begins to caramelize. Flip, and cook another 3-5 minutes, until lightly browned. Remove from oven and allow to cool for a few minutes on the making sheet before moving to a cooling rack to cool completely.