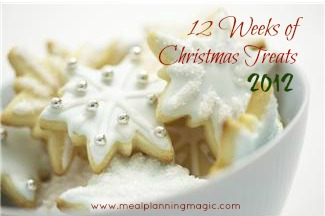 Last week, I made the world's most expensive salad. As I was getting the balsamic vinegar from my cabinet, a glass spice jar fell, and hit the stove top in just the wrong spot. It cracked the glass top, making two burners unusable. Now I'm afraid use the stove or oven at all. All it'll take is a little water to slip through that crack and I'll end up electrocuting myself.
The new stove is supposed to arrive this coming Saturday, putting a little bit of a cramp in my Veteran's weekend baking plans. I had planned to knock out my holiday care packages, sending them early because of our upcoming move. Lucky for me that I had at least one no-bake item on my list – these pretzel s'mores that I discovered through Pinterest. Not only were the s'mores easy to make, they've got that amazing salty-sweet combo that I love. Fingers crossed that the recipients of my care packages enjoy them as much as I did!
Looking for more holiday treats? Head over to Meal Planning Magic to see what else bloggers made to celebrate the 12 Weeks of Christmas Treats.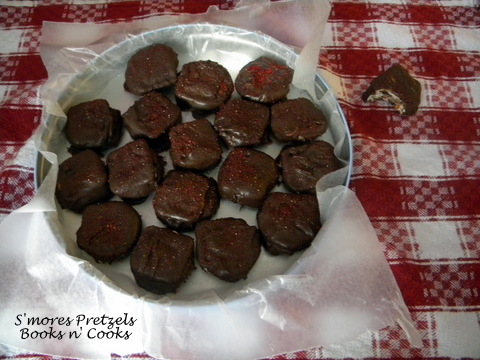 Pretzel S'mores
Inspired by Love From the Oven
Makes ~3 dozen pretzel s'mores
Ingredients:
13 oz. bag of pretzels (I used the square waffle ones but use whatever shape you'd like)
~18 snack sized chocolate bars (milk chocolate or dark, your choice)
1/2 bag of marshmallows (~18 marshmallows)
1 1/2 bags candy melts, melted
sprinkles (if desired)
Note: You may have extra pretzels, marshmallows, and chocolate melts leftover.
Prep: Line a shallow Pyrex (or other microwave safe dish) with wax or parchment paper. In addition, line a baking sheet with wax paper. Set both aside.
Prep the chocolate and marshmallows. Break the mini chocolate bars into 3-4 pieces, depending on the size and shape of your pretzels. Cut the marshmallows into 3 pieces.
Make the S'mores: In the Pyrex dish, place one layer of pretzels, leaving about an inch between each pretzel. Top with a piece of marshmallow and a piece of chocolate. Microwave for 10-20 seconds, until marshmallows puff up a little. Some of the chocolate may also start to melt. Remove from microwave and top with a second pretzel.
Allow pretzels to sit for a minute or two to set. Dip in melted chocolate melts and set on wax paper-lined baking sheet. Top with sprinkles, if desired. Refrigerate for 15-20 minutes (or freeze for less time) until chocolate is set.
Store in an airtight container at room temperature.