As a kid, we always got Golden's potato pancakes and Mrs. T's pierogis for lunch. We all had our favorites – I preferred the pierogis while my brother liked the potato pancakes. This year for Christmas, he requested homemade potato pancakes.
So, Mom & I turned to our never-fail Fine Cooking magazines for a recipe. After a brief lesson for Mom about how to use her food processor attachments (she thought we'd be grating 5 lbs. of potatoes by hand instead of using her grating disc, similar to this one), we got down to business. The one thing I would recommend, that was not in the original recipe, is to use a cheesecloth to further squeeze the water out of the potatoes. If too much water remains, the potatoes won't adhere together and you're potato pancakes will fall apart.
As usual, Fine Cooking didn't let us down – we doubled the recipe even though there was only 5 of us for Christmas Eve lunch, and everything was gone.
Potato Pancakes (Latkes)
Adapted from: Fine Cooking No.  89, p. 53
Makes 16-18 potato pancakes
Ingredients:
2-1/2 lb. Idaho potatoes (4 medium), peeled and cut lengthwise into 2-3 strips
2-1/2 tsp. kosher salt
3/4 c. corn oil
1-1/4 c. diced onion (1 medium)
1 large egg
2 Tbs. all-purpose flour
1 tsp. baking powder
1/8 tsp. black pepper
Make Pancakes: Using a food processor fitted with a medium (4mm) grating disc, grate potatoes. Transfer to a colander. Sprinkle with 2 tsp. salt and allow to drain for about 10 minutes, tossing occasionally.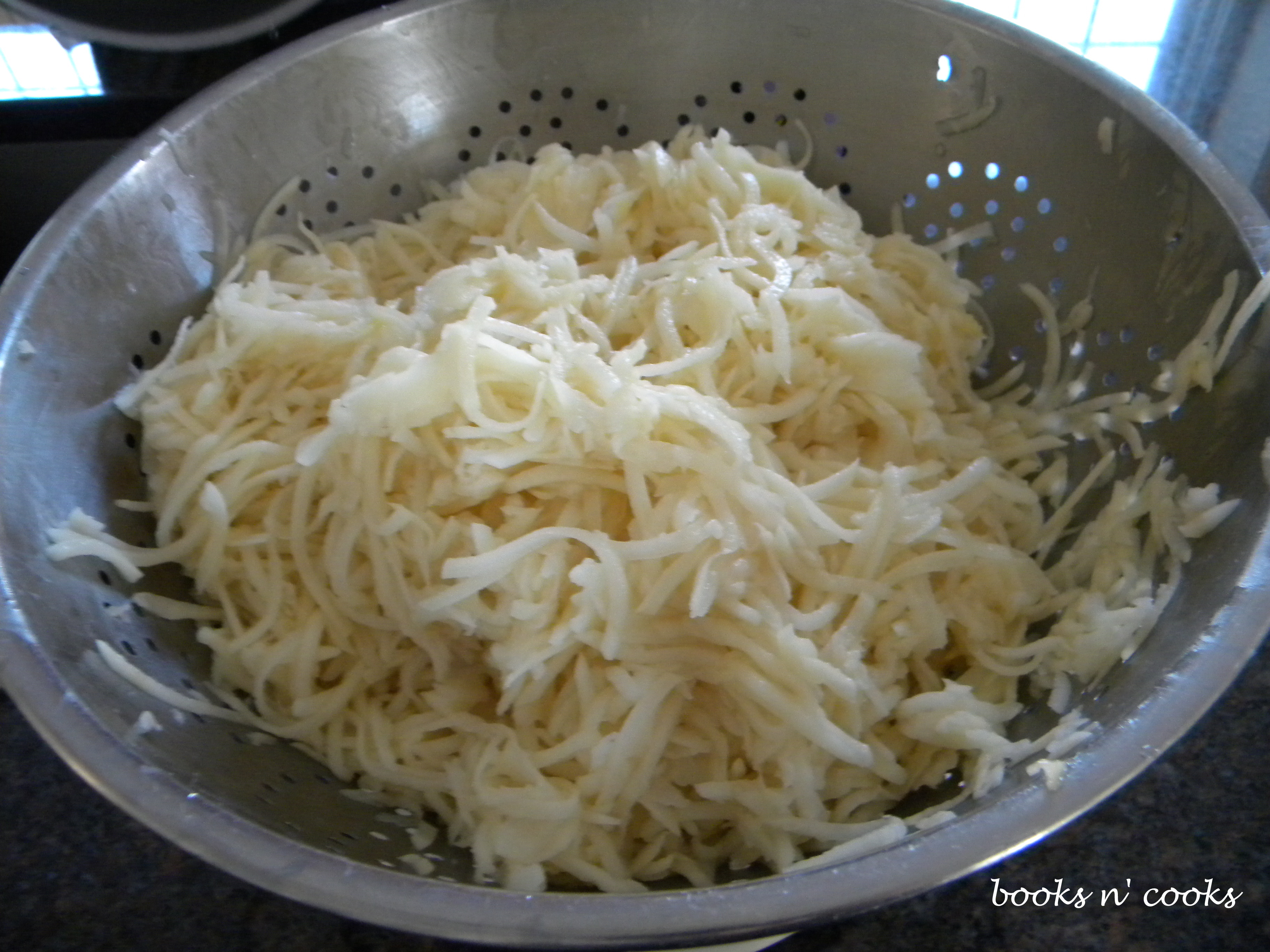 After potatoes have drained, wrap them in a cheesecloth and squeeze out more excess water.
Rinse out the food processor and replace grating disc with chopping blade. Combine 1 Tbs. oil, onion, flour, baking powder, pepper, and 1/2 tsp. salt. If your food processor is large enough to fit the potatoes, then add the potatoes, pulsing until coarsely chopped (you'll probably have to stir mixture a couple times). If your food processor is smaller, pulse the mixture until just combined and transfer to a separate bowl. Add potatoes and then a bit of the egg/onion mixture, pulsing until coarsely chopped. Transfer for a bowl and repeat until all potatoes and egg/onion mixture have been coarsely chopped. Stir to combine.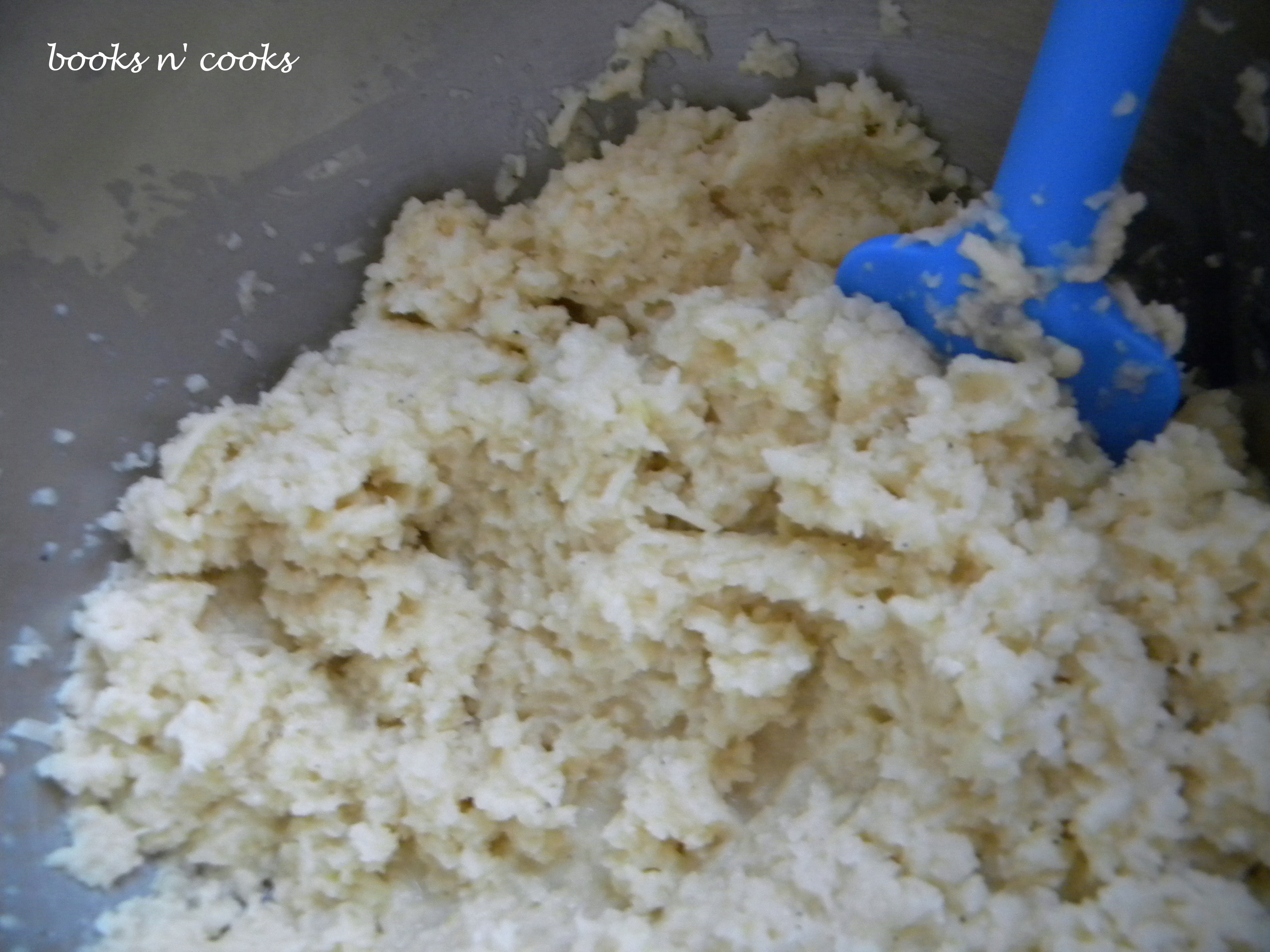 Cook the Pancakes: In a large skillet over medium heat, heat 1/8 inch of the remaining oil until hot. Using a large spoon, drop mixture into oil and gently press down to flatten. Pancakes should be about 3-inches in diameter, and oiling should be bubbling gently.
Cook pancakes, 3-4 minutes per side until a deep golden brown. Transfer to a plate lined with paper towels. Continue cooking, adding oil as necessary, until batter is  done.
If making ahead of time… Heat the oven to 250°F. Transfer pancakes from plate to a baking sheet and keep warm in oven until ready to serve.
Fried pancakes are also freezable – freeze on baking sheets; transfer to freezer bags; and reheat on a baking sheet at 350°F for 10-15 minutes.
To Serve: Sprinkle with salt and serve with sour cream or apple sauce.