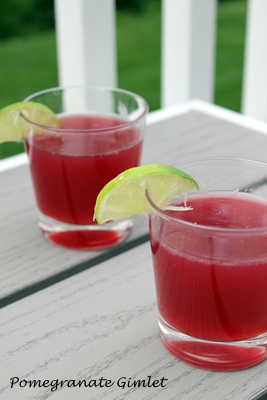 It's no secret that I don't really drink beer. Once in a blue moon, I'll have one, but you can usually find me drinking wine or a cocktail. A well-made cosmo – not overly sweet – is my go-to drink, but I enjoy trying new drinks. I generally choose a vodka or gin-based drink with a touch of sweetness.
I've got a couple of recipes I've been super excited about lately, two of which are from a new cookbook that recently came recommended to me – Mix Shake Stir. There are a TON I want to try, but my limited bar can't store all of those liquors, so I'm slowly working my way through the recipes. This one has been one of my favorites (no surprise since it's similar to a cosmo). It took me a few tries, but I finally managed to hold off on drinking it so that I can get a photo for you.
Pomegranate Gimlet
Adapted from Mix Shake Stir: Recipes from
Danny Meyer's Acclaimed New York City Restaurants (p. 51)
Makes 1 drink
Ingredients:
ice
1 1/4 oz. gin
1 oz. fresh lime juice
3/4 oz. simple syrup
1 1/2 oz. pomegranate juice
lime slices and/or pomegranate seeds for garnish
In a cocktail shaker filled with ice, add gin, lime juice, simple syrup, and pomegranate juice. Shake vigorously.
Pour into an old-fashioned glass filled with ice. Garnish with a lime wedge and/or pomegranate seeds.