It's been a while since I've gotten to make cookies, just for fun. There's been too many other things on my to-do list, too many places to go, and too little energy to be in the kitchen when I didn't have to. But a few weeks ago, I actually managed to leave work early (and by early, I mean on time), pick up the Little One, and get home at a decent hour. It was a beautiful day out and we should have gone out to enjoy it, but I really wanted to make these cookies. I'd had the recipe out since the magazine arrived two weeks prior – it was going to happen.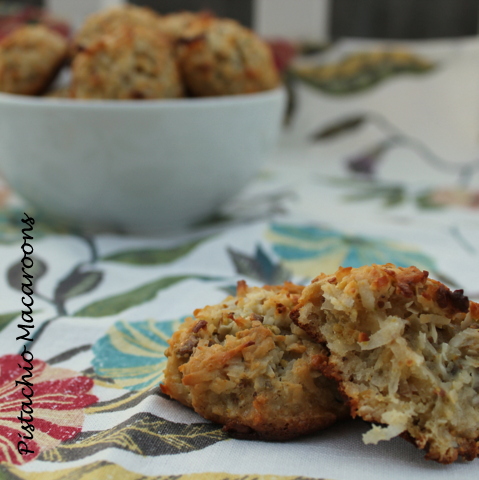 And so we did. This recipe was a bit more involved than the coconut macaroon recipe I grew up making, but the result was a much lighter cookie. It was great recipe to make with my 2-year-old, who was easily able to stir the bowl and had a great time "wiggling" the mixer to beat the egg whites. That is, until I let her taste a pistachio, and then my Little Helper started emptying her snack bowl faster than I could fill it. 🙂
This particular issue of Fine Cooking had several other variations on the traditional macaroon – I can't wait to try them all.
Pistachio Coconut Macaroons
Adapted from Fine Cooking No. 134 (April/May 2015, p. 83-85)
Makes about 2 dozen cookies
Ingredients:
1/2 c. + 1/4 c. shelled unsalted pistachios, divided
1/4 + 1/8 tsp. kosher salt, divided
1 c. sweetened condensed milk
1 tsp. vanilla extract
14 oz. sweetened shredded coconut
2 large egg whites
Preheat oven to 350F. Line two baking sheets and set aside.
Prep the Ingredients:
In a food processor, grind 1/2 c. pistachios with 1/8 tsp. salt until a thick paste has formed. Set aside.
Coarsely chop remaining 1/4 c. pistachios and set aside.
Make the Cookies:
In a large bowl, stir vanilla into condensed milk with a silicon spatula. Add coconut and stir until thoroughly mixed. Stir in both ground up and chopped pistachios.
In a smaller bowl with an electric mixer, beat egg whites and salt on medium-high speed until stiff peaks form, about 4 minutes. Fold into coconut-pistachio mixture.
With wet hands, form cookie dough into round balls, about 1 1/2 inches thick. Place on prepared baking sheets. Bake 20-25 minutes, rotating cookie sheets halfway through, until cookies are golden brown.
Cool for a few minutes on cookie sheets before moving to a wire rack to cool completely.
Store in an airtight container at room temperature for up to 3 days. Cookies may be refrigerated in an airtight container for up to 3 weeks, or frozen for up to 6 months.