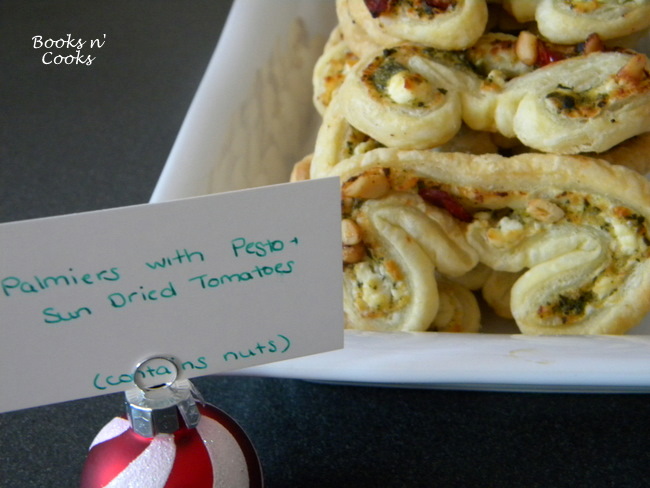 When I was planning our holiday party menu, I had a very difficult time with appetizers. I wanted to balance between heavier, protein-filled appetizers and lighter, vegetarian appetizers. I found it hard to find vegetarian appetizers that were light but not labor-intensive. We were expecting about 50 people, so crostini wasn't really a feasible option. It would have taken quite a while and so many, it would have been difficult to set out on a platter. I didn't want a veggies and dip or pita and hummus – the former I've done the past two years in a row and the latter just seemed too blah to me. So, when all else fails, I turned to my collection of Barefoot Contessa cookbooks. She hasn't let me down yet.
These savory palmiers were the perfect vegetarian addition to the holiday party menu. They were a nice light option to counter the stuffed meatballs, crab cakes, and all the desserts. The best part for me was that they were very easy to make. One batch made a large number but was still quick to assemble. I also liked them because I was able to take liberties with the ingredients – I had extra of everything so I was able to fill them a bit more than directed. I enjoyed the tang of the sun-dried tomato, the crunch of the pine nuts, and the bright flavor of the pesto. As I mention below, these palmiers are best served as fresh as possible.
Pesto Palmiers
Adapted from Barefoot Contessa Back to Basics
Also available on Food Network
Makes 60 Palmiers
Ingredients:
1 pkg. puff pastry sheets, defrosted
1/2 c. pesto
1/4 c. crumbled goat cheese
1/4 c. pine nuts, toasted
1/4 c. sun-dried tomatoes in olive oil (drained and diced)
kosher salt
Instructions:
Line a baking sheet with parchment paper and set aside. (Do not preheat the oven yet, as dough will have to be refrigerated).
Lightly flour a large cutting board or counter. Lay out one sheet of puff pastry and roll out until it's about 11×9.
Spread half of the pesto, goat cheese, pine nuts, and diced sun-dried tomatoes on the first sheet of puff pastry. Make sure you go to the ends of the pastry sheet. Sprinkle with kosher salt.
Fold each of the short ends into the center twice. Press down slightly.
Move to prepared baking sheet and repeat with remaining sheet of puff pastry and the rest of the ingredients. Refrigerate both sheets for at least 45 minutes.
Just prior to removing from the fridge, preheat oven to 400F and line another two baking sheets with parchment paper (or reuse the one from the fridge).
Cut each log into slices, about 1/4-inch thick. You should get about 30 slices per puff pastry log.
Place slices on prepared baking sheets 2 inches apart, cut side down. Bake for 14 minutes, until golden brown.
Serve warm or at room temperature. Palmiers are best as fresh as possible. I had tried them leftover, the day after I made them, and they tasted pretty stale.
Preparation time: 1 hour
Cooking time: 15-30 minutes