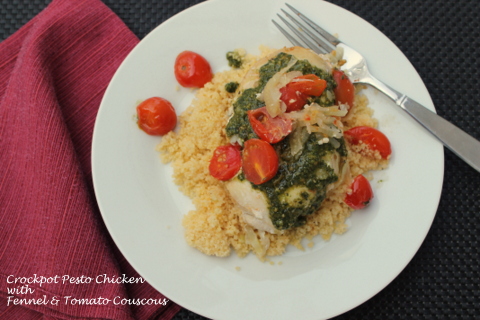 I've been a bit surprised at how having a second child seems to drastically reduce the amount of free time I have. I didn't seem to notice it when my daughter was born, but all of a sudden, two kids means that time disappears and I have no idea where it went.
My son, Nutterbutter, is 4 months old now, and I've quickly learned that I'd rather pay a little more to make life easier on myself. I order everything I can through Amazon and Target (love free shipping!), and have even ventured to do some grocery delivery, although I prefer to go to the store. The hour it would take me to drive, shop, and  get home, is just too valuable to lose to grocery shopping some weeks.
I've also been working to simplify our evening routine, including dinner. I make enough for leftovers, so that I'm not cooking every night. I have started to use my crockpot not just on weekdays, but on weekends as well.
When I bought this cookbook – my Black Friday present to myself last year – this recipe instantly caught my eye. But at the time, there was two problems with it: 1) it only takes a few hours to prepare, and thus, wasn't suited for a weekday meal (when I'd be away fro 9-10 hours) and 2) my hubby hated tomatoes. But in my attempt to spend less time on chores and more time on family and things I enjoy, I ignored my hubby's dislike for tomatoes and made it anyway.
Turns out, after a bit of encouragement to try the sweet cherry tomatoes, this recipe quickly turned into a family favorite. It's flavorful and bright, and, as this week's Sunday Supper theme suggests, is minimum to no work. I spent no more than 10 minutes prepping everything and throwing it in the crockpot. It only took a few minutes on hands-on work to finish the dish. While it doesn't work for my weeknights, this meal will be on our weekend menu frequently for the near future.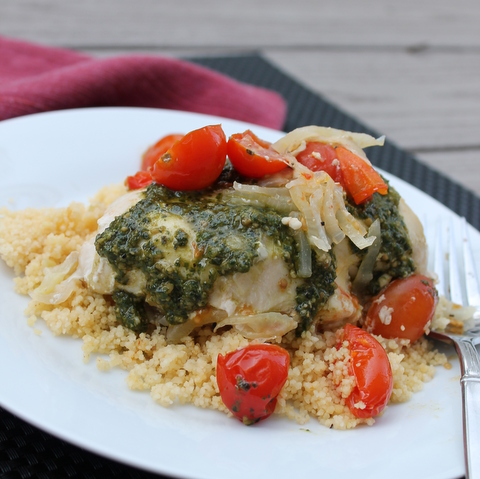 Recipe Notes: The original recipe called for 4-12 oz. bone-in split chicken breasts, trimmed. We opted for boneless, skinless chicken breasts instead, as boneless chicken breasts are a bit easier for us to pack in our lunch the next day. If you choose to use bone-in breasts, your cook time should be 3-4 hours (instead of 2-3 hours) on low, and you'll want to strain out the fat from the liquid after the chicken cooks.
Pesto Chicken with Fennel & Tomato Couscous
Adapted from America's Test Kitchen Slow Cooker Revolution
Volume 2: The Easy-Prep Edition (p. 97)
Serves 4
Ingredients:
1 fennel bulk, cored and thinly sliced
1 Tbs. extra virgin olive oil
2 tsp. minced garlic
salt & pepper
4 boneless, skinless chicken breasts
1/2 c. low-sodium chicken broth
8 oz. cherry tomatoes, halved
1 c. couscous
1/2 c. basil pesto
In a small bowl, microwave fennel, oil, and garlic until softened, about 5 minutes total, stirring halfway through. Transfer to slow cooker. Season chicken with salt and pepper. Place in slow cooker. Add chicken broth and top with cherry tomatoes. Cook on low for 2-3 hours.
With a slotted spoon, transfer chicken from slow cooker to a bowl. Cover with foil to keep warm. Keep 1 c. of the juice in the slow cooker (reserve the rest in a small bowl) and add couscous. Gently stir couscous and vegetables. Cover and continue to cook on low until couscous is cooked, about 15 minutes. Fluff with a fork.
While couscous cooks, whisk the pesto into remaining liquid and set aside. (I found that I didn't have much leftover, so the second time I made this, I left all of the liquid in the slow cooker to cook the couscous and used a little extra chicken broth to thin pesto to desired consistency.)
Transfer couscous to a serving dish. Top with chicken and pesto.
(Photo Note: I reserved the tomatoes instead of combining with the couscous due to picky eaters in the family.)
Check out some other ideas for "No Labor" recipes
from the Sunday Supper tastemakers.
Savory Snacks and Sides:
Labor Free Main Dishes:
Sweet Treats and Drinks:
Join the #SundaySupper conversation on twitter on Sunday! We tweet throughout the day and share recipes from all over the world. Our weekly chat starts at 7 pm ET. Follow the #SundaySupper hashtag and remember to include it in your tweets to join in the chat. To get more great Sunday Supper Recipes, visit our website or check out our Pinterest board.
Would you like to join the Sunday Supper Movement? It's easy. You can sign up by clicking here: Sunday Supper Movement.