Have I ever told you that I'm a terrible breakfast eater? I didn't start eating breakfast regularly until a few years ago. Before that, throughout all of my years of school, it was maybe a granola bar mid-morning, to tide me over until lunch. When I did eat breakfast, it wouldn't be the healthiest or most filling – bagels and bacon were my favorites. Just about everything else, I could ignore and hold out until lunch.
Over the past few years, I've taught myself to eat relatively nutritious breakfasts so that I'd have more energy in the mornings and in general, lead a healthier lifestyle. I still prefer bagels and bacon but those days are few and far between. Today, I still need an hour to wake up in the morning before eating, but I pack my bag with something healthier. The breakfasts most frequently found in my lunch bag (because I eat it at work as I read email in the morning) are fruit with either a whole wheat English muffin, toasted, with turkey bacon and avocado or yogurt (Greek or traditional) with granola.  The combination of carbs + protein keep me full throughout the morning.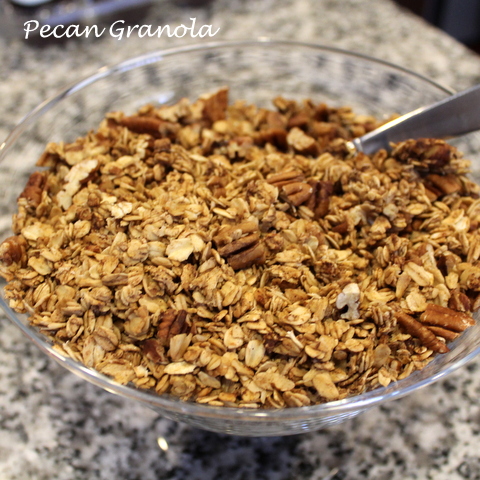 While life with a toddler keeps me out of the kitchen more than I'd like, homemade granola is one item that I try to make on a fairly routine basis. If you've been reading Books n' Cooks for a while, you've heard me say how much better it tastes than the store-bought stuff. It's softer and so much more flavorful. And the combinations are endless. If you haven't given homemade granola a shot, I strongly recommend it. You won't regret it.
Pecan Granola
Adapted from Fine Cooking No. 75 (p. 34)
Yields 5 Cups
Ingredients: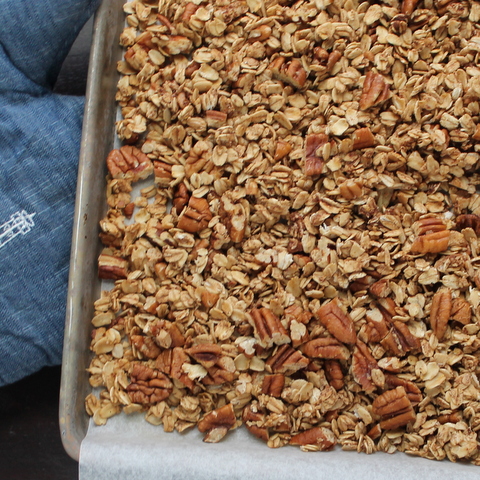 vegetable oil spray
3 c. old-fashioned rolled oats
1 1/2-2 c. pecan halves, roughly chopped
2 tsp. ground cinnamon
1/4 tsp. salt
1/2 c. light brown sugar, packed
2 Tbs. canola oil
1 Tbs. vanilla extract
Preheat oven to 300F. Line two baking sheets with parchment paper and spray with cooking spray. Set aside.
In a large bowl, combine oats, pecans, cinnamon, and salt.
In a small sauce pan set over medium heat, combine 1/4 c. water with brown sugar. Stir until dissolved. Remove from heat and stir in canola oil and vanilla extract.
Pour brown sugar mixture over dry ingredients. Stir well to combine. The oats should be completely coated.
Spread over prepared baking sheets. Bake for 15 minutes. Remove from oven, stir, and return to oven, alternating the trays on the oven racks. Bake for another 10-15 minutes, until oats are golden and nuts look like they're beginning to brown. Remove from oven and allow to cool on the baking sheets (oats will crisp up as they cool).
Store in an airtight container for up to a month.
Like this recipe or looking for something more to your liking? Try one of these great alternatives: