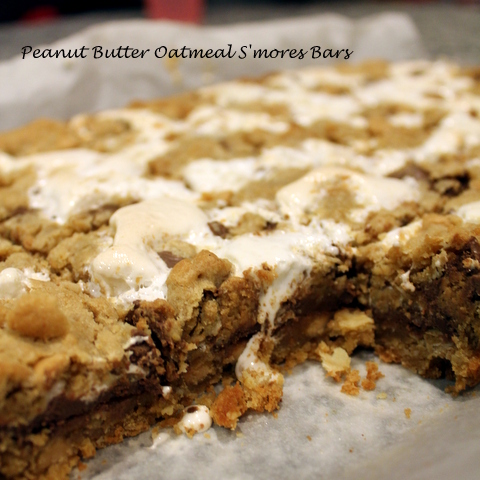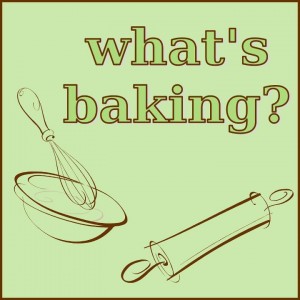 I was pretty excited when Joanna of Kosher Kitchen chose Baking with S'mores Variations as the theme for this month's What's Baking? To me, s'mores are a summer dessert. We enjoy sitting outside around a fire pit, toasting marshmallows and making old-fashioned s'mores. I love the flavors, but apart from some s'mores cupcakes (which are amazing, by the way), I haven't played with the flavors too much. I was thrilled to be able to try out one of the many s'mores-inspired recipes I've bookmarked over the past few years.
I, of course, couldn't help but to choose what might be the most sugar-laden dessert I could find – complete with peanut butter baking chips, two types of candy, and a jar of marshmallow fluff. The photo really does not do these bars justice – they're super rich and stayed soft, even after a few days on the counter. They definitely we a good start to the workweek.
Peanut Butter S'mores Oatmeal Cookie Bars
Adapted from Mom On Timeout
Makes 24 bars
Ingredients:
12 Tbs. unsalted butter, melted
2 c. light brown sugar
½ c. creamy peanut butter
2 eggs, at room temperature
1 Tbs. vanilla extract
¾ c. graham cracker crumbs (from about 4 graham crackers)
1 c. old-fashioned oats
1 Tbs. cornstarch
2½ tsp. baking powder
½ tsp. salt
1½ c. all-purpose flour
1 c. peanut butter baking chips
7 full-sized Hershey's chocolate bars
1 7-oz. jar marshmallow fluff
1 c. quartered Reese's miniatures
Make the Dough: In a stand mixer fitted with the paddle attachment, cream butter and sugar until well combined. With the mixer still running on medium speed, add in peanut butter, eggs, and vanilla – all one at a time. Scrape down sides of the bowl.
Reduce speed to low and one at a time, add graham cracker crumbs, oats, cornstarch, baking powder, salt, and flour. Scrape down sides of the bowl as necessary. Finally, mix in peanut butter baking chips.
Chill dough for 30 minutes.
Meanwhile, preheat oven to 350 F. Line a 9×13 baking pan with parchment paper and set aside.
Assemble & Bake: Remove dough from fridge. Pour ⅔ of the dough into the prepared pan. Spread into an even layer. Top with Hershey's bars, then marshmallow fluff.
Stir Reese's miniatures into remaining dough, and drop onto fluff layer. The dough won't completely cover the fluff.
Bake for 25-30 minutes, until golden. Remove from oven, and let cool completely before cutting.
Serve at room temperature (or, as my hubby preferred, microwave for 10 seconds to make extra warm and gooey) and store in an airtight container.