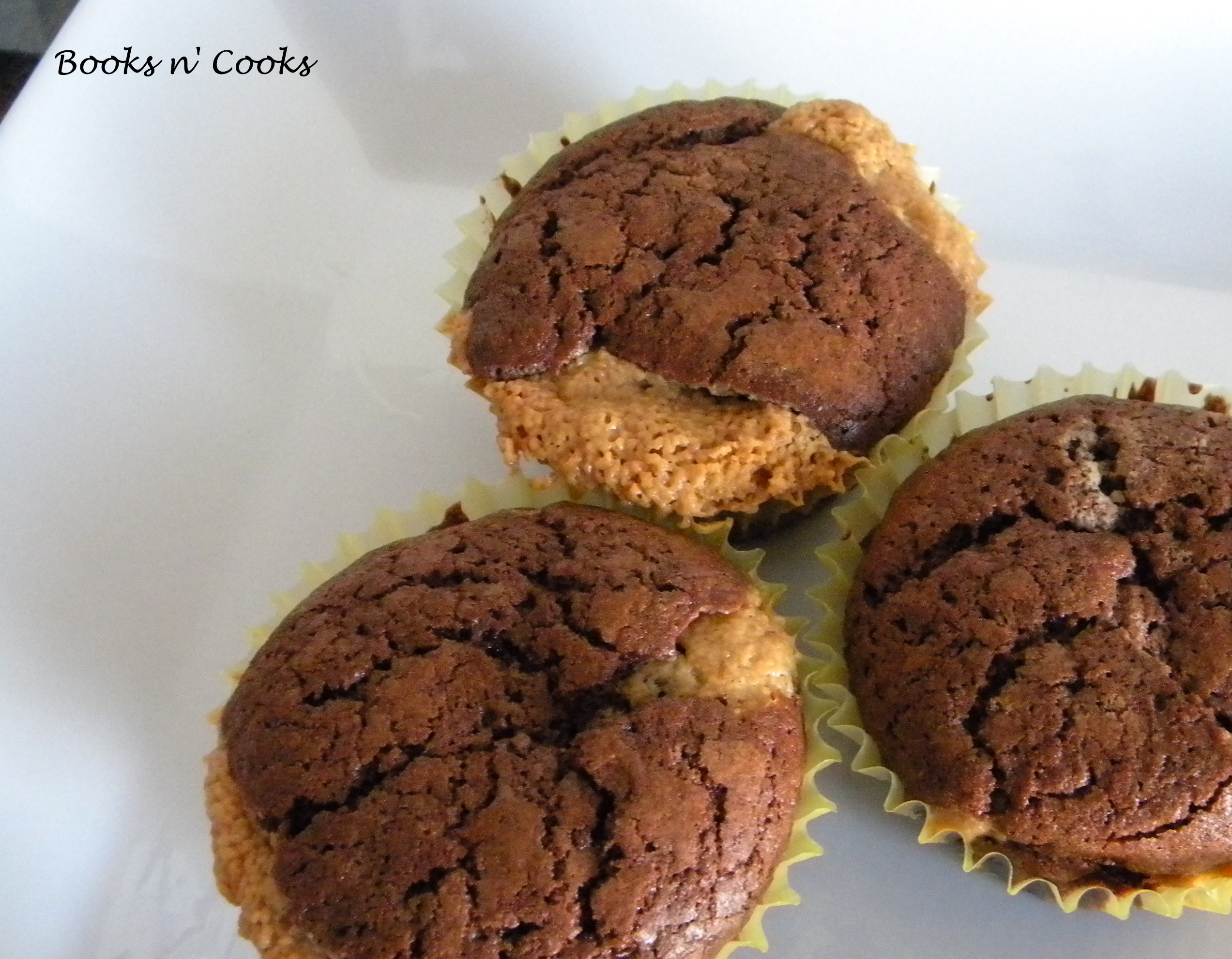 Peanut-Butter Filled Chocolate Cupcakes
Adapted from Martha Stewart's Cupcakes (p. 118)
Makes 12-15 cupcakes
Ingredients for the Peanut Butter Filling:
4 Tbs. (1/2 stick) unsalted butter, melted
1/2 c. confectioners' sugar, sifted
3/4 c. creamy peanut butter (i.e. Skippy)
1/4 tsp. salt
1/2 tsp. vanilla extract
Ingredients for the Chocolate Cupcakes:

1/2 c. (1 stick) unsalted butter, cut into small pieces
4 oz. semisweet chocolate, chopped
2 oz. unsweetened chocolate, chopped
3 large eggs
2 tsp. vanilla extract
1/2 tsp. baking powder
1/4 tsp. salt
2/3 c. all-purpose flour
Preheat oven to 325F and line a muffin tin with liners.
Make the Filling: Combine all ingredients, stirring until smooth.
Make the Cupcakes:
Melt chocolates and butter together over a double broiler (or in the microwave). Stir until smooth. Cool slightly.
Whisk sugar into the cooled chocolate mixture. Add eggs and whisk to combine. Whisk in vanilla.
Sift salt, baking powder, and flour into chocolate mixture. Stir to combine. Dough will feel heavy and will be very wet.
Spoon 2 tbs. of chocolate batter into each of the prepared muffin cups. Add 1 tbs. of the peanut butter filling, and top with 1 tbs. of the chocolate batter. For a marbled look (skipped here), take a toothpick and swirl the batter.
Bake for 35-40 minutes, until a toothpick inserted into center comes out clean.