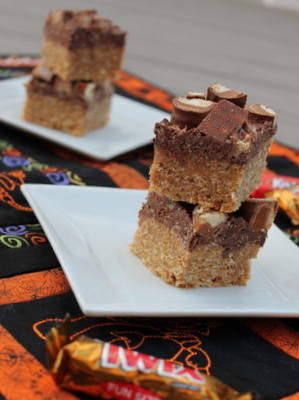 Are you ready to get inundated with Halloween candy tomorrow night? Maybe it's leftover candy or maybe it's the loot your kiddos came home with. How much will you have, and how quickly will it disappear? Is dropping the excess off at work an option for you? Or will it go uneaten for weeks or months, as your coworkers have their own stashes at home they're eating through?
Want to know a secret? It disappears a lot quicker, especially at work, when you cook or bake with it. You're bringing something new to the table, something that nobody is sick of (yet). With that in mind, the #SundaySupper crew are sharing some of their favorite recipes for using up leftover Halloween candy.
I went with a no-bake dessert – an rich, peanut buttery, chocolatey bar made with Rice Krispies cereal and topped with our favorite candy bars. I used KitKats and Twix, but peanut butter cups would be amazing on this. It takes only a few minutes to put together, and when I sent it to work with my hubby, was gone in just a few hours. I call that a win.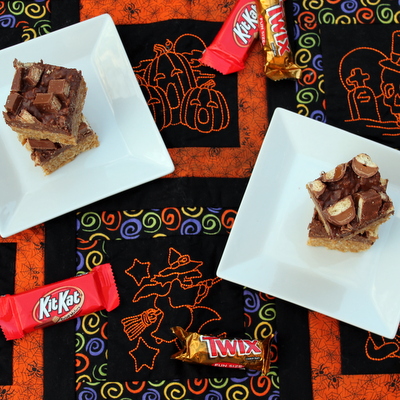 Don't forget to check out the rest of the #SundaySupper recipes designed to help you use up your Halloween candy, at the bottom of this post.
Leftover Candy Peanut Butter Chocolate Crunch Bars
Adapted from Averie Cooks
Makes 16 large squares
Ingredients for the Peanut Butter Crunch Base:
cooking spray
1 c. creamy peanut butter (not natural peanut butter)
1/2 c. light corn syrup
1/2 c. sugar
1/4 c. light brown sugar, packed
1 Tbs. vanilla extract
3 c. Rice Krispies cereal
Ingredients for the Chocolate Crunch Topping
1 c. semi-sweet chocolate chips
1/4 c. creamy peanut butter (same used for the base)
1 c. Rice Krispies cereal
Leftover Halloween candy, 1 to 1 1/2 cups chopped, or about 8-15 snack-sized bars (I used a mix of Kit Kats and Twix)
Prep: Line an 8×8 pan with aluminum foil. Spray bottom and sides with cooking spray and set aside.
Make the Base: In a large microwave-safe bowl, add peanut butter, corn syrup and both sugars. Microwave for 45 seconds. Stir, and microwave another 45-60 seconds, until well combined and the sugars are mostly melted. Stir in vanilla. Finally, stir in Rice Krispies cereal. Pour into prepared pan, evening out with a spatula.
Make the Topping: In a microwave-safe bowl, add chocolate chips and peanut butter. Microwave for 30 seconds, stir, and pop back in for another 30 seconds. Stir until chocolate is completed melted and mixed complete with peanut butter. Add cereal to coat. Layer on top of peanut butter base, using a spatula to press evenly.
Finish: Quickly add leftover chopped up Halloween candy, pressing slightly into still-warm chocolate-peanut butter layer. Allow to set for an hour or two, refrigerating if needed.
Store at room temperature. Bars will keep for at least a week.
Looking for more ideas on using up your Halloween candy? Check out the below recipes.
Save
Bars
Brownies
Cakes
Confections
Cookies
Snacks
Supper