With just one bowl and a whisk, the classic peanut butter and chocolate combo come together in an irresistible bar cookie – the Peanut Butter Blondie.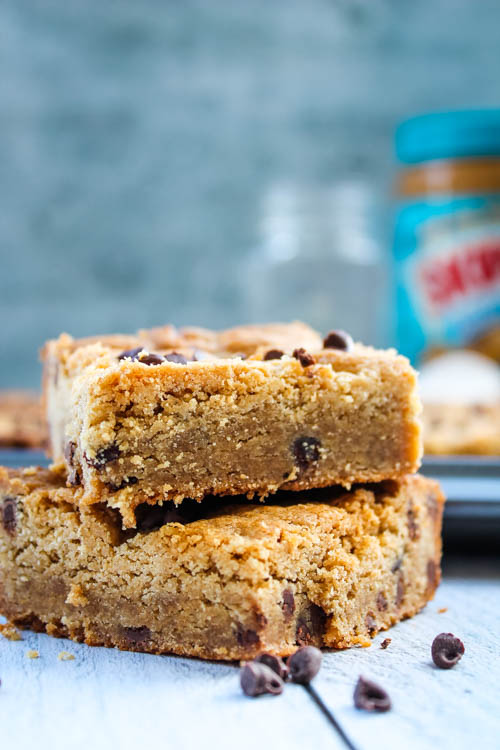 Hurray, it's March! I don't know about you, but I'm done with winter this year. We've had cold but no snow. Temperatures over the course of the day could vary by 30 degrees, making it difficult to dress and plan for the day. It's been warm enough so that I don't really want comfort foods that you'd normally crave during winter, but it's also not really time for lighter spring dishes. Let's just move onto spring.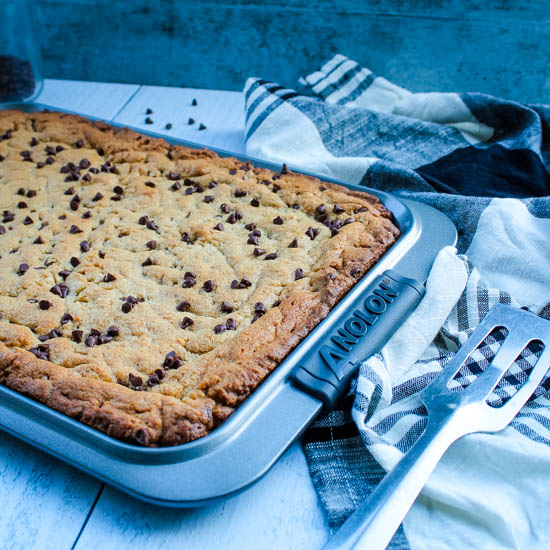 In lighter news, I not only made it through the week but somehow managed to make a dent in my to-do list. That is, I got a few things done despite my husband being away for a few days and my daughter having to be picked up early and seen by a doctor for an ear infection. It's always something, I tell you.
Anyway, I'm thrilled that the weekend arrived and I had no laundry to do or put away. I managed to actually end the week with my house cleaner and more organized than it started it! I caught up on the mountains of paperwork and completed not one BUT TWO blog posts! The craziness!
I joke but I'm really happy about getting to spend some time here on the blog. I don't know what it's been about 2020, but I feel like I haven't been able to devote the time or energy that I'd like to good ol' Books n' Cooks since before the Christmas holidays. So this week, I got a new book review ready for you (coming next Sunday!) and this recipe, Peanut Butter Blondies.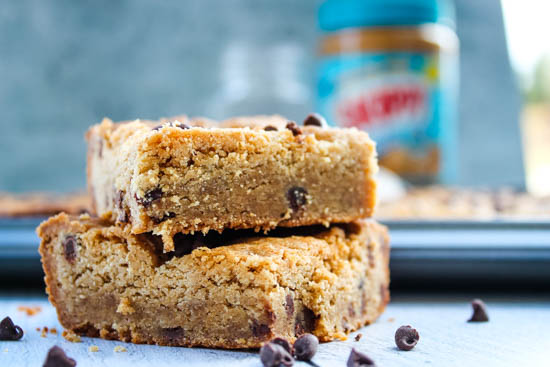 This is one of those recipes that is deceptively easy. Whisk and stir together the ingredients, throw into a pan, and bake. That's it. And it was so good, even if my edges came out a bit crispier than I'd like. I was slapping little hands away from these cookies for a full day before I served them. Like other blondies, these are a soft cookie, but rich in peanut butter flavor. And what's not to love about the chocolate chips studded throughout? Not a fan of chocolate chips? Swap them out for some Reese's Pieces. You're welcome for that. 🙂
Recipe Notes:
I used an Anolon Brownie Pan for this recipe, although you can use any 9×13 inch pan that you have on hand. The pan from this set (affiliate link) is the specific pan I have- it's non-stick, more shallow than a traditional 9×13 pan, and impressively heavy. With just one use, I could tell it's going to become one of my favorite baking pans.
The original recipe called for baking the cookies for 30 minutes. Mine were just a bit over done at the 30 minute mark. The cookies should be set and the edges starting to brown, but not as dark as you see in the photo above. If overcooked, the cookies will be a bit dry. Therefore, I adjusted the cooking time in the recipe card below, with a greater window to avoid the cookies being overdone.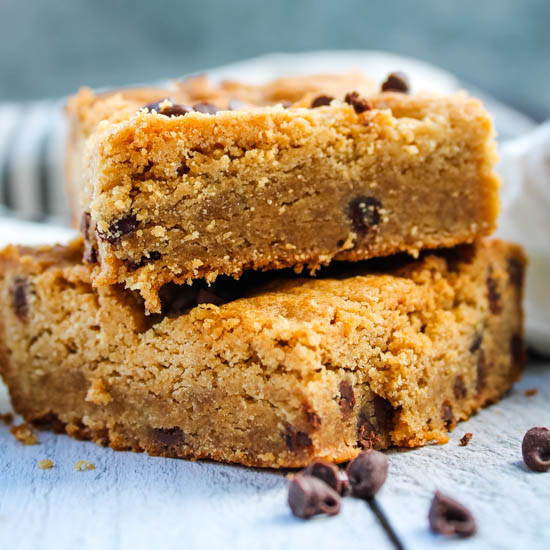 Print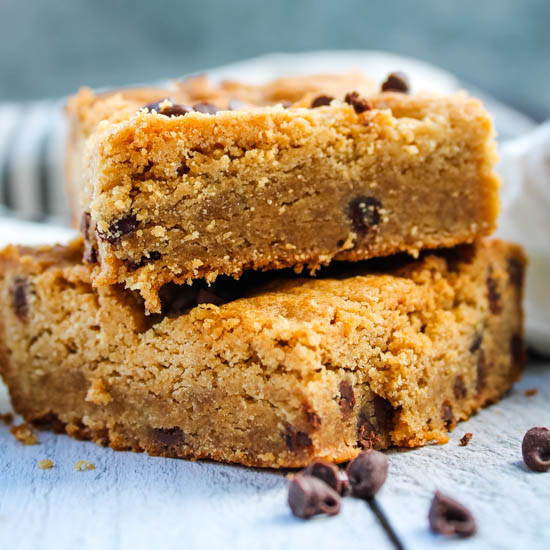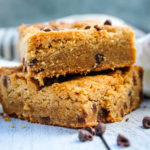 Peanut Butter Blondies
With just one bowl and a whisk, the classic peanut butter and chocolate combo come together in an irresistible bar cookie - the Peanut Butter Blondie.
Ingredients
3/4

c.

unsalted butter, melted

cooled slightly

2

c.

light brown sugar, packed

3/4

c.

creamy peanut butter

(not natural peanut butter)

2

large eggs

1

large egg yolk

1

Tbs.

vanilla extract

1

tsp.

salt

1

tsp.

baking powder

2

c.

all-purpose flour

1 - 1 1/2

c.

semi-sweet mini-chocolate chips
Instructions
Preheat oven to 350F. Line a 9x13 inch brownie or cake pan with parchment paper, leaving a bit hanging over the sides.

In a medium bowl, whisk together melted butter and brown sugar. When combined, whisk in peanut butter. Add eggs, egg yolk and vanilla. Whisk together once more.

Switch to a rubber spatula and gently mix in salt, baking powder and flour. When almost combined, add almost all of the mini-chocolate chips (reserve a few tablespoons for sprinkling on top).

Turn out dough into prepared pan and use the spatula to press into all corners of the pan. Sprinkle with remaining chocolate chips.

Bake in preheated oven for 22-32 minutes, until center is set and a toothpick inserted into center comes out with only a few moist crumbs. Edges should be starting to brown. Remove from oven and allow to cool to room temperature before cutting. Store in an airtight container for up to a week.
Adapted from Sally's Baking Addiction.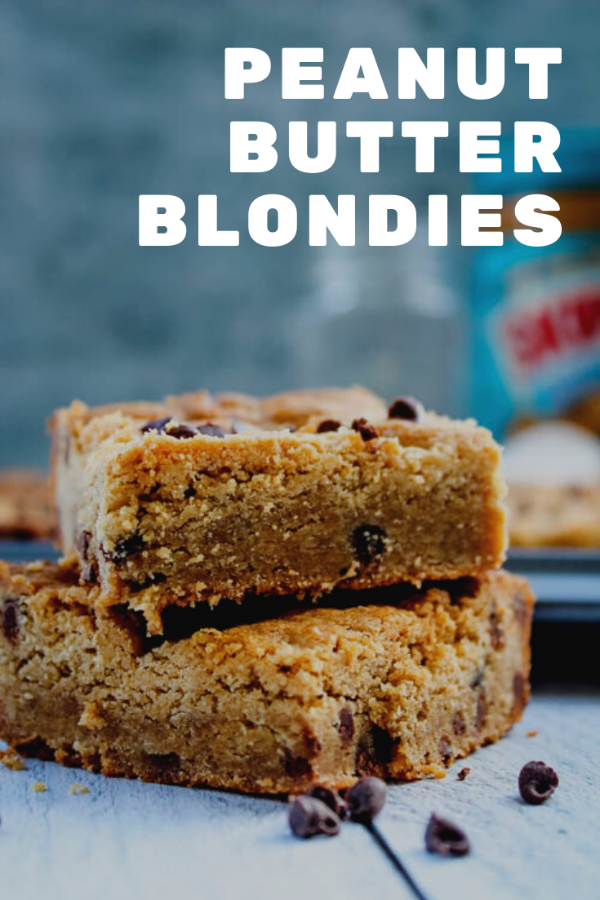 Peanut Butter Lovers Day
We share Recipes From Our Dinner Table! Join our group and share your recipes, too! While you're at it, join our Pinterest board, too!