First impressions about Brussels sprouts…. and go….
Let me guess. First thought is "ew." Followed by something like, "who eats that?" I used to think the same. When we were little my mom would steam them, stinking up the kitchen. My youngest brother was the only one of us fooled into eating the "baby trees" (no, wait, that was broccoli…. well, it was something like that).
Anyway, then one day, when I was in high school or college, my mom roasted the Brussels sprouts until they were crispy. The veggies were non-stinky, so I gave them a whirl. I was officially a convert. Roast 'em and you'll get a slightly sweet taste and crunchy texture. Throw on some salt and maybe some bacon, and it quickly became one of my favorite sides, and the only way I'd eat Brussels sprouts.
Then this recipe came long. The Brussels sprouts were cooked pretty much the same – sliced instead of halved but roasted until crispy. Tossed with pasta, pecans, and a very light Gorgonzola-cream sauce, this recipe is sure to win over Brussels sprout-haters. Give it a try. Even a doubtful coworker cleaned his plate.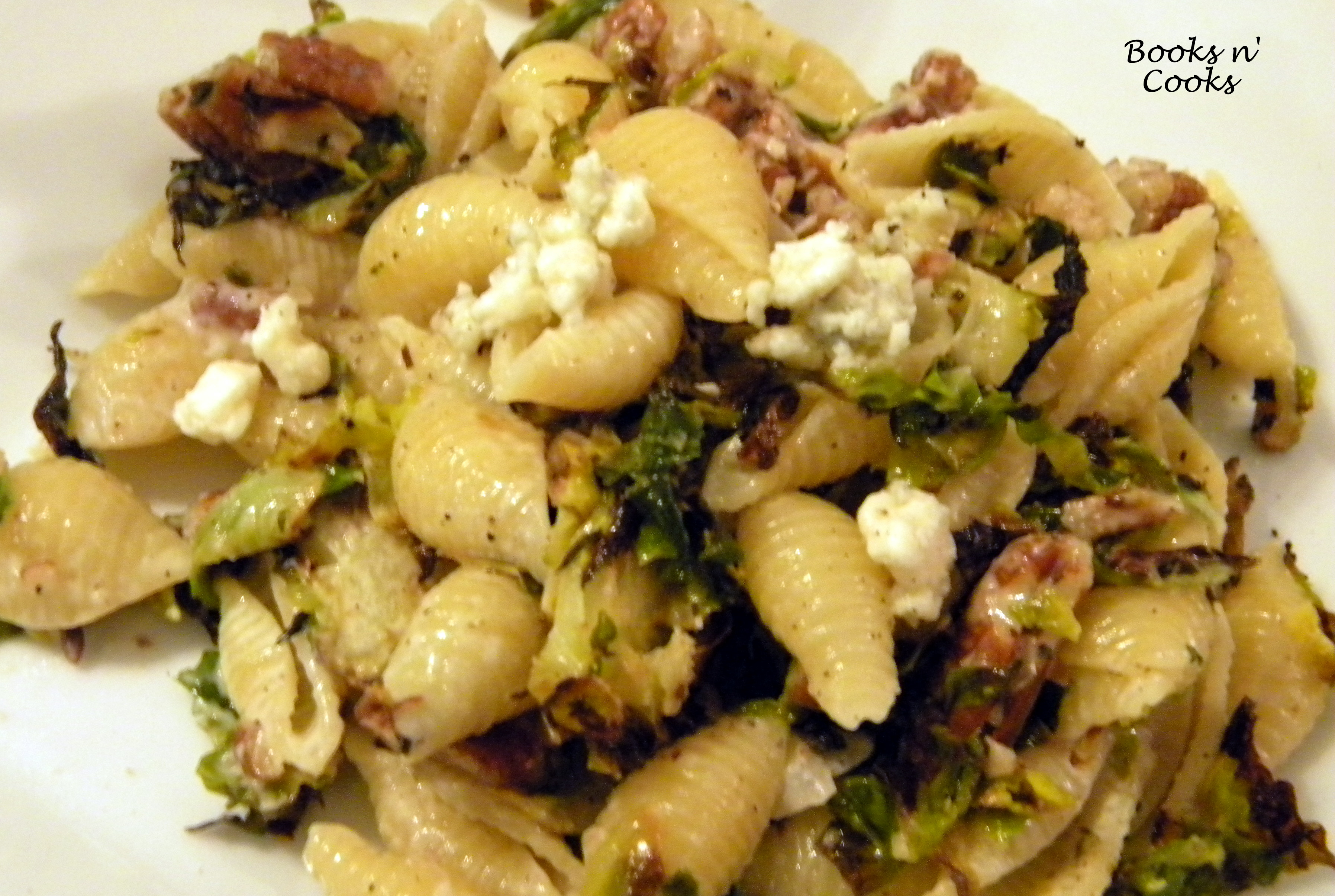 Pasta with Brussels Sprouts, Gorgonzola & Pecans
Adapted from Fine Cooking No. 102 (p. 107)
Serves 4-6
Ingredients:
Kosher salt
Freshly ground back pepper
4 c. (20 oz.) Brussels sprouts, trimmed
3 1/2 Tbs. extra-virgin olive oil
1 lb. dried pasta, such as shells or orecchiette
1 1/2 Tbs. unsalted butter
1/2 c. coarsely chopped pecans
2 large shallots, minced
3/4 c. heavy cream
1 c. Gorgonzola, crumbled
Position an oven rack in the lower third of the oven. Place a heavy rimmed baking sheet on the rack and heat the oven to 500°F. You want the baking sheet hot before you roast the Brussels sprouts.
Meanwhile, fill a large pot with water and a bit of salt, for the pasta. Bring to a boil over high heat.
Prepare the Brussels Sprouts: In a food processor fitted with the slicing disk, slice the Brussels sprouts. When the baking sheet is heated, remove from oven. Place Brussels sprouts on baking sheet, and use a large spoon to toss with olive oil, 1 tsp. kosher salt, and 1/2 tsp. black pepper, until Brussels sprouts are coated. (You can also toss the Brussels sprouts, oil, salt, and pepper, in a large bowl, and then spread on the baking sheet, if you prefer.) Make sure Brussels sprouts are spread out in a single layer before roasting, until golden brown, about 15-20 minutes (stirring halfway through).
Cook the Pasta: As Brussels sprouts are roasting, cook pasta according to the box, draining once cooked.
Make the Sauce: In a skillet over medium heat, melt 1/2 Tbs. butter. Add pecans, cooking until pecans are toasted and butter is browned, about 3 minutes. Be sure to stir frequently. With a slotted spoon, remove pecans and place on a plate. In the same skillet, melt the remaining butter. Cook shallots until softened, another 3 minutes, still stirring frequently. Add cream and bring to a simmer. Remove from heat, and add 3/4 c. Gorgonzola, stirring until melted.
Put it Together: In a serving bowl, toss pasta, pecans, Brussels sprouts, and Gorgonzola-cream sauce. Sprinkle with remaining 1/4 c. Gorgonzola. Serve warm.