Apologies but no story today – I'm in the midst of some traveling (hence why there hasn't been a post in over a week) and am running about. This gnocchi will most definitely be on my menu when I return – it's quick yet satisfying. Even the hubby likes it despite not having lots of meat in it. 🙂
Pan-Fried Gnocchi with Bacon, Onions & Peas
Adapted from Fine Cooking No. 85 (p. 84a)
Serves 3
Ingredients:
Kosher salt
1 lb. frozen gnocchi
3 oz. thick-cut bacon (about 3 slices), cut into 1/2-inch-wide pieces
4 Tbs. extra-virgin olive oil
1 c. thinly sliced or diced yellow onions (about 1 medium-small onion)
1/2 c. frozen peas
1 tsp. minced fresh thyme
Freshly ground black pepper
2 Tbs. grated Parmigiano-Reggiano; more for serving
Bring a large saucepan of salted water to a boil. Cook the gnocchi according to package directions. Reserve 1/2 cup of the cooking water, and drain.
Meanwhile, in a large (preferably 12-inch) non-stick skillet, cook the bacon over medium heat until crispy on both sides, about 5 minutes. Transfer to a plate lined with paper towels and set aside. Pour off any fat from the skillet.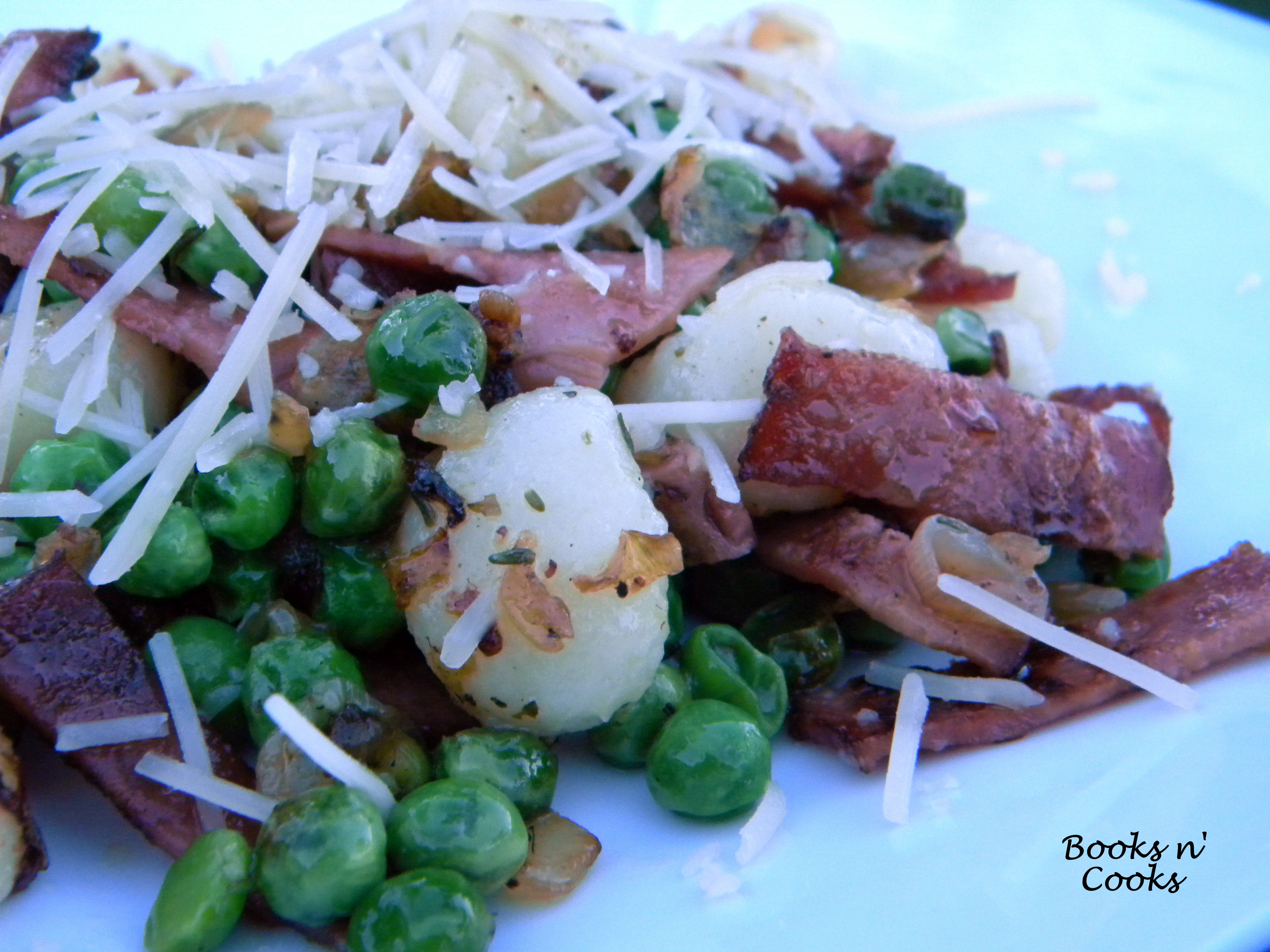 In the same skillet, heat 2 Tbs. of the oil over medium-high heat. Add the onions and cook until they begin to brown, 3 to 5 minutes. Reduce the heat to medium and continue to cook, stirring occasionally, until the onions are limp and golden brown, 10 minutes more. Stir in the peas and thyme, season with salt and pepper to taste, and transfer to a small bowl.
Wipe the skillet clean with a paper towel, and heat the remaining 2 Tbs. oil over medium-high heat. Add the gnocchi and cook, tossing occasionally, until they're lightly brown, about 5 minutes. Gently stir in the onion mixture, bacon, and Parmigiano, along with enough of the reserved cooking water to moisten and coat the gnocchi, about 4 Tbs. Serve immediately, sprinkled with additional Parmigiano.