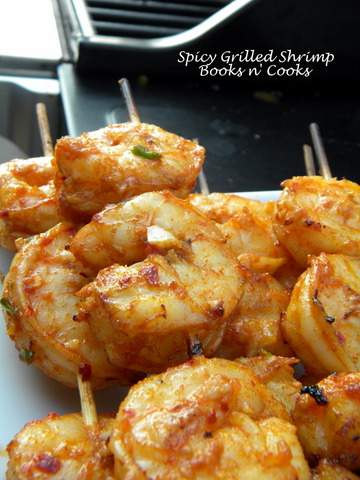 This is a favorite appetizer of ours – we serve this both hot and at room temperature (grill and keep warm in the oven, if you prefer). I haven't tried it, but I bet this would be fantastic in a taco, topped with a light, fresh salsa.
Spicy Grilled Shrimp
Source: Emeril Lagasse's Spicy Barbecued Shrimp Skewers
Ingredients:
1/4 c. vegetable or olive oil
1 Tbs. minced garlic
1 Tbs. fresh thyme
1 jalapeno, seeded and minced (less to cut the heat)
1 tsp. paprika
1 tsp. salt
1 tsp. light brown sugar or honey (I've made it with both)
1 tsp. ground cumin
1/2 tsp. Worcestershire sauce
1/2 tsp. cayenne pepper
1/2 tsp. red pepper flakes
1 lime, juiced
2 lbs. large shrimp, peeled and deveined
Directions:
If using bamboo skewers during grilling, soak skewers for 30 minutes, prior to threading the shrimp. You may also skip the skewers and place the shrimp directly on the grill.
In a large ziplock bag, combine all ingredients except for the shrimp. Once thoroughly mixed together, add shrimp and toss to coat. Preheat grill, if serving immediately. Otherwise, refrigerate marinating shrimp until ready to grill.
Grill shrimp / shrimp skewers until pink and lightly charred on both sides, about 3 minutes per side.
Serve hot or at room temperature.