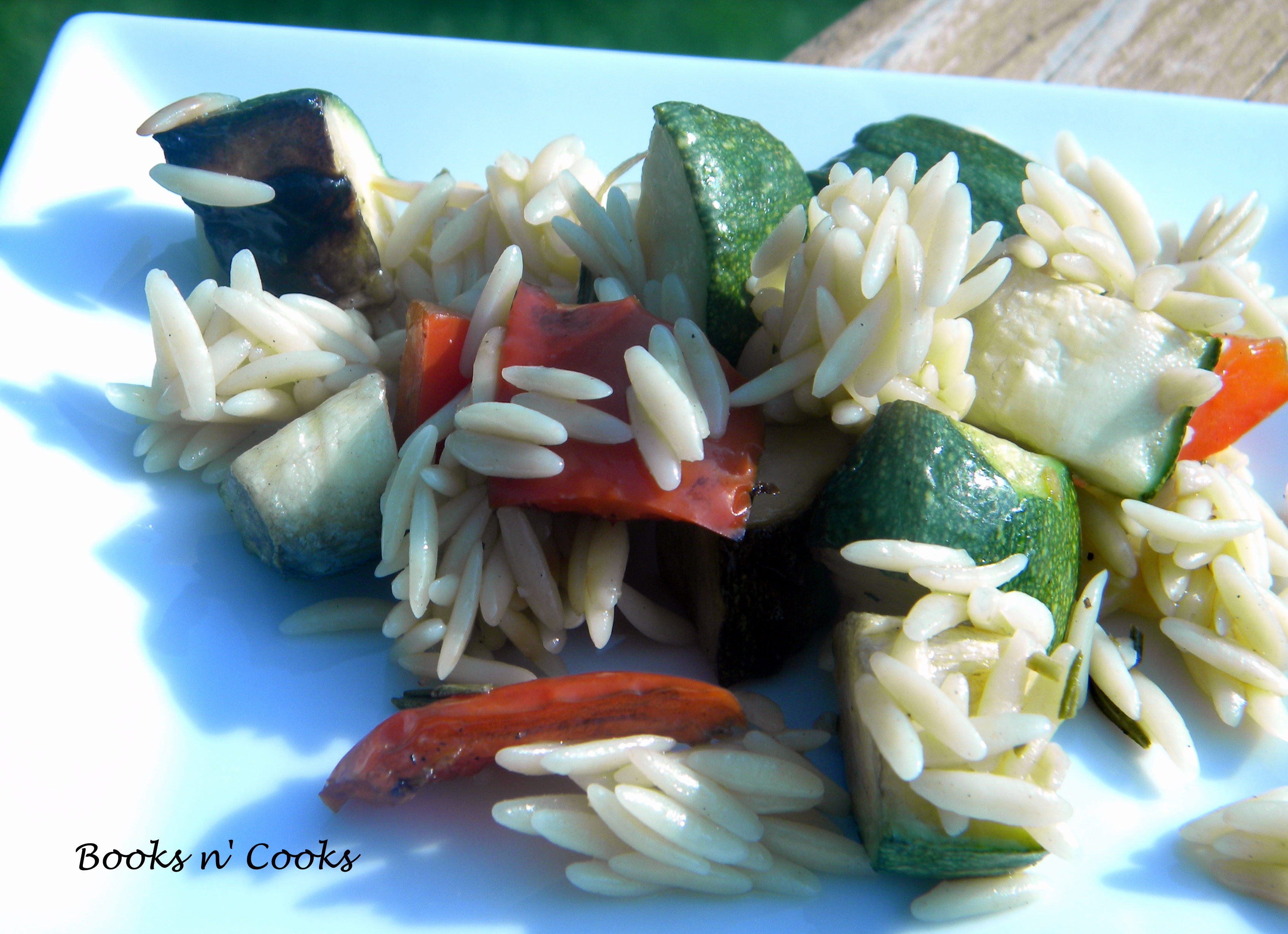 One of the things I love about summer is the BBQs and fresh foods. While so many pasta salads are made with mayo or Italian dressing, I like to mix it up a bit. I've made this pasta salad a couple of times, varying both the veggies and herbs that get mixed in.
Orzo Salad with Grilled Zucchini & Red Peppers
Adapted from Fine Cooking No. 80 (p. 36, 39)
Serves 6-8
Ingredients for the Rosemary Oil
1 c. extra virgin olive oil
3 sprigs rosemary, leaves stripped off and minced
5 cloves garlic, minced
Combine all ingredients in a small sauce pan over medium heat. Let cook about 5 minutes, until the flavors fused and the oil is bubbling (let oil bubble/sizzle 2-3 minutes).  Set aside to cool. Extra oil may be stored in a glass jar in the fridge for up to 5 days.
Ingredients for the Salad:
2 red bell peppers
1 1/4 lb. zucchini
5+ Tbs. rosemary oil
kosher salt and black pepper
1 Tbs. red wine vinegar
3/4 lb. orzo pasta (or fregola or other small pasta)
Grill the Veggies: Heat grill to medium heat.
Note: If you're using a grill basket to grill the veggies, its easiest to cut into 1-inch chunks before grilling. If not, slice both peppers and zucchini into quarters.
Toss veggies with 2 Tbs. oil, 1 tsp. kosher salt, and 1/2 tsp. black pepper. Grill until veggies have nice grill marks and are tender, tossing as necessary. Remove from heat.
Make Pasta Salad: Cook pasta according to instructions. Drain.
Toss grilled veggies, pasta, red wine vinegar, and remaining 3 Tbs. rosemary oil. Add additional rosemary, oil, salt, and pepper to taste.
Serve cold or at room temperature.