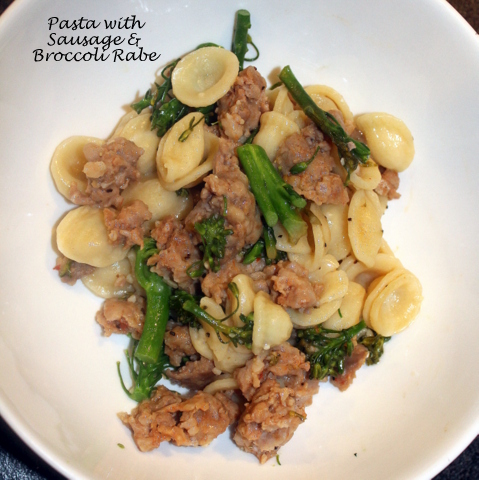 I'm always on the look out for easy, quick dinners that don't make a huge mess in the kitchen. Bonus points if veggies are incorporated right in. After being up a couple times a night (Sophie's almost 9 months old and still not sleeping through the night) and working all day, dinner needs to be as low-fuss as possible.
This recipe, or the version I had originally pinned from Shape Magazine (the link is apparently no longer good), fit that bill. One pot meal and a veggie made this pasta dish a weeknight reality. I updated the recipe to add a bit more flavor and freshness – a little extra red pepper flakes and some fresh basil. I also decided against using chicken stock to cook the pasta. Even with the low-sodium broth, I found it a bit salty and just… off. When I needed to add extra liquid, I used plain water, and that seemed to help.
Orecchiette with Sausage and Broccoli Rabe
Adapted from Yummly
Serves 4
Ingredients: 
1 Tbs. olive oil
1 lb. spicy Italian sausage
12 oz. broccoli rabe, trimmed and chopped
2 cloves garlic, minced
4-5 c. water
kosher salt
1/2 tsp. red pepper flakes
1/2 c. grated Parmesan cheese, plus more for serving
1/2 c. freshly chopped basil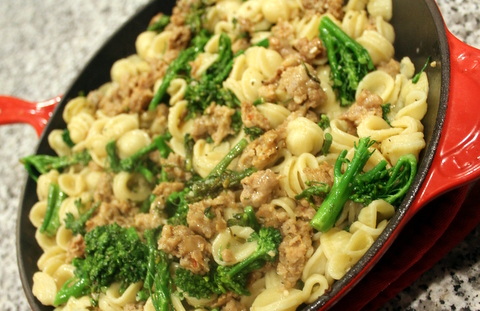 Heat oil in a large skillet over medium-high heat. Add sausage, crumbling it into pieces until completely cooked. Transfer to a plate, leaving behind as much of the oil and juices as possible. Add broccoli rabe and garlic to skillet. Sautee until beginning to wilt. Transfer to plate, again leaving behind as much of the oil and juices as possible.
Pour 4 c. water into skillet. As it heats, scrape bottom of the pan with a wooded spoon to loosen burnt bits. When boiling, add pasta. Cook 7-9 minutes, until not quite tender. Add sausage and broccoli rabe  back to pan and continue cooking until pasta is ready and sausage and broccoli rabe are hot. If needed, add additional water (I had to).
Remove from heat. There should be little water left in the pan – just enough to be a sauce. Season with salt, red pepper flakes and toss with 1/2 c. grated Parmesan.
Serve with additional Parmesan cheese, if desired.