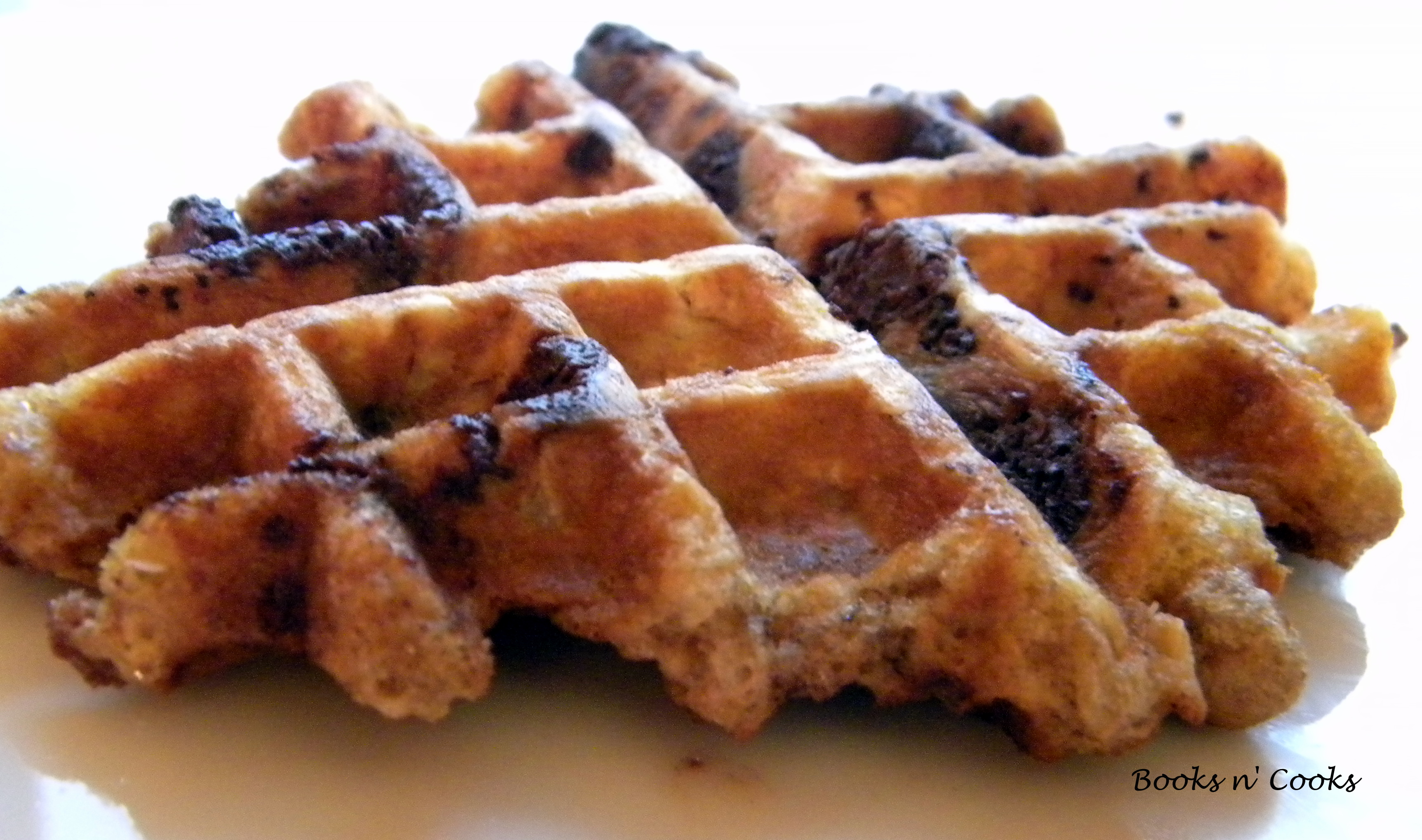 Yes, you read the title of this post correct…. this recipe popped up in my Facebook updates page, compliments of Fine Cooking. I was curious and craving something sweet, so here you go. A half batch of these cookies, even cooking them one at a time, took only 15 minutes to make. The texture did remind me a lot of waffles. There were a little crunchier than normal oatmeal cookies, but received rave reviews from friends.
Oatmeal Chocolate Chip Waffle Cookies
Found on Fine Cooking, from the book Dessert Express by Lauren Chattman
Makes 1-2 dozen cookies
Ingredients:
1/2 c. (1 stick) unsalted butter, melted
1/2 c. plus 2 Tbs. firmly packed light brown sugar
2 large eggs
1 tsp. vanilla extract
3/4 c. all-purpose flour
1/2 tsp. baking soda
1/4 tsp. salt
1-1/2 c. old-fashioned rolled oats (not instant)
1 c. semisweet chocolate chips
Nonstick cooking spray
Heat waffle iron. With 5 heating settings, mine was set to 3.5.
Whisk together butter and brown sugar until smooth. Whisk in eggs and vanilla. Add flour, baking soda, and salt, whisking together.
Switch to a rubber spatula and stir in oats and chocolate chips.
Spray waffle iron with cooking spray. Using a tablespoon or small ice cream scoop, drop dough, one cookie at a time, onto waffle iron. Cook for 1-1/2 – 3 minutes, depending on the heat of the waffle iron. At my setting, it took about 2 minutes until the light went out. The cookies were nicely browned.
Using a fork and thin spatula, transfer cookies to a wire rack to cool.
Continue baking cookies until finished, reapplying the cooking spray as needed.
With a half a batch and a small ice cream scoop, I got 8-9 cookies.