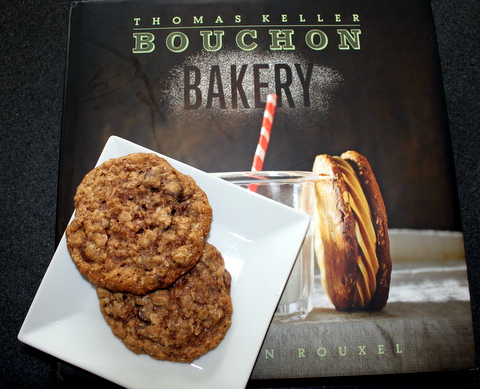 I can't believe I've let two weeks fly by without a blog post! I have to admit, it's been a lot more difficult to balance family + friends + home + work + blog + everything-else-I-want-to-do with a baby around. My mom was here last week and she was an absolute life saver, taking care of the baby and our chores and cooking, so that I could work, go to a couple of appointments, and run some errands. Thanks to all of her help last week, I was able to carve out some time to blog this week. Thanks Mom!
I made these cookies last month, one afternoon when Sophie took a really long nap. I'd been wanting to try a recipe from the cookbook every since I received it for Christmas. Pages upon pages of beautiful photos and descriptions to drool over…. I didn't have the time or the energy to embark on one of the ambitious cakes or tarts (not to mention nobody to serve it to), so with the baby down for a nap, I settled on these oatmeal cookies, substituting chocolate chips for raisins. This immediately became my favorite oatmeal cookie recipe. I loved the soft texture and the slightly salty taste. Three of us polished off the batch that afternoon I made them. They were that good.
Oatmeal Chocolate Chip Cookies
Adapted from Bouchon Bakery p. 32
Makes ~18 cookies
Ingredients:*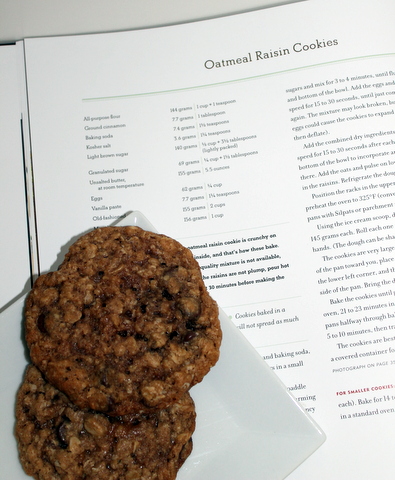 114 g. all-purpose flour
4 g. ground cinnamon
7.4 g. baking soda
3.6 g. kosher salt
140 g. light brown sugar
69 g. granulated sugar
155 g. unsalted butter, at room temperature (~5-6 Tbs.)
62 g. eggs*
7.7 g. vanilla paste*
155 g. old-fashioned oats
156 g. semi-sweet chocolate chips (or raisins)
* Notes on Ingredients:
1. Measure by weight for best results. I only added the equivalent in tablespoons for butter so that you know how much butter to bring to room temperature.
2. I used less cinnamon than the original recipe called for (7 g.) because I didn't want the cinnamon to overwhelm the cookies.
3. I used large eggs to make these cookies. 1 large egg was just short of the required weight. If you have extra-large eggs on hand, use those. Start with 1 egg and see if that's enough.
4. I bought my vanilla paste at Wegman's, although Williams Sonoma also carries it. According to Gourmet Sleuth, you can substitute an equal amount of vanilla extract if you don't have any vanilla paste.
Make Dough: 
In a small bowl, whisk together brown and granulated sugars. Set aside.
In a medium bowl, whisk together flour, cinnamon, baking soda, and salt. Set aside.
In a stand mixer fitted with the paddle attachment, cream butter on medium-low speed until smooth, 2-3 minutes. Add sugars, beating until light and fluffy, 3-4 minutes. Scrape down bowl and add eggs and vanilla paste. Beat until just combined, 15-30 seconds.
Reduce speed to low and add half of the flour mixture. When just combined, add remainder of flour mixture, stopping when just combined. Scrape down sides of the bowl before mixing in oats and chocolate chips until just combined. Do not over mix!
Refrigerate dough for 30 minutes.
Bake the Cookies:
Preheat oven to 325 and line two baking sheets with parchment paper.
Remove dough from fridge. Scoop out dough into 18 equal portions, a scant 1/4 cup. Roll dough between palms to form a ball and set on prepared baking sheets about 3 inches apart, setting aside any dough that does not fit on prepared baking sheets for a second batch.
Bring dough to room temperature before baking.
Bake for 13-15 minutes, until golden brown. Allow cookies to cool on baking sheets for 5-10 minutes before moving to a wire rack to cool completely.