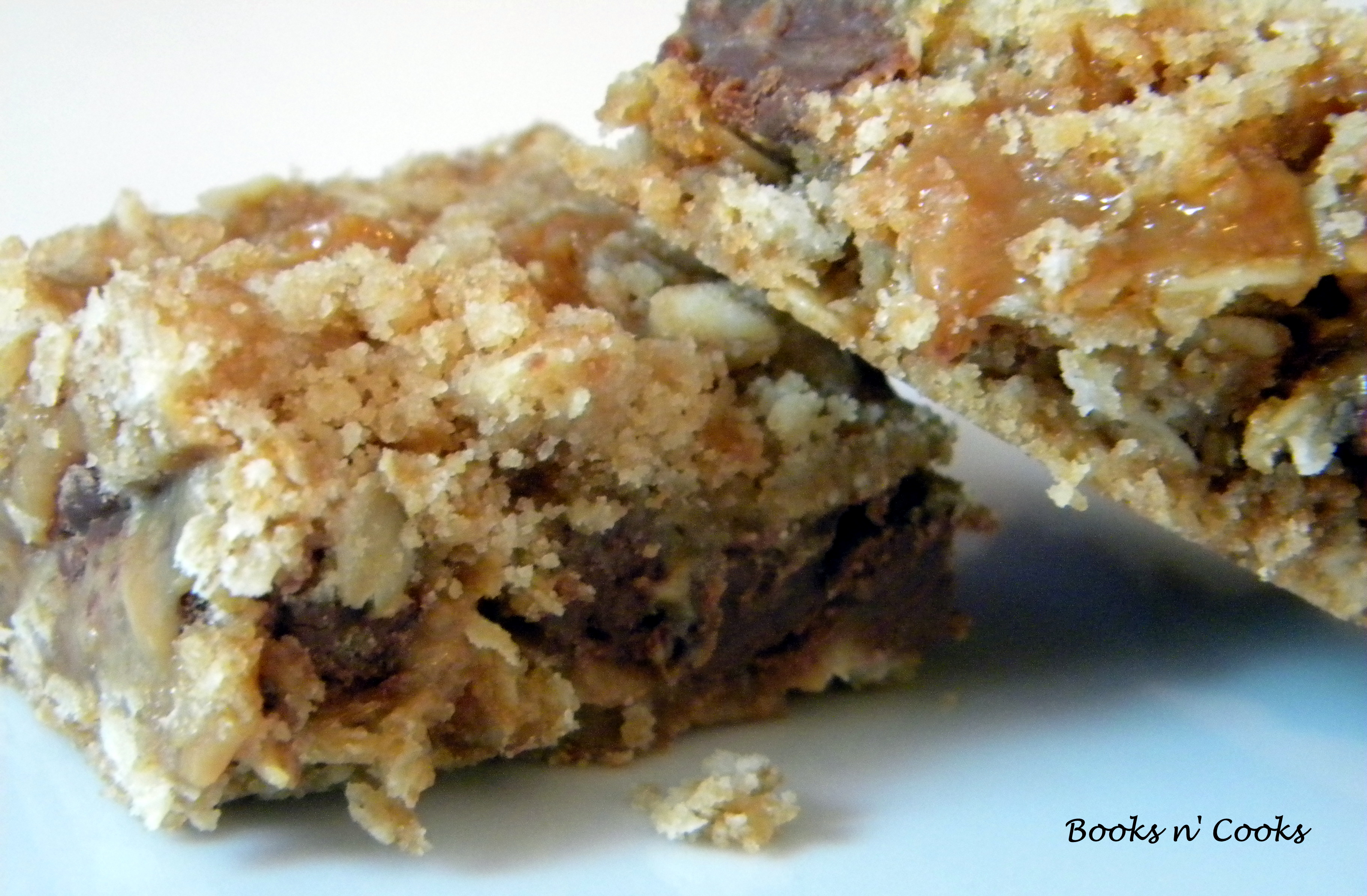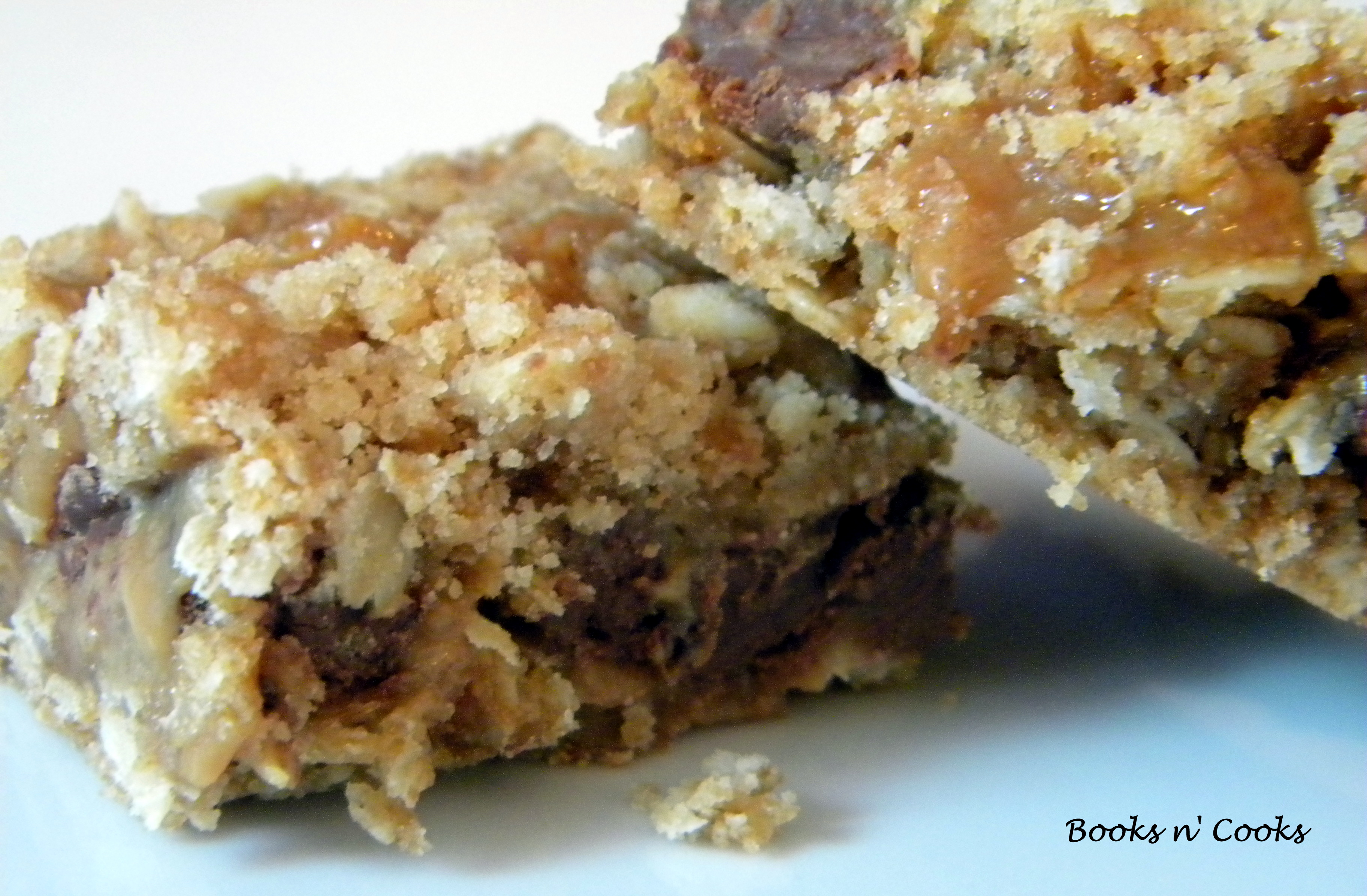 I'm always looking for new recipes to include in care packages. I have some family and friends still in college (and who doesn't love a break from cafeteria food?) and a brother who occasionally checks for unexpected packages in his condo complex (I can say that because I send you surprises occasionally!). These oatmeal caramelitas were my latest experiment – the recipients love then, and the hubby was looking for more than the two that I left for him. The bars are sweet from the caramel (go easy on it if you don't have much of a sweet tooth) but my favorite part? The bars stayed soft, even throughout shipping.
Oatmeal Carmelitas
Adapted from Southern Living's Best Loved Cookies
Yields 24-30 squares
Ingredients:
2 c. all-purpose flour
2 c. uncooked quick-cooking oats
1 1/2 c. firmly packed light brown sugar
1 tsp. baking soda
1/4 tsp. salt
1 c. butter, melted
1 12-oz. pkg. semisweet chocolate chips
1/2 c. chopped, toasted pecans or walnuts
1 14-oz. pkg. caramels
1/3 c. half-and-half
Preheat oven to 350F and line a 13×9 inch baking pan with aluminum foil. Lightly grease with butter and set aside.
In a large mixing bowl, stir together dry ingredients (flour, oats, brown sugar, baking soda, and salt).
Add butter, stirring until mixture is crumbly. Pour half of mixture into bottom of prepared pan, pressing down with your fingers. Sprinkle with chocolate and nuts. Set aside remaining dough and pan.
In a microwave-safe bowl, combine caramel and half-and-half. Microwave on medium-power for 1-2 minutes, stirring every 30 seconds until combined. Pour over chocolate and nuts. Crumble remaining dough over the caramel layer.
Bake 30-35 minutes, until lightly golden brown. Remove from oven and allow to cool on a wire rack. When ready to cut, use foil to remove the bars from pan and cut into squares.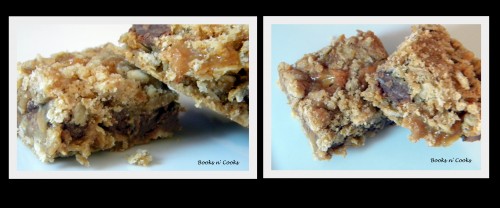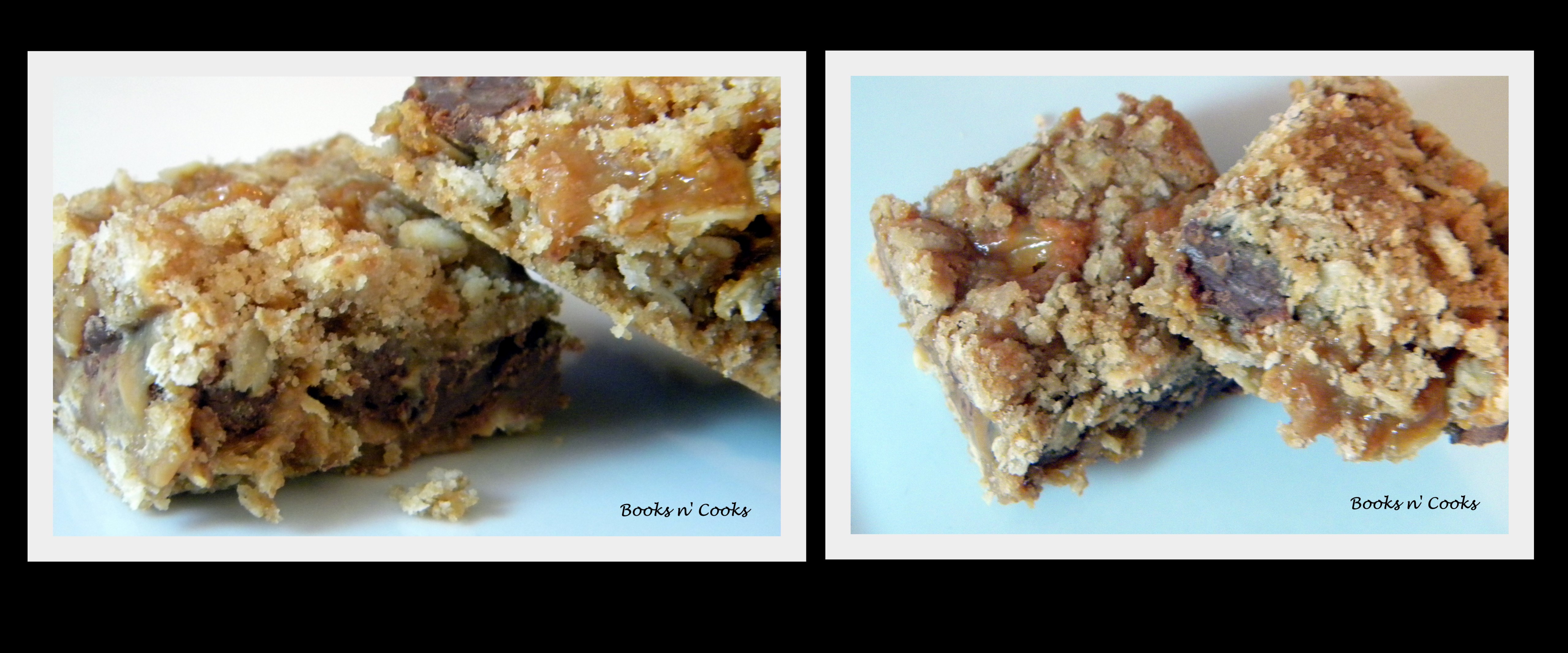 (Books n' Cooks is almost a year old, and I promised myself that, now that school and the SKG walk is done, I'd get better with photos. Above is my first experiment with Picasa. Tips and suggestions are greatly appreciated!)