A few weeks ago, I hosted a brunch for a few friends. It had been a while since we'd gotten to catch up and since our babies had a play date. Since dinner is tough for baby bedtimes and going out can be a challenge with fussing and naptime, brunch has become our new go-to to hang out with friends. It helps that it's a super easy meal to prepare, as we usually mix store-bought items with homemade items.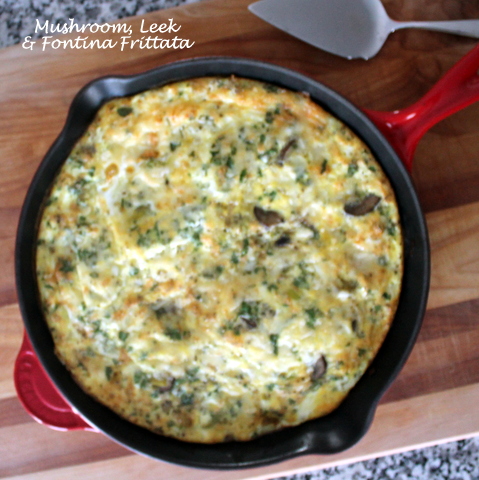 Our most recent brunch menu looked like this:
Fresh Fruit
Vanilla Yogurt and Dark Chocolate Cherry Coconut Granola
Mushroom, Leek & Fontina Frittata (below)
Muffins
Coffee, Tea & Orange Juice
The overall meal was fairly light and healthy. Friends brought fresh fruit and muffins, although you can certainly make your own (these strawberry muffins are a favorite of mine). I made the granola a day ahead and the frittata took under 30 minutes to prepare and get into the oven. This is definitely a recipe I'll be keeping in my back pocket for future brunches.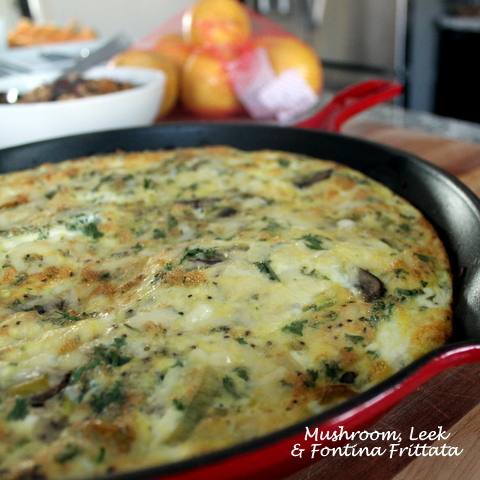 Mushroom, Leek & Fontina Frittata
Adapted from Bon Appetit
Serves 6
Ingredients:
2 Tbs. extra virgin olive oil, divided
2-3 medium leeks, white and green parts only, chopped
8 oz. crimini mushrooms, thinly sliced
12 large eggs
1/2 c. sour cream (low-fat is fine)
2 Tbs. chopped fresh parsley
3/4 c. shredded Fontina cheese, divided
kosher salt
freshly ground black pepper
Preheat oven to 350°F.
While oven is preheating, heat 1 Tbs. olive oil in a 10-12 inch oven-proof skillet over medium heat. Add leeks and cook until softened, about 5 minutes. Add mushrooms and continue cooking until mushrooms are slightly browned and no liquid remains in the pan, about 10 minutes.
As mushrooms are cooking, whisk together eggs, sour cream and parsley. Stir in 1/2 c. of the cheese and season with salt and pepper.
Increase heat on stove to medium-high and add remaining 1 Tbs. olive oil. Add egg mixture and allow to cook without touching until edges are starting to set, about 5 minutes. Sprinkle remaining cheese on top of the frittata and transfer skillet to the preheated oven. Bake until cooked throughout and edges are golden brown, 25-30 minutes.
Remove from oven and serve hot or at room temperature.