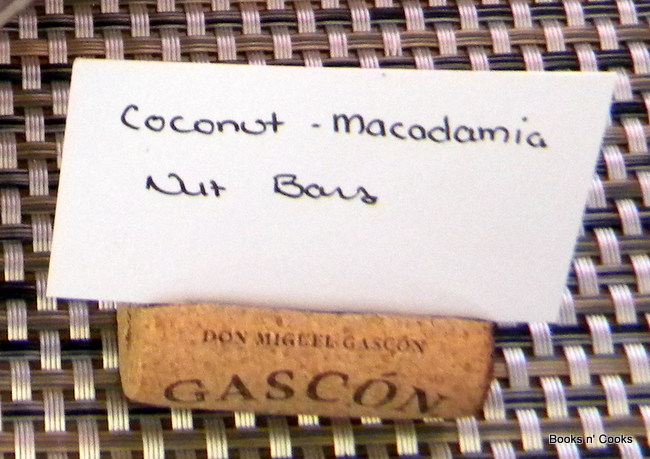 I love hosting our (almost) annual wine and cheese parties. I provide bread, crackers, and some other complimentary food. Everyone brings a wine and/or a cheese to share. A fabulous time ensues. Don't believe me? How many wine and cheese parties have overnight guests? 😉
To jazz up the table, I made little placecard holders out of wine corks to label the cheeses and sweets on the table. To make, use a X-Acto knife or Stanley knife, slice a thin strip off the bottom of the cork, so that the cork will lay on its side without rolling. (Make sure you have a cutting board, thick cardboard, or quilters or scrapbooking mat underneath so that you don't scratch your counter or table.) Then, using the same knife, cut a deep incision into the top of the cork, carving out a place for the placecard to rest. My cut was in the shape of an inverted triangle (like this: ▼) because I found it difficult to make a a rectangle (▌) with the knife I was using. The incision should go about 1/4 to 1/3 of the way down the cork. Place the card you'll be using in the top to ensure that your incision isn't too narrow or deep or wide or narrow, adjusting as necessary.
People arrived a little earlier than we expected so unfortunately the photo below is the only photo I have from the event (apart from a few close ups of the crackers and one cheese tray).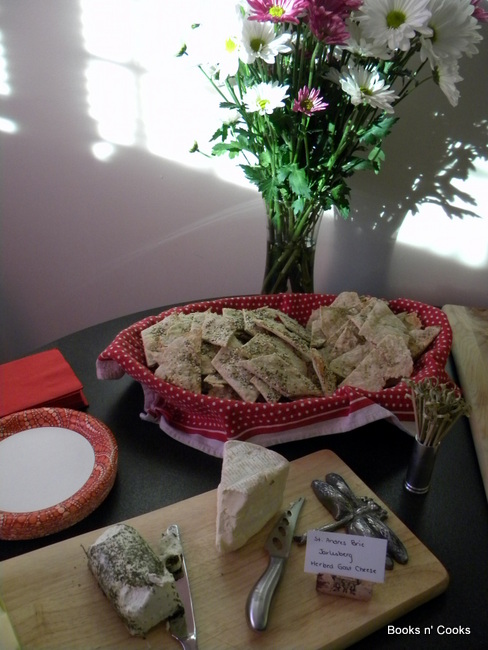 MENU: WINE & CHEESE TASTING PARTY

Assortment of Cheeses: Brie, Herbed Goat Cheese, Irish Cheddar, Jarlsberg, Parmesan, Pecorino Romano… Whatever anyone brought
Assortment of Crackers & Breads: "Everything" Crackers, Rosemary & Sea Salt Crackers, Whole Wheat Crackers, Triscuits, Baguettes
Other Compliments: Prosciutto, Salami, Dried Apricots, Almonds, Fig Jam, Coarse Ground Mustard
Sweet: Coconut Macadamia Nut Bars, A fruit tart-like dessert brought by a friend, Assorted Dove Chocolates
Drinks: Assorted Wines & Sodas