My family moved after my freshman year in high school. We arrived at our new home a week before school started for me to try out for the high school tennis team. That first day of tryouts, I met the woman who would become my best friend for the next 15 years.
From that first day, we were two peas in a pod. We were both trying out for the first time, both of us having moved recently. We were both the oldest child, loved tennis, and ate peanut butter sandwiches (hold the jelly and jam, please) for lunch. We stayed close throughout college and after, were lucky enough to end up living in the same state.
Now my bestie is getting married. I'm so very excited for her – she's the sister I never had. Since I was unable to attend her bridal shower, I hosted a very small lunch with a couple of her closest friends. When I was planning, I knew I wanted something light and elegant, with a couple of simple items and a decadent chocolate dessert. Plates were wiped clean, leftover cake was packaged up for the men who were left home. I call that a success!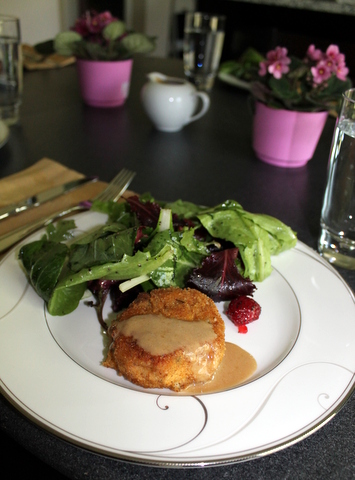 Menu:
Spring {Special Occasions} Luncheon for 5
Cocktails:
Champagne Cosmos
Appetizer:
Mediterranean Cucumber Bites (inspired by this Mediterranean Layer Dip)
Lunch:
Mixed Green Salad with Raspberries and Poppy Seed Vinaigrette
Crab Cakes with Creole Meuniere Sauce
Dessert:
American Beauty Cake (chocolate cake + chocolate mousse + chocolate ganache)