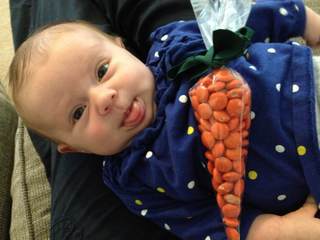 Happy Easter! I hope everyone had a fantastic day with friends, family, and good food.
My hubby and I enjoyed our first holiday with our little Hazelnut. My brother came to visit for the weekend. Good friends of ours, whose daughter was born 5 days after ours, came over yesterday for dinner. I savored the opportunity to pull out the china and create an ambitious menu to celebrate the day. Everything was fantastic! I will be sharing a few of the recipes with you over the next couple of weeks, but unfortunately not everything survived to be photographed. I'll be looking for opportunities to remake everything on the menu, so you may see a recipe in the future!
Appetizers:
Dinner: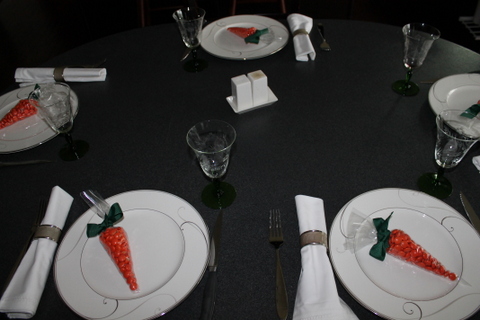 Portobello Wellington
Hasselback Potatoes
Roasted Brussels Sprouts
Herbed Bread
Dessert: 
Favors:
Candy Carrots
Candy Carrot Favors: I made the carrots from Reese's Pieces (although I considered using orange jelly beans). I used triangular-shaped treat bags from my local craft store, filled them with candy, and tied them with a thick green ribbon. Easy peasy!