Shake up your appetizer game with this Mediterranean Layer Dip. Healthy, flavorful, and easy, this dip has proven to be a hit, again and again.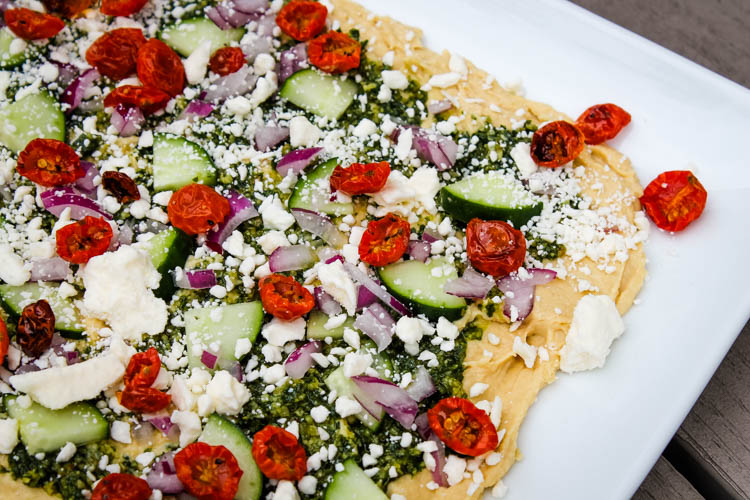 Lately, I've had a difficult time deciding what to make in the kitchen. I've been tired and my hands have been bothering me (fun pregnancy symptom), so whatever I make has to be quick and easy. I haven't been super inspired by anything – I'll settle on a recipe and then a bit later, change my mind…
It was the same thing a couple of weeks ago for Superbowl. I hemmed and hawed but ultimate decided on this Mediterranean Layer Dip, which I've had bookmarked for a while. I was not disappointed – the dip was fantastic! It had lots of flavor and was easy to customize to personal taste. I can't wait to make it again.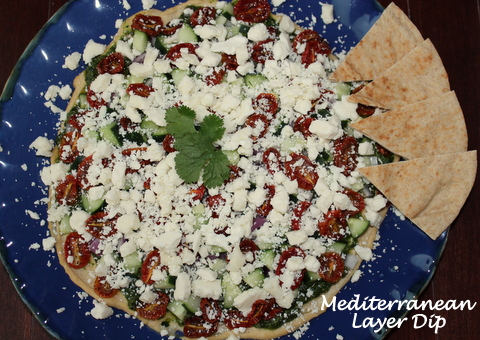 That horrible photo is from when this post first went live in 2013. I've gotten much better with photography now, 6 years later. 🙂
Since this post went live, I've made this recipe again and again. It's become one of my favorite appetizers. It's just unusual enough to be intriguing but has enough everyday ingredients to still be approachable. I don't think I've met anyone who hasn't loved this healthy and surprising dip. I like to serve it with freshly cut pita wedges and cucumber slices (for a lighter fare) but I've also served it with pita chips and other assorted cut vegetables.
One lesson I've learned? Make a big batch – I rarely have any leftover.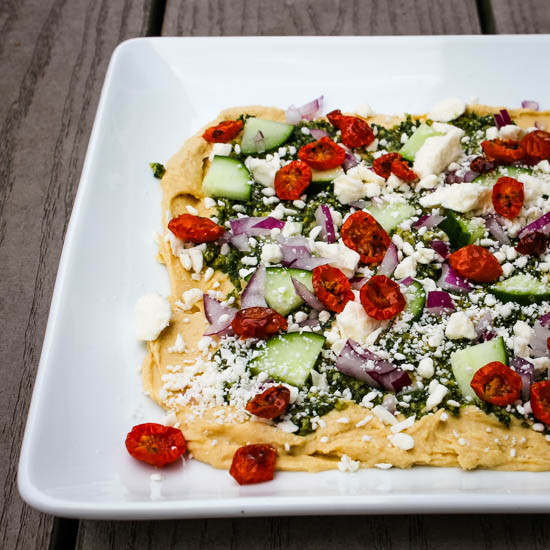 Recipe Notes:
OVEN DRIED TOMATOES: While the cook time on this is quite long, it's only because the tomatoes take quite a while in the oven. The oven-dried tomatoes can be made a day or two ahead and kept in the fridge. I've also been known to make and freeze them, when my garden is over-producing over the summer and I can't keep up.
CILANTRO PESTO: Again, when my garden is producing lots of cilantro, I make the pesto and freeze it in a mason jar, specifically for this dip. It only takes a few minutes to make, but when the garden is going crazy, I try to preserve as much as possible.
HUMMUS: I typically use store-bought hummus when I'm making this dip but you can always make your own. This is go-to hummus recipe. Again, easy and quick, if you want to take the time to do it.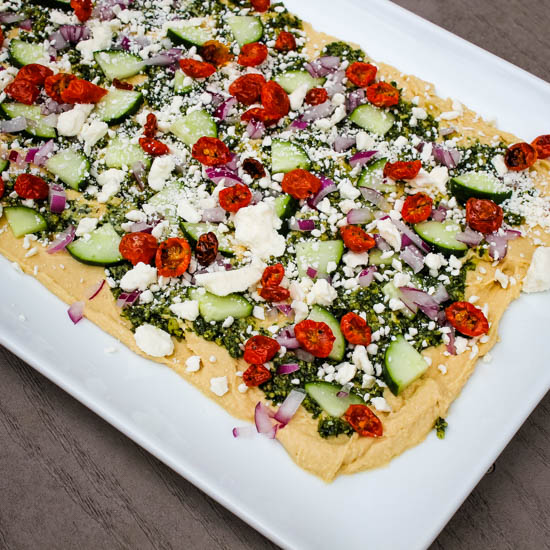 Print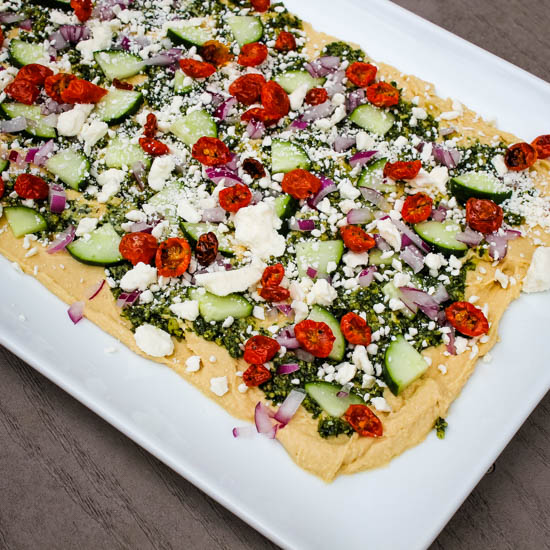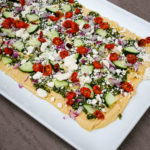 Mediterranean Layer Dip
Shake up your appetizer game with this Mediterranean Layer Dip. Healthy, flavorful, and easy, this dip has proven to be a hit, again and again.
Total Time
3
hours
15
minutes
Ingredients
Ingredients for the Oven-Dried Tomatoes:
1

pint

cherry tomatoes

halved

pinch

kosher salt

pinch

black pepper
Ingredients for the Cilantro Pesto:
1

bunch fresh cilantro

about 1½ c.

2

cloves

garlic

chopped

2

Tbs.

pine nuts

2

Tbs.

pecans or walnuts

1/3

c.

extra-virgin olive oil

divided
Remaining Ingredients:
1½-2

containers store-bought hummus

or homemade if you prefer (15-20 oz.)

1/4

red onion

diced

½ 

cucumber

seeded and diced

3-4

oz.

crumbled feta cheese

1

recipe cilantro pesto

1

recipe oven-dried tomatoes
Instructions
Make the Oven-Dried Tomatoes:
Line a baking sheet with aluminum foil and preheat oven to 225. Place tomatoes on baking sheet, cut side up. Sprinkle with salt and pepper. Bake until tomatoes are mostly shriveled up, 2-3 hours depending on their size (see notes). Store in the fridge until ready to be used.
Make the Cilantro Pesto:
In a food processor, combine cilantro, garlic, pecans, pine nuts, and 2 Tbs. of the olive oil. Pulse until a thick paste is formed. Scrape down sides of the bowl. With the food processor running, pour in remaining olive oil in a steady stream. Scrape down sides of processor again, if needed, and process a bit more. Store in an airtight container or covered in plastic wrap, with a little extra olive oil drizzled on top, if not using immediately.
Assemble the Dip:
Just before serving, spread hummus on a 12-inch plate. Spread cilantro pesto evenly on top of hummus. Sprinkle red onion, cucumber, oven-dried tomatoes, and feta over hummus and cilantro pesto. Feel free to add more or less of an ingredient to taste, or add in additional topping such as banana peppers, olives, or pine nuts.

Serve with pita chips or pieces as desired.
Recipe Notes
Oven-dried tomatoes may cook in as little as 2 hours, depending on the size of your tomatoes. I found store-bought cherry (or grape) tomatoes need the full 3 hours, whereas the cherry tomatoes from my garden were ready in just about 2 hours.
Additional optional toppings: chopped banana peppers, olives, or more toasted pine nuts
Serve with pita chips, pita pieces or sliced vegetables (eg. cucumber slices)
This recipe was adapted from The Tasty Kitchen Blog via Everyday Annie. The Oven-Dried Tomatoes are also from Everyday Annie.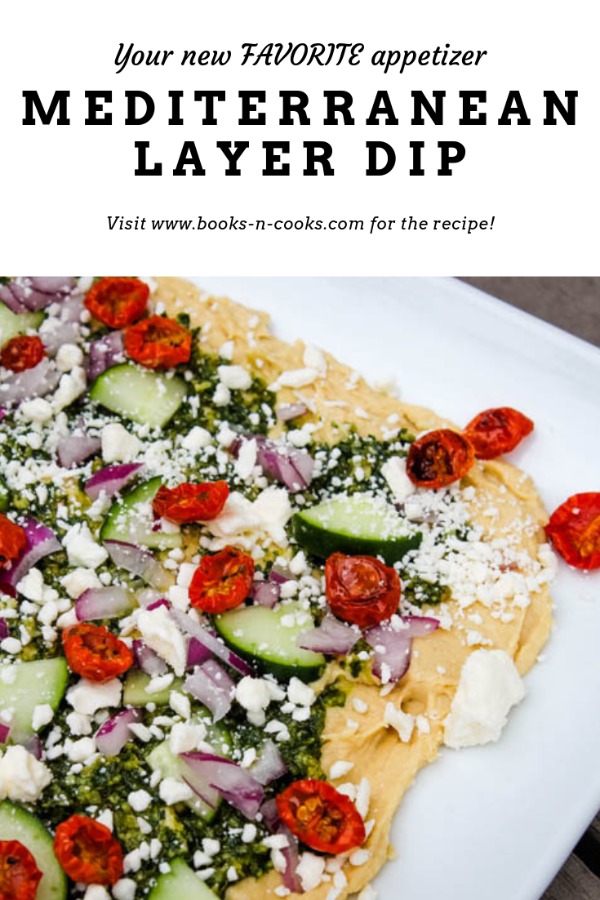 This post was updated with new photos, updated text, and a more user-friendly format in Sept. 2019. The recipe remains unchanged.