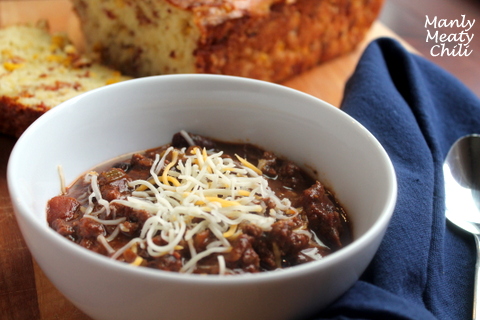 Several years ago, some friends of ours entered the chili cook off contest at Pumpkin Chunkin. We never got to go, but we did get to test their award-winning (2nd place!) chili. This recipe is mine and my husband's version of that recipe. Over the years, we've changed the prep and cooking methods slightly. We've also amended the ingredient list to better align with our kitchen staples and to omit some of the ingredients that are harder to find.
This chili is thick and meaty. It makes a huge batch. It's a weekend recipe, because it takes a good 1-2 hours of prep and cook time followed by another couple of hours of simmering. We like to make it and have a bunch of friends over to help us eat it. When there's leftovers, my husband will eat it for lunch every day until it's gone.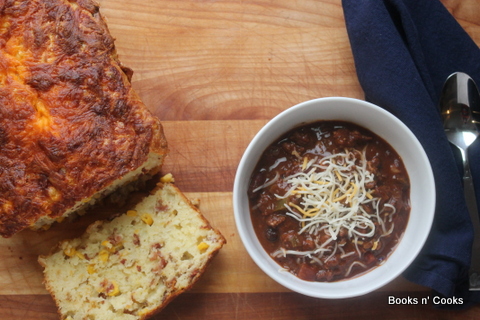 Manly Meaty Chili
By Books n' Cooks
Makes a ton
In a large skillet over medium heat, brown the following meats. As each browns, move to a plate or bowl until ready to add to the stockpot:
1 lb. lean ground beef
1 lb. hot Italian sausage
1 lb. sweet Italian sausage
1 lb. bacon or turkey bacon (optional)
Meanwhile, set a large stockpot over medium-high heat. Add
a little vegetable oil
When hot, add the following veggies, sauteing until soft:
2 bell peppers, small dice
2 large vidalia onions, small dice
10 cloves garlic, minced
When the veggies have softened, deglaze pan with
1 c. bourbon
Stir in the following ingredients and bring to a boil:
2 Tbs. taco seasoning
2 Tbs. chili powder
1 cap full of Hot Mrs. Dash or McCormick's Perfect Pinch Southwest Blend
1/4 c. dried oregano
1/4 c. dried basil
24 oz. lager
2-8 oz. cans Rotelle
12 oz. tomato paste
28 oz. tomato sauce
8 oz. semi-sweet baker's chocolate
When boiling, reduce heat to medium-low and add cooked meats as well as
1-15 oz. can kidney beans
1-15 oz. can black beans
1-15 oz. can Great Northern beans
1-15 oz. can pinto beans
Stir to combine. Cook for 30 minutes, stirring occasionally. Reduce heat to low and allow to cook for 2-3 hours.
Serve hot with your choice of toppings (i.e shredded cheddar cheese, minced onions, etc.) and side (i.e. tortilla chips, traditional corn bread, bacon corn bread (pictured above), etc)
Save