This post is sponsored in conjunction with #BrunchWeek. I received product samples from sponsor companies to aid in the creation of the #Brunchweek recipes. All opinions are mine alone.
And don't forget to enter the giveaway. Details on our wonderful sponsors, the prizes they put together for you, and the place to enter to win, here.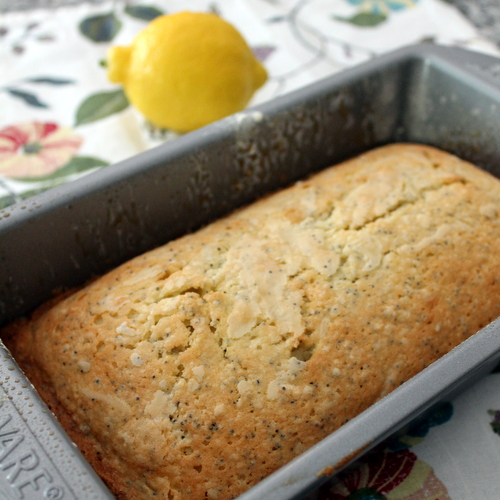 In my opinion, a good brunch ends with a tasty dessert. You can never go wrong with homemade cinnamon buns of some sort, like the apple-cinnamon buns from earlier this week. But something I want something a little lighter in flavor. Something just a little bit sweet. Something that cause me to lose complete self-control, because if I'm going to be honest, homemade cinnamon buns do that to me.
Enter: a lemon poppy seed loaf cake. This particular cake is made with Nielsen-Massey's lemon extract instead of fresh lemon juice and confectioners sugar instead of granulated sugar, giving it a pound cake-like texture and a light, lemon flavor.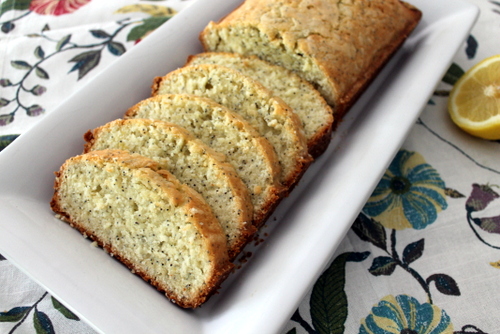 This recipe was heavily adapted from Epicurious. The original recipe is a plain cake, made to serve 12-16 people. I've adjusted the ratios and added the lemon and poppy seed to create what I consider to be a light ending to your brunches.
Lemon Poppy Seed Loaf Cake
Heavily Adapted from Epicurious
Makes 10-12 Slices
Ingredients: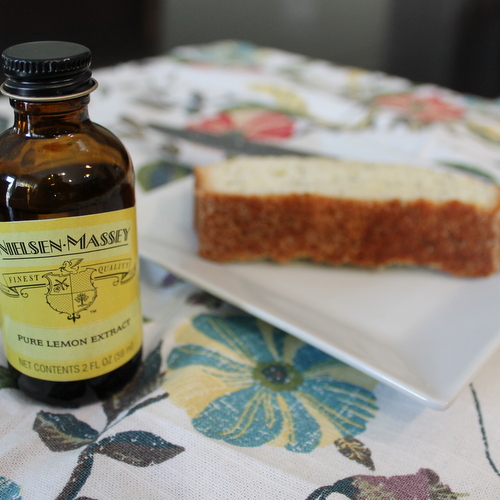 cooking spray
12 Tbs. (1 1/2 sticks) unsalted butter, at room temperature
1/2 lb. Dixie Crystals confectioners sugar
3/4 tsp. Nielsen-Massey lemon extract
3 large eggs
1/4 tsp. salt
1 c. + 3 Tbs. all-purpose flour, plus more for pan
1 Tbs. poppy seeds
Preheat oven to 325F. Spray a loaf pan with cooking spray. Sprinkle bottom and sides with flour, tapping out extra. Set aside.
Place butter in a large bowl, and beat on medium speed with a handheld mixer (you can use a stand mixer if you prefer) until light and fluffy. Add sugar, beating until incorporated. Add lemon extract and eggs, beating until combined. Repeat with flour. Scrape down sides of the bowl. Add poppy seeds and mix one last time.
Pour into prepared baking pan and bake for 45-55 minutes, until top is beginning to brown and a toothpick inserted into the center comes out clean. Allow to cool on a baking rack for 10 minutes before removing from pan, and returning to baking rack to cool completely.
Take a look at what the #BrunchWeek Bloggers are creating today!
BrunchWeek Beverages:
Blackberry Mint Bellinis from Sweet Beginnings
Cardamom Rose Cocktail from Culinary Adventures with Camilla
Lemon & Blueberry Mocktail from Girl Abroad
Mango Pina Colada from The Spiffy Cookie
Sparkling Mojito Lime Rickies from A Kitchen Hoor's Adventures
BrunchWeek Egg Dishes:
Cheesy Asparagus Bacon Quiche from The Nifty Foodie
Creamed Asparagus Omelet from Wholistic Woman
Eggs in Hell from kimchi MOM
Asparagus and Cheddar Frittata from My Catholic Kitchen
Spring Veggie Quiche from A Day in the Life on the Farm
BrunchWeek Breads, Grains and Pastries:
Apple Cheddar Cream Cheese Danish from Amy's Cooking Adventures
Apple Cinnamon Bread from It Bakes Me Happy
Gluten Free Apple Waffles from Gluten Free Crumbley
Banana Bread Buttermilk Pancakes from Love and Confections
Blackberry Cream Cheese Sweet Rolls from Pink Cake Plate
Brown Sugar Poptarts from Big Bear's Wife
Creme Brulee French Toast from The Barbee Housewife
Cherry Almond Coffee Cake from The Chef Next Door
Cheddar Dinner Rolls from Family Around the Table
Cinnamon Apple Danish from Nik Snacks
Garlic and Herb Pull Apart Bread from Jane's Adventures in Dinner
Lemon Poppy Seed Loaf Cake from Books n' Cooks
BrunchWeek Main Dishes:
Country Ham Biscuits with Peach Mustard from Palatable Pastime
Ham, Apple and Cheddar Melts from Cookaholic Wife
Ham, Egg, and Asparagus Breakfast Pizza Rants From My Crazy Kitchen
Shaved Asparagus, Herb Cream Cheese, and Smoked Salmon Pizza from Sarcastic Cooking
Yumbo Sliders from Cindy's Recipes and Writings
BrunchWeek Fruits, Vegetables and Sides:
Rhubarb Crunch from Cooking with Carlee
Biscuit Bar with Flavored Sugars from Sew You Think You Can Cook
Low-Fat Apple Coffee Cake from Hardly A Goddess