While I like Starbucks, I typically find the coffee a bit too strong for my taste. When I go, I tend to buy the espresso drinks or tea in the winter and the Shaken Passion Tea in the summer. When I found a recipe on Pinterest for Shaken Passion Tea, I knew I had to try it. After 8 months of water, water, water, it was time. I was not disappointed. The shaken tea was easy to make and pretty close to what I would order at the store.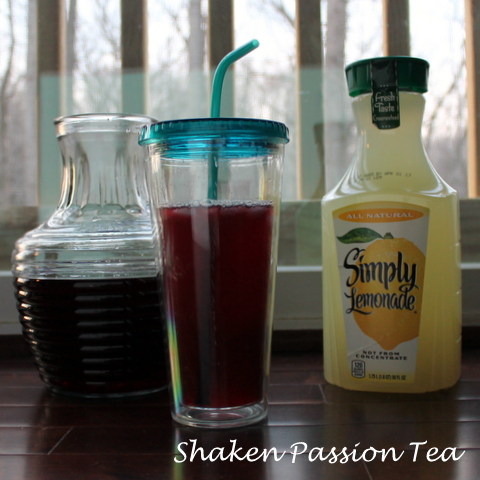 Notes on Preparation:
I chose to prepare my Shaken Passion Tea in a large batch to bring to a party. However, It's The Life recommends against it because over time, the lemonade flavor overtakes the tea. I had leftovers the next day and it was fine, but definitely keep in mind how long you keep this in the fridge.
You can buy Tazo Passion Tea in one of two ways – regular hot tea bags that come 20 bags to a box and are meant for individual use, or Iced Passion Tea which comes six bags to a box and are meant to make a pitcher at a time. Either one will work, I've helped out with the math below. 🙂
Since most people vary how much sweetener they add to their tea, and since the sugar in the lemonade will vary, I chose to omit this from the instructions below. However, if you know you like a little sugar (or other sweetener), you can either add it to the tea as the tea bags are steeping (i.e. for sugar, which will quickly dissolve in the hot tea) or portion it into cups individually in the form of a simple syrup (homemade or bought at Starbucks or another store). For your reference, 1 pump of Starbucks simple syrup is about 2 Tbs. of homemade simple syrup.
Knock Off: Starbucks Shaken Passion Tea
Adapted from It's The Life
| | | | |
| --- | --- | --- | --- |
| 12-oz servings | Water | Tazo Passion Tea Bags | Lemonade |
| 14 | 1 gallon (4 qts) | 4 iced tea bags or 20 hot tea bags (1 box) | 42 oz. |
| 7 | 2 qts. (64 oz.) | 2 iced tea bags or 10 hot tea bags | 21 oz |
| 3 1./2 | 1 qt (32 oz) | 1 iced tea bag or 5 hot tea bags | 10-11 oz. |
| 1 | 9 oz | 1 hot tea bag | 3 oz. |
Make the Tea: Boil the appropriate amount of water. Turn off heat and add tea bags. Let steep 5+ minutes before removing the tea bags. If using sugar as a sweetener, stir in now. Allow to cool on the stove until room temperature. Refrigerate until cold and ready to serve.
Combine: When tea is cold, stir to combine tea with lemonade (and if using, simple syrup), preferably just before serving. If desired, shake in a jigger with ice to get the froth you might get when served at Starbucks.
Storage: Tea (without lemonade) will keep in the fridge for a week.