Celebrate Valentine's Day (or the weekend) with a sweet and spicy dinner for two. Sweet pineapple salsa compliments jerk scallops full of flavor in a dinner that comes together quickly.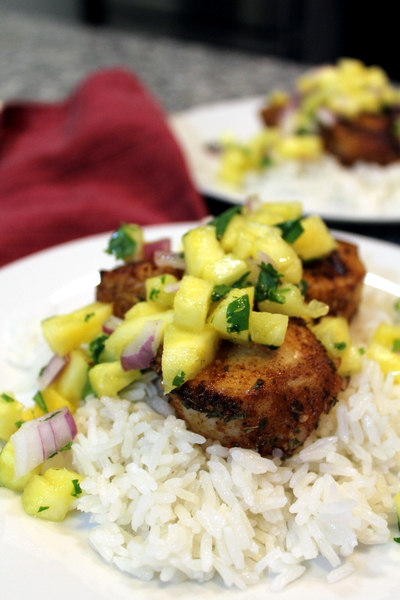 Like so many other couples, my husband and I rarely eat out on Valentine's Day. And since having kids? We rarely get to go out around Valentine's Day. Instead, we try to celebrate with a special dinner at home. Sometime's it's something that's a little more expensive, something it's something that's more time consuming to make than usual, or something it's just something that I know my husband will love.
This dinner meets two of those criteria. Scallops are something that my husband enjoys immensely but that I don't make super frequently. They're a bit pricey and since having kids, I haven't quite been as excited about seafood as I used to be. Plus, it is one of those proteins that I'm always (inexplicably) nervous about undercooking. #Paranoia
So for this Valentine's Day, I paired some of my husband's favorites for a quick but killer meal. Spicy scallops are topped with a sweet pineapple salsa and a rice, flavored ever so slightly of coconut. He was in heaven.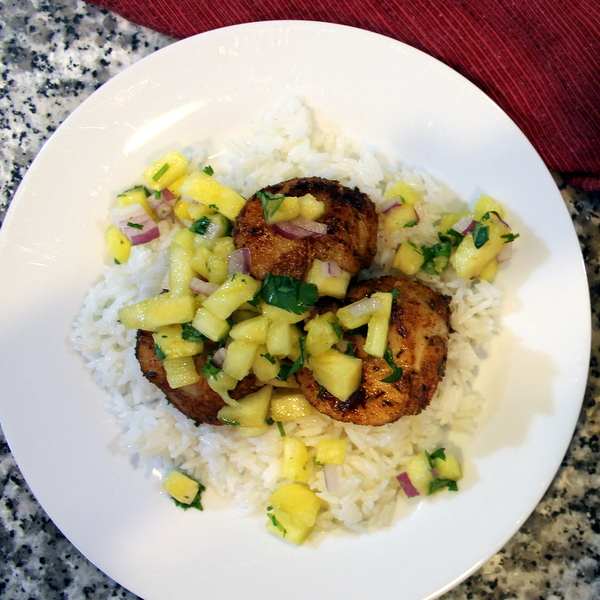 Recipe Notes:
My husband has a big appetite, so this recipe serves two in our house. Depending on your appetites, you may want to adjust the amount of scallops.
This pineapple salsa is mild, with no jalapeno. It was a perfectly sweet pairing for us, since the scallops have a good bit of kick, but feel free to add a jalapeno (minced, seeds included or removed per your preferences) if you'd like this dish even spicier.
Although the recipes is for searing on the stove top, the scallops can be grilled as well.
Jerk Scallops with Pineapple Salsa over Coconut Rice 
By Books n' Cooks
Serves 2-3
Ingredients for the Pineapple Salsa: 
1 c. pineapple, small dice
3 Tbs. red onion, minced
2 Tbs. cilantro, finely chopped
Ingredients for the Coconut Rice:
1 c. jasmine rice
3/4 c. coconut milk
3/4 c. water
Ingredients for the Scallops:
3 Tbs. jerk seasoning
3/4 lb. sea scallops (8 scallops)
2 Tbs. extra virgin olive oil
Make the Salsa: Combine all ingredients in a bowl. Refrigerate until serving.
Make the Rice: Bring coconut milk  and water to a boil. Add rice and reduce heat. Simmer, covered, for 10-15 minutes, or until rice is cooked through. Turn off stove and allow to stand for a few minutes.
While the rice is cooking, rinse scallops and pat dry.
Heat a heavy, cast-iron skillet over medium heat. When hot, add oil.
Place jerk seasoning on a plate. Coat scallops with seasoning on top, bottom and sides. Place in hot skillet. Sear for 2 minutes per side. If needed, lower heat and continue to cook until scallops are cooked throughout.
Serve scallops hot, over rice. Top with pineapple salsa.
Looking for more recipes designed to serve two? Check out the links from my friends below, or search #RecipesForTwo on social media for a visual tour of some amazing dishes.
Savory
Sweet