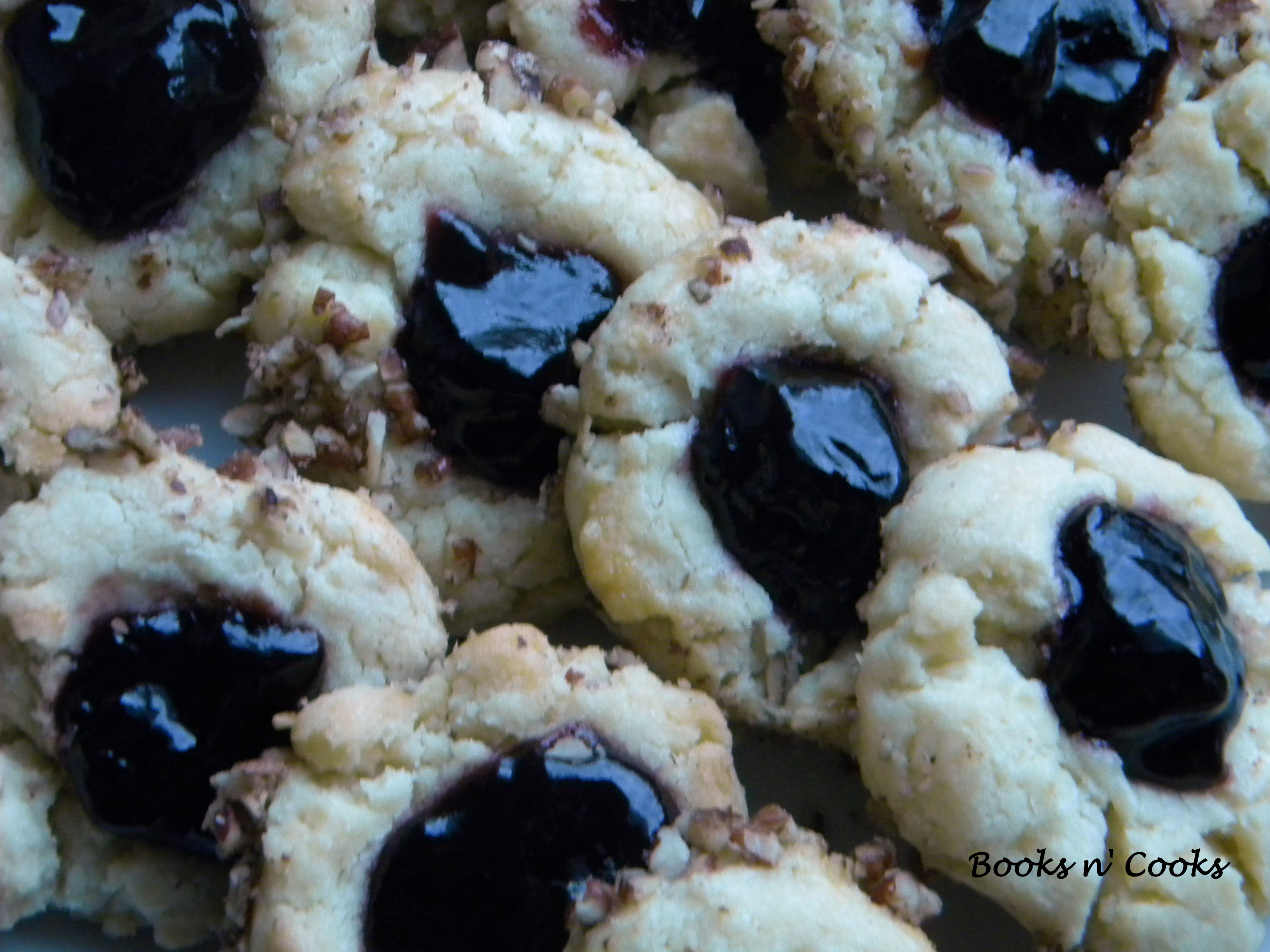 Last year, I had a semi-successful attempt at making Barefoot Contessa's Jam Thumbprint Cookies, a sweet vanilla cookie with coconut flakes and a jam center. While 8 cookies came our beautifully (and tasted amazing), the recipe just didn't go right for me. The dough was too crumbly, I'm guessing because the butter wasn't at the correct temperature. The couple that came out were fantastic, so I chalked it up to an error on my part, and put the recipe back in the stack to make again at a later date.
Recently, I was cleaning out the kitchen and noticed 3 half-empty jars of jam in the fridge. Forgetting about last year's failure and my hope of remaking the recipe, I made Southern Living's Thumbprint Cookies – an almond cookie with a pecan crust. These were equally as good as Ina's, a slightly sweet butter cookie with the spark of flavor from the jam. I did have a similar problem with the dough being crumbly, again contributing it to the temperature of the dough. I solve the problem this time, by warming the dough slightly in my hands, while rolling them into balls.
Jam Thumbprint Cookies, Recipe II
Adapted from Southern Living's Best Loved Cookies, Thumbprint Cookies (p. 46)
Makes 3-4 dozen cookies
Ingredients:
1 c. (2 sticks) unsalted butter, softened
3/4 c. sugar
2 large eggs, separated
1 tsp. almond extract
2 c. all-purpose flour
1/4 tsp. salt
1 1/4 c. chopped pecans (optional)
1/2 c. jam, one flavor or multiple flavors
In a stand mixer fitted with the paddle attachment, beat butter on medium speed until creamy, 1-2 minutes. Gradually add sugar until light and fluffy, another 1-2 minutes. Lower speed and add egg yolks and almond extract, until just combined. With the mixer on low-speed, sift in flour and salt.
Cover and chill dough for an hour.
Just before removing dough from fridge, preheat oven to 350° and line a baking sheet with parchment paper. Set aside. Lightly beat eggs whites and spread chopped pecan pieces on a plate or in a small bowl.
Remove dough from fridge and roll into 1-inch balls. If the dough won't stick together, warm it slightly in you hands. Flatten slightly, dip in egg white, and then dip/roll in pecans. Place on prepared baking sheet, leaving an inch or so in between each cookie. Just before putting into oven, press the center of each cookie down with thumb or knuckle, making a small indentation.
Bake 14-16 minutes, until cookies are lightly browned. Allow to cool slightly on baking sheets before removing to wire racks to cool completely. Once on wire racks, while cookies are still warm, press centers again and fill with jam.